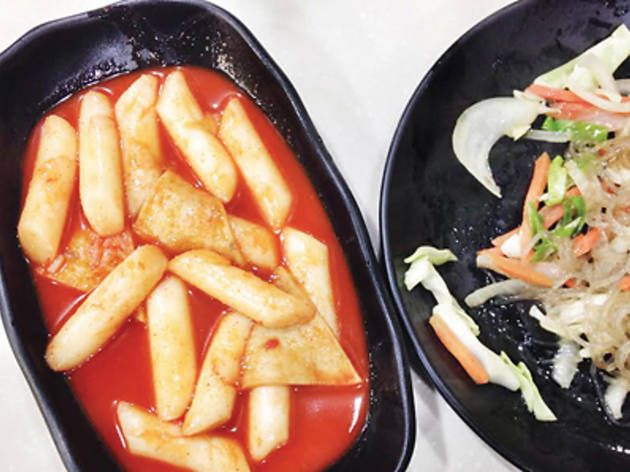 Time Out says
Hong Kong is no stranger to Korean restaurants. From K-fine-dining to K-fast food and even to K-supermarkets, Korea's discernible food culture has become a part of our own city's culinary scene.
K-Bab, however, is doing something new. It's claiming to specialise in Korean street food – but, when we visit, we're saddened that the menu only has a few items on it like tteokbokki (spicy rice cakes, $30), sundae (blood sausage, $42), kimbap (rice rolls $30) and a limited variety of odeng (fish cakes $28). We can't help wondering: where's the hotteok (pancakes) and the tokkebi hotdogs? Rather, these items are replaced with run-of-the-mill kimchi pancakes and bulgogi.
But we shouldn't complain if this fare matches up to Seoul street standards. Sadly, it doesn't. The classic tteokbokki comes in a sauce so weak, it sits like a soup at the bottom of the dish, under the nothing-special rice cakes. And instead of the usual hearty street portions, there's only a few pieces of blood sausage on our plate when it comes to the sundae. The pieces are a little too sweet as well – and they're hardly authentic. We also go for the fried glass noodles in laver ($38). The seaweed is decent but the noodles aren't flavourful enough to wow us.
With such a strong Korean presence in our city there's no room for any half-hearted attempts. K-bab needs to step up its game if it wants to satisfy the K-food fans around here. Lisa Cam

K-Bab Shop B, Lee Wing Bldg, 156-162 Hennessy Rd, Wan Chai, 2392 0866; k-babhk.com. Dinner for two: $150.
Details
Best selling Time Out Offers