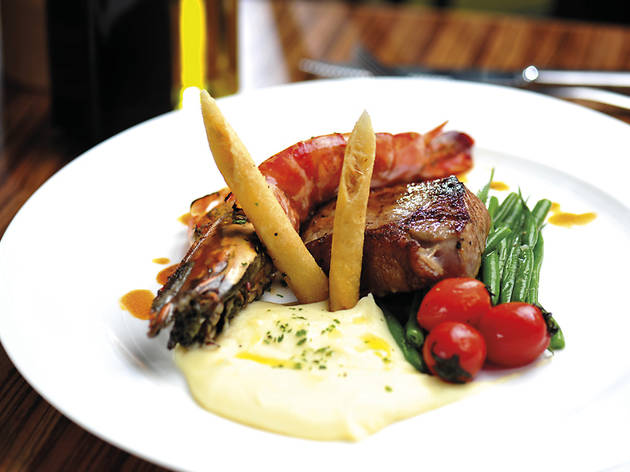 Time Out says
Kitchen M is a puzzle to locate and then it's a puzzle to work out when you actually find it. The tiny restaurant is housed at the nether end of MiXTRA – a high-end sports-themed fashion store inside K11 mall. Hidden behind a totally random display case of Gundam figurines, the main entrance leads into a narrow dining room with whitewashed brick walls and smatterings of chairs and tables.
But the most confusing part of the restaurant is its menu. While Kitchen M calls itself an Italian fusion eatery, the menu suggests a restaurant that is going through a bit of an identity crisis. Rather than focusing on dishes which blend international flavours together, what you get are pastas and risottos sharing menu space with American-style mains, French desserts, Mexican tapas and Asian dishes like Hainan chicken rice.
Food quality follows the same inconsistent pattern and some dishes shine while others stumble. The beef carpaccio ($78), for instance, is pounded into thin sheets before being drizzled with a creamy, mayo-like dressing, extra virgin olive oil, hard strips of Asiago, cracked black pepper and a fluff of mesclun greens. The combination of condiments is delicious in its own right but overwhelms the raw beef's delicate flavour profile. The plump seafood cake ($78) is a far better starter, made from a delicious mixture of crabmeat, shrimps and scallops, breaded and deep-fried to a light golden brown. Seafood penne with spicy tomato sauce ($118) seems promising at first under its generous heap of prawns, calamari and clams; the pasta is satisfyingly al dente and the prawns are cooked to perfection with a nice, taut bite and delicate sweetness. The sauce however, lacks pizzazz (no spicy kick and no herby fragrance), which leaves the dish feeling flat and lifeless. The roasted baby back ribs ($118) hardly have any meat to them and are easily overshadowed by its side of spicy, pillowy potato fries. The surf n turf ($188) is hefty by comparison with a whole butterflied king prawn served over a tender, 8oz slab of grilled beef tenderloin.
Desserts – which are supplied by pastry shop Ovenhouse Deluxe downstairs – are probably the most consistent part of Kitchen M. The Madagascar Coco ($58) pairs a rich and velvety chocolate mousse with a light sponge cake in a rectangular slice that's designed to satisfy a sweet tooth. The berry mille-feuille ($58) is another delicious effort with sheets of flaky pastry interlaced with tart raspberry-infused custard and a gentle dusting of powdered sugar.
Kitchen M is not a bad choice if you're just looking for a quick and casual bite to eat after browsing through racks of designer tracksuits and running shoes at MiXTRA. But it also needs to figure out what type of restaurant it wants to be before we can really take it seriously. Dorothy So
Shop 122, K11, 18 Hanoi Rd, Tsim Sha Tsui, 2736 1832. Daily 11.30am-11.30pm. Dinner for two: around $450.
Details
Best selling Time Out Offers