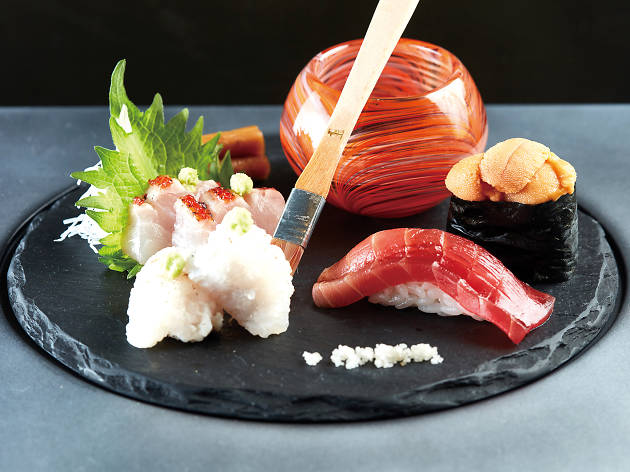 Time Out says
Oh-my-kase goodness. The first extension of Tokyo's Michelin-starred restaurant from chef Makoto Okamoto.
We're grateful that chef Makoto Okamoto chose to open the first extension of his Michelin-starred restaurant, La Bombance, in Hong Kong. Grateful because now we don't need to fly over to Tokyo to indulge in the chef's 'new Japanese cuisine'.
La Bombance, like its parent in Japan, offers only one nine-course seasonal kaiseki tasting menu at the rather reasonable price of $1,280. Reasonable, in fact, when you consider the quality of the ingredients, the flavours and the details of the elevated fare in comparison to similar restaurants in the city that charge almost double the price. It's all omakase, too, as in consisting of dishes selected by Okamoto himself. And so our experience begins with an amuse-bouche quintet that includes a perfectly grilled teriyaki foie gras that wonderfully contrasts both creamy and crunchy textures. This is followed by a mild dashi that's served with a seafood ball which consists of shrimp, clam, scallop and pieces of lotus root. The soup warms our bodies and the subtle flavours of the seafood lifts our souls.
Next, to cool things down, comes the sushi platter. We feast on some extremely tender and lightly grilled red snapper, as well as some smoky charred pike fish, sweet Hokkaido uni and flavourful chu-toro tuna. This plate comes with your own DIY soy sauce brush, which is visually appealing, but we'd prefer it if the chef actually seasoned the fish himself on this occasion. The winner of the evening, though, arrives as a later course. The piping hot charcoal grilled eel is served in a stone hot pot and comes with namafu wheat gluten, mizuna leaves and leeks. The dish is comforting and seamlessly balances its savoury and sweet flavours with the crunchy veggie textures and the suppleness of the eel. We want more of this. Soon.
Dining at La Bombance is all about taking a sublime foodie journey. You get your raw, fried, boiled, grilled, pickled and even stewed dishes, all of which are the highest quality. Our meal is near flawless, so we look forward to this restaurant being showered with accolades in the future. Sarah Davidson

Dinner for two $2,560.
Details
Best selling Time Out Offers