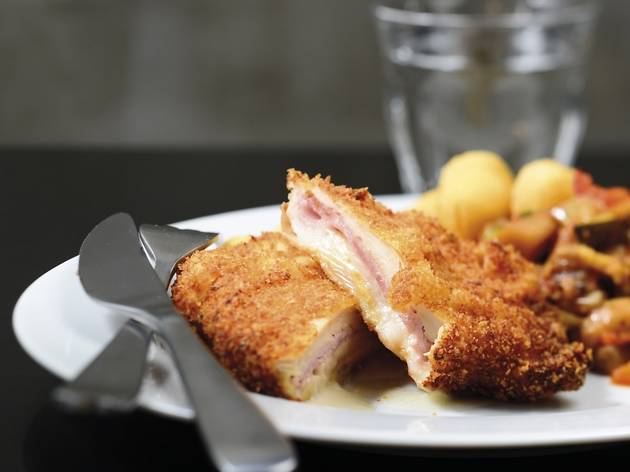 Time Out says
We're so sick of faux casual restaurants. You know, the sort where a lot of fuss has gone into making it look unfussy. Casual is cool only if you really mean it – and that's where La Cantoche ('The Canteen' in French) gets it right. Hidden just off Hollywood Road, the bi-level loft looks like something from a Taschen coffee table book. It's urban chic with graffitied white brick walls, cement floors and, dude, is that a foosball table? (It totally is!). None of it feels contrived, which is why it's so comfortable to hang around in. The spry service helps as well. Note that there's no service charge but the friendly, intuitive staff deserve to be generously tipped.
The menu is equally unstuffy, channelling simple dishes French-born owner David Sung grew up eating and loving. Crudités ($65) come three to a plate with options such as sliced cucumbers in parsley cream dressing and softened leeks slicked in gribiche (sop the sauces up with sliced baguette). Our advice? Eat these with a side of mimosa eggs and maybe crack open a bottle of rosé. The kitchen also embraces Southeast Asian influences (Sung's parents lived in Vietnam and Laos) and the results are some of the best dishes on offer. Miniature spring rolls ($70) arrive on a bed of greens with their golden shells wrapped around pungent, creamy goat's cheese. And then you get Vietnamese meatballs ($65) perfumed with a chorus of spices. They're on the dry side, which is why it's imperative to eat them with their plate-mate salad – an explosive mix of shredded cabbage and carrots perked up with lemongrass, nuoc mam and fresh mint. Whatever you do, though, save room for the crack-like 'rice krispies' ($70), which translate into crunchy bits of puffed rice and pork mixed with zingy herbs and spices. They're designed to be piled into lettuce leaves and devoured as bundles that pack heat, salt and sweetness.
Mains come with a complimentary side and this is where the chefs show their mastery with potatoes. We're head over heels for the pommes noisettes, which are crisp, golden-brown spheres encasing a marshmallow-like mound of mashed spuds. The homespun potato purée is also satisfying in the most buttery of ways. Both go well with the La Mac Cantoche burger ($140), which has a medium-rare patty brimming with beefy savour. The juicy slab is decorated with cheese and greens before it's slipped between two soft buns smeared with mustard. The chicken cordon bleu ($130) is another fantastic down-to-earth effort that sees a tender escalope rolled with ham and cheese before it's breaded and fried. The only thing that doesn't blow us away is the poisson papillote ($160). The fish stays moist in its foil packet but its mild flavours are easily overshadowed by the brine-soaked carrots and capers that are also tossed in the bag.
Even if you're full by this point, the dessert menu still deserves a peek. The selection changes regularly and, on the night of our visit, a sinfully rich crème au chocolat and playful M&M's nougat glacé (both $55) steal the show. For a lighter plate, there's the floating island ($55) – a light-as-a-cloud toasted meringue that drifts atop a pool of English custard. These desserts aren't fancy but that's what we love about La Cantoche. It's humble but never boring – and that's the mark of a truly fantastic casual restaurant. Dorothy So
5 Wa Lane, Sheung Wan, 2426 0880. Mon-Sat midday-3pm & 7pm-10.30pm. Closed Sun.
The bill
Crudités $65
Vietnamese meatballs $65
Rice krispies $70
La Mac Cantoche burger $140
Cordon bleu $130
Chocolate cream $55
M&M's nougat glacé $55
10 percent service charge $0
Total (for two) $580
Details
Best selling Time Out Offers