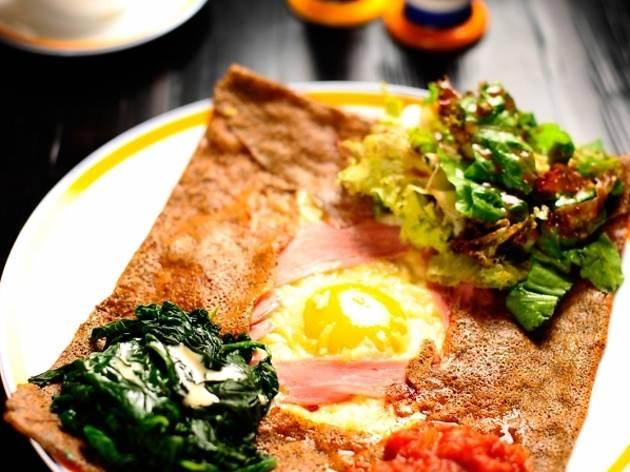 Time Out says
In terms of character, this is the real deal. More French is spoken here than Cantonese or English combined – mainly by continental bankers and Alliance Française students, who line up for the 20 or so seats at La Crêperie – and the air is filled with the sweet aromas of made-to-order pancakes. Crockery and framed photos depicting Brittany's lighthouses adorn the walls of this second floor establishment. It's all rather twee.
Besides the buckwheat pancakes, there is also an abundance of seafood items on the menu including mussels, oysters and seafood-filled crêpes. As it was our first time, we plumped for a few classics. To begin with we chose Crêpe Complete (part of a set meal, $88), a traditional combination of egg, ham and gruyère cheese. It was a beautiful start. The crepe came unfolded and filled the plate, and inside the melted cheese, diced ham and a sunny side egg was absolute heaven.
Next up was the La Finisterienne (part of a set meal, $88), a mix of cubed chicken in a creamy curry sauce folded with blanched spinach. The curry was a very mild turmeric blend, further smoothed out with light cream. The spinach offered little in the way of a variation of taste, instead it just made us feel better for making a healthy choice.
In both cases, the thin buckwheat pancake was poked evenly with tiny holes from the hot circular grill as a good crêpe should be. The saucy fillings of the savoury crêpes kept its cover soft and pliable, while the sweet crêpes instantly dried out to a crisp – caused in part, it would seem, by the sugar crystals that had hardened the exterior slightly. However, a quick survey among our French friends told us that this should not happen and that dessert crêpes should be on the soft side.
We had two dessert crêpes, one with caramel and one with butter and sugar. The Jackson Pollock effect of the caramel will give you a toothache as the sauce clings to your teeth, but if you are a fan of sticky sweetness then this is definitely the one for you. The butter and sugar is a classic, and if you want something simple and easy to finish your meal with then we suggest you try this.
The service here deserves a special mention. It was beyond the usual standards, most likely because the waiter is also one of the owners. He makes sure you understand the menu, helps you sort through pages of French and comes by every so often to see if you are enjoying the meal. This, along with the charm of the seaside imagery, and the decent crepes will certainly bring us back.
Angie Wong

1/F, 100 Queen's Rd East, Wan Chai, 2529 9280. Mon-Sun 11am-11pm. Meal for two: around $260.
(Sheung Wan)

(Wan Chai)

(Causeway Bay)

Details
Best selling Time Out Offers