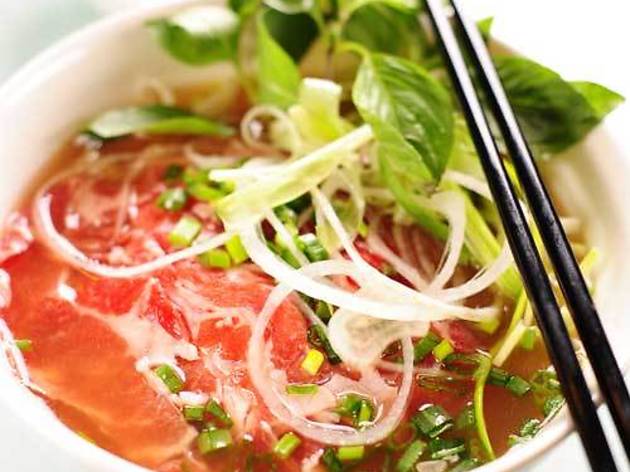 Time Out says
The former head chef at Nha Trang upped sticks and took some of the staff with him to open this place a few blocks away. La'taste is a replica of the Nha Trang brand from decor to menu. Well-loved items from its progenitor such as bahn cuon (steamed rice ravioli), chao tom (chicken skewered on lemongrass), and pomelo with prawn salad, all make it onto the La'taste menu, though you could say these items can be found on most Vietnamese menus in Hong Kong.
There is no concept of starters versus mains here. Whatever comes out, comes out. Our main of blackened pot of ca rib bo nam (beef brisket curry, $56) was first to arrive. The pot was bubbling with mild curry, large tenderous cubes of meat and potatoes. A bowl of rice or toasted baguette is all that is needed to sop up the rich gravy. For curry lovers, this is a winner.
It is unfortunate with a name like La'taste, their signature pho (noodle soup, $38) lacks taste. Though loaded with monosodium glutamate, there was still little flavour and body to the broth. It desperately needed the helping of chilli, lime and hot sauce. Sriracha. On the menu it read "thin slices of beef cooked medium rare", but it arrived overcooked and with freezer burn. This entire bowl needs a rethink.
Their grilled prawn rice paper roll ($43) is also crying out for a shake up. The roll was overloaded with noodles and a pale imitation of shrimp that tasted more frozen protein than fresh shellfish. The entire dish was essentially rice noodles wrapped in a larger rice noodle. Alone it had little taste - one sweep through the sweet garlic vinegar delivered its only flavour. Pass on this one.
Our make or break dish was the bahn mi Saigon ($35). Unsurprisingly, it was made with the whitest of white breads and flavourless cold cuts. The dominant taste was that of mayonnaise. We are confident you can get a fantastic bahn mi in this price range elsewhere, so do.
The one big difference between La'taste and Nha Trang is the service. The staff here are happy to serve you, they are empowered to give free drinks to recognised regulars of Nha Trang and they seem proud of their new digs. With some improvements to the ingredients, they can command the same long lines as their forerunner. But just because you build it does not necessarily mean they will come. There's still a lot of work to do here. Carl Huang
1/F, 34-38 Stanley St, Central, 2815 8863. Daily 11.30am-11pm. Meal for two: around $300.
Details
Best selling Time Out Offers