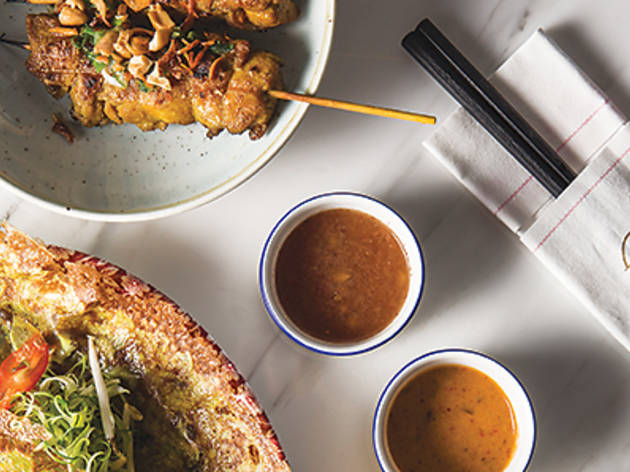 Time Out says
It's been a long two years since Beef & Liberty and Pizza Express opened on Wing Fung Street. These were the big openings in the area but it's Star and Sun Streets that have the edgy and original dining concepts occupying the streets. Grasping the spotlight and turning it back on Wing Fung Street is Black Sheep Group's latest venture, Le Garçon Saigon. The kitchens come helmed by the former sous chef of Ho Lee Fook, Bao La, and unlike most Vietnamese restaurants in Hong Kong, there isn't a bowl of pho in sight.
The décor is pleasantly airy, with ceiling fans and wicker chairs which are all reminiscent of French colonial styling. The restaurant's concept focuses on Saigon-style grilled items. The menu is catergorised like a grillhouse and divided into appetisers, entrees and sides.
We start off with a bánh xèo ($128) with a twist. Dotted with chorizo, prawn and loaded with bean sprouts, we love the light fragrance of coconut milk in the crêpe and it proves a satisfying dish when eaten with the lettuce, herbs and nuoc mam sauce. For mains we order a grilled half yellow chicken ($168). The main dish arrives with a plate of rice paper and condiments such as basil, alongside pickles and a thick sweet peanut sauce. Sufficiently charred, and marinated with not a little spice, the chicken arrives bone in. This makes the whole exercise of eating the dish cumbersome, since we either have to debone the meat before wrapping it or bite around the obstruction. It's an obvious issue and other patrons are just as likely to irked. The meat is somewhat salty, but when we do eat it wrapped up with all the trimmings the flavours make perfect sense.
For dessert we pick the coffee flan ($68), which proves to be just what we need to conclude our meal. Served in a dainty mug, the smooth custard has a layer of aromatic coffee syrup that provides a pleasant sweet kick to end the meal on.
As far as pricing in the Star Street precinct goes, Le Garçon Saigon is fairly wallet-friendly, and a regional Vietnamese place that serves no pho is quirky enough to draw the crowds alone. If you're weary of the olders kids on the block, there's life left in Wing Fung Street yet. Lisa Cam

Le Garçon Saigon 12-18 Wing Fung St, Wan Chai, 2455 2499; legarconsaigon.com. Dinner for two $750.
Details
Users say