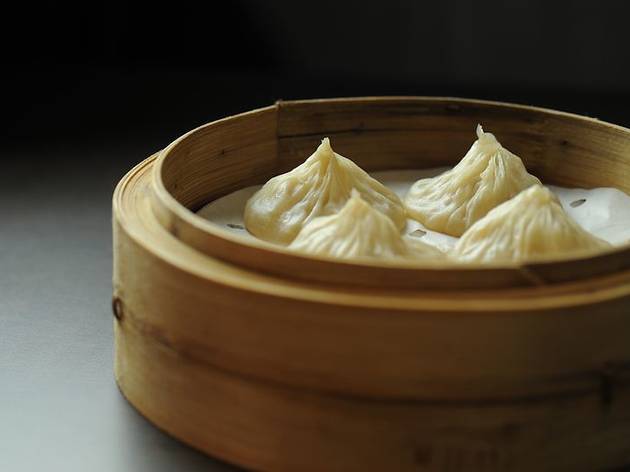 Time Out says
Emulating Crystal Jade's menu is a bold move for this new Shanghainese restaurant, especially as its first shop is in Times Square right next to a branch of Crystal Jade. This could be a smart move or a really stupid one, as the two shops' proximity invites comparison. What were the landlords thinking pairing these two? Their menus match verbatim.
If the name Lei Bistro sounds vaguely familiar it's because this is the little Shanghainese sister of the Lei Garden chain. Here they do xiao long baos by the steamer, dan dan mein by the bowl and their sister's famous char sui. But not, in our opinion, to the same impressive effect.
First, if Lei Garden is known for their char sui ($68), it's a shame that the brand is let down by the non-comparable version at Lei Bistro. The only word to describe the appearance of ours was grey. We thought it might have been warmed in the microwave, but could not confirm it. It was tough and, without the thick belt of fat, would have been tougher.
The biggest disappointment of the day was the xiao long bao ($26). If you are situated next door to The House of Xiao Long Bao (Crystal Jade), then you better proffer some that stand up to the competition or else take them off the menu. These shunken little purses lacked the requisite burst of soup and the meat was white and tight as it had just been let loose from the deep freezer. The soup wasn't sweet either and we didn't bother to finish the basket of four pieces.
An improvement was the dan dan mein ($35). A bowl of instant noodles with sweet-spicy chilli broth and bits of minced pork and pickled vegetables arrived when things were looking dire. The noodles soften in the soup, so it is of utmost importantance to eat them straight away. Tastily spiced with peanut, sesames and chillis, the broth soaked into the instant noodles and made for good slurping. But even this bowl of noodles wasn't enough to cancel out the previous disappointments.
Go next door and have yourself a decent Shanghainese meal while this place figures out how to right its wrongs.
Angie Wong
Shop B217-B218, B2, Times Square,1 Matheson St, Causeway Bay, 2602 8283. Daily 11am-11pm. Meal for two: $300.
Details
Best selling Time Out Offers