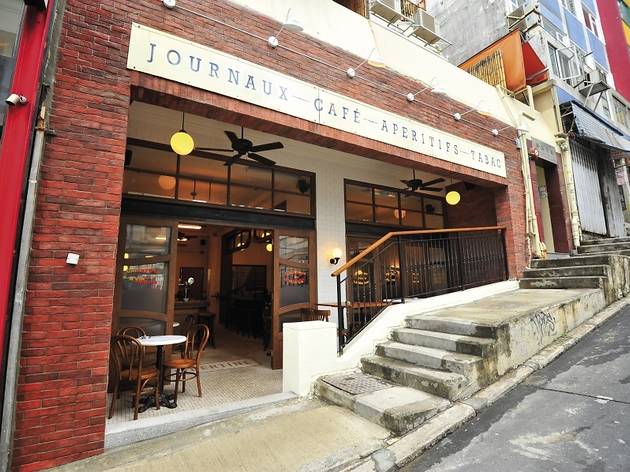 Time Out says
Housed on the horrendously steep slope of Aberdeen Street (note to girls: don't wear heels), Libertine is Soho's latest venue to jump on to the French brasserie bandwagon (better late than never, we guess). The space is gorgeous – an expansive, high-ceiling dining room with wooden chairs and plush red banquettes inside, and a few high tables and stools set outside for those who want a coffee or a glass of wine after dinner.
The menu appears equally enticing at first, a single page dedicated to fuss-free French dishes. We stick with the classics, beginning with the duck liver terrine plated with a simple side salad ($98). It's delicately seasoned with an ever-so-slight gaminess balanced by the tart cornichons. We love that it's served with thick slices of grilled country bread but the charred smokiness overpowers the faint flavours of the pâté. It's best to eat these separately. Next up – escargot smothered in a subtle garlic pesto ($88). The dish is lukewarm and some of the snails arrive drier than the others. But the sauce is delicious, perfect for sopping up with the thin slivers of toast served on the side. We can't complain too much about the hors d'oeuvres though, because they're arguably the best part of Libertine's menu.
The homemade pappardelle with truffle, almonds and parmesan cream ($138) is the first let-down, arriving poorly under-sauced. But it's not quite as disappointing as the steak frites ($288). The charred, 10oz slab carries no discernable meat flavour and is unevenly cooked with the centre parts being much rarer than the rest of the steak. Then we get to the frites, which are soggy in the centre, reminiscent of store-bought, frozen goods. For dessert, we bypass the tiramisu (what's that doing at a French bistro?) and opt for the chocolate fondant ($75), which is dry with only a few moist crumbs in the centre. Skip this and go for a coffee.
Libertine has to work much harder if it wants to be taken as more than just another pretty new face. We do hope it picks up its game soon – after all, we'd hate to see such a beautiful venue go to waste. Dorothy So
26 Aberdeen St, Soho, 2858 2022. Mon-Fri 8am-11.30am, noon-5pm, 6pm-late & Sat-Sun 9am-5pm, 6pm-late. Dinner for two: around $700.
Details
Best selling Time Out Offers