Liberty Exchange Kitchen & Bar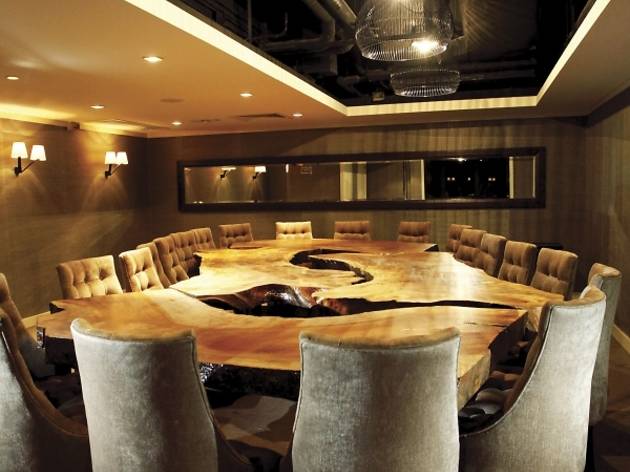 Time Out says
Liberty didn't hire brand consultants to come up with its catchy name, nor did it name itself after New York's famous guardian. In a quieter moment, perhaps, the owner may reveal that the name was in fact coined to signify a break from the past, a new lease of life, a chance to start again. In this case, it is the liberation from its former business partners at Dakota Prime and Prive.
Months after Chef Makato Ono and owner Gerald Li left their old premises, they started a tiny test kitchen that sat just 16, and they called it Liberty Private Works. They didn't want the media spotlight or random diners to come off the street into their second floor lair, and instead were keen to gauge the thoughts of a select few. They wanted to experiment and formulate a great menu for their next project, which would eventually become Liberty Exchange.
There were initial fears that expanding one of the best private kitchens in town would lead to them being called sell-outs. And although the enlarged square footage of Liberty Exchange needed to cater to the masses in this business centre, they do it with as much thought and care as they did in their smaller kitchen.
Braving the wall of bankers sitting at long, elevated bar tables, I was welcomed into a masculine dining room tailored from wool and leather. The decor was done up in cream- and grey-coloured tiles, wood-panelled walls, café-style tables, brown leather benches and low lighting, all of which draws in swathes of well-heeled businessmen, and along with them, a very polished, refined female clientele.
The attractive, and noticeably Caucasian, wait staff were attentive at all times, and made sure our evening flowed nicely by moving us from after-work drinks to light snacks and eventually to dinner. Clearly someone had given some real thought to how people and service can define a place.

Feeling a bit peckish, we opted for a few standard choices from the short gastro-pub menu: house-made sausages ($98) and chicken wings with blue cheese dip ($98). The starters appeared in no time, and we paused in mid-sentence to ogle them when they arrived, but we were ultimately unimpressed. The chicken wings were without flavour despite their tender and juicy consistency. We thought that generously dipping them into the accompanying creamy blue cheese sauce would help, but this did nothing to improve the flavour.
The only surprise was the sausages, which could change your perception of the meaty concoction from this point forward. We sampled three types: hot Italian, herb and sweet andouille, served with a pommery vinaigrette coleslaw. We concluded that all were tasty enough, but the hot Italian won our hearts, offering just the right blend of spice, herbs and mouth-watering fatty juices. Between bites, we cooled off with lashings of the coleslaw, which was sweet, tart and crisp – and took the edge off the sausages.
Having consumed a few more beverages and by this time feeling ravenous, half of the group decided to stay for main courses. An order of Liberty's eight-hour French Onion Soup ($72) arrived in a crock bowl accompanied by a gruyere crouton. We marvelled over its gravy-like consistency and intense beef broth and onion flavours, and noted that the bread with a melted blend of gruyere and white cheddar cheese stayed partially crisp until the soup took over. Well thought out.
That's when we noticed something different about this place. It wasn't the pub-grub we had come to expect. Liberty was more like a fine diner in disguise.
Next, we dived into a pot of mussels with creamy fennel vermouth broth ($180 for ½ KG, $325 for 1 KG) served with skinny chips. These were divine. The mussels themselves – bright orange in colour – were ocean fresh and creamy, steamed to plump perfection and piled high in a pot on a wooden board in a light white wine, fennel and cream broth. The broth itself was a balance of acid, fatness, sweet vermouth. Subsequently, we went back for another visit to try their mussels in sake, miso and yuzu. The creamy fennel sauce fared much better.
And here's a nod to the US chicken with waffles ($185), and pork and apples ($208) as mains. The chicken was bronze-fried with a tender interior. In the US this combo is often deemed trashy comfort food, but here it couldn't be more gourmet – the sauce being one of the main reasons. It was well-rounded, with a harmoniously blend of honey, stock, "spices" and cream. Meanwhile, the waffles were flavoured with a hint of blueberry essence. It was different, but it worked.
The climax was the pork with apples. The hefty double-chop, bone-in pork loin was roasted to perfection, browned and glistening on the outside, very pink and juicy on the inside, and served on a bed of mashed yams with al dente stewed apples on the side. The serving was so substantial that most of us were only able to have a few mouthfuls without making much of a dent.
We were about to call it a night when the friendly waiter came by the desert menu that was too good to pass up. We plumped for the Mellow Yellow citrus poppy seed cake with lemon curd ($60) and Granny Smith crumble tart ($62). The Mellow Yellow dessert was sublime: layers of creamy lemon mousse and poppy seeds on a thin layer of pastry with crispy meringues. Tart and polished, this was one heck of a closer.
But it was the Granny Smith crumble that pushed this review to a five-star status. It was the stewed apples combined with a flaky cheddar cheese filo cup served with a drizzle of caramel, a handful of sugared pumpkin seeds and a small pot of whipped cream cheese that made the table silently satisfied. The cheddar cheese in the crust was not pronounced but we liked the effort. The sweet apples still had integrity and body, while the pot of cream cheese offered the full-umami coating on the tongue.
And with spoons firmly in our mouths we pondered how fine the whole experience was.

Mary Banker
G/F, Exchange Square, 8 Connaught Place, Central, 2810 8400. Daily noon- 11pm. Bar opens till late.

Details
Best selling Time Out Offers