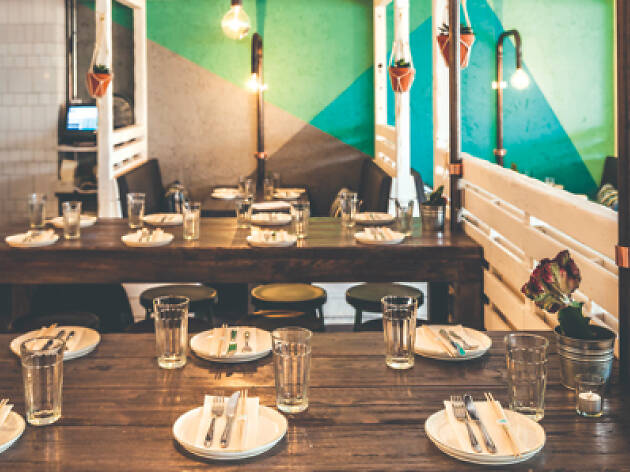 Time Out says
Repulse Bay. It's pretty as a picture and it's home to some of Hong Kong's most breathtaking views. That's why so many people take a trip to the 'south side' to enjoy some time out. The Repulse Bay hotel is a hot destination for weddings and high tea, and the beachfront, with its barbecue areas, is a must-visit for families all year round. But if you want to just hang out in this relaxed area, you need a reason that isn't just beach, sea, wedding or tea. And now you've got it, as The Pulse has opened its doors over the past few weeks. One of a slew of Emperor International Holdings projects, this is a new 150,000sq ft mall that is expected to become a hotspot for tourists, as well as us Hongkongers. And apart from the shopping, they'll be checking out the restaurants. That means popping into Limewood, one of the mall's prime dining destinations.
After the runaway success of Mott 32 and Fish & Meat last year, Limewood is the latest brainchild from the guys at Maximal Concepts. So, innovative fare alongside top-notch ingredients are expected in spades here. The restaurant's concept is an original one too, claiming to be an amalgamation of Southeast Asian, Hawaiian, South American and Caribbean – basically anywhere known for its seaside culture – flavours, and the cuisine is centred around barbecued seafood and meat. Oh, and, of course, cracking cocktails.
The décor at Limewood is what you'd call 'boathouse chic', with white, teal and driftwood tones, a faux-chipped paint wooden wall and unpolished brass light fixtures that make the place feel all sun-kissed. There are also wide windows and double doors that spill on to the beach and the stools allow patrons to look out on to an unobstructed view of the ocean while enjoying the comforts of a full service restaurant. Basically, if the food measures up, Limewood has what it takes in terms of design to become a prime location on a fair day.

Chicharrón guacamole
But does the food measure up? We begin with a chicharrón guacamole ($120). And it's good. The avocado undercuts the fried pork rind effectively and we enjoy the addition of some red caviar in the humble guac, elevating it with a briny aroma. Next up the is jerked coconut corn ($75). Though a little sweeter than traditional jerk sauce, the addition of sriracha mayo and coconut into the mix is heaven sent. And the crumbly toasted coconut bits are dangerously moreish. Two great starts.
Apart from seafood and barbecue, Limewood also boasts to be an expert in margaritas, so we try one of the signatures, the calamansi and salted plum margarita ($110), while we wait for our mains. We're glad we do. What hits first is the plum powder that rims the glass. Then there's the caramelised sugars of the burned calamansi that finish on a citrusy fresh note. It's a thinking-out-of-the-box cocktail that somehow also sticks true to the classic at the same time.

Charred whole sea bream
Our food arrives and the 24-hour slow-cooked charred beef ribs ($360) are slathered in mango-infused barbecue sauce. The fruity flavours bring a much-needed fresh note to the meaty dish and the beef is cooked perfectly, sliding off the bone. However, we do wish the cut is leaner, as we have to slice our way through a layer of fat to get to the meat. In contrast, the sea bream ($245) is deliciously light. It's garnished with grilled lime and paper thin slices of green mango, with a flesh that's juicy and succulent. If there's one improvement to speak of, we prefer a stronger marinade on the fish as it's missing a zing that would complete the Southeast Asian influence of this dish.
Ending things on a sweet note, we plump for the piña colada cloud ($75). It's presented playfully in a coconut shell, a light-as-air sorbet sitting on top of a creamy pineapple ice cream. The tropical flavours hit you instantly but it could do with bit of rum for a buzz. Good but not perfect.
All in all, what's on offer at Limewood suits its setting to a tee, though some small refinements would certainly give the dishes more life. The venue's location and interior, are truly impressive and this restaurant could be the anchor that people are looking for to spend a day at Repulse Bay. Limewood is definitely the destination of choice to bring out-of-town guests to show off the bay in all its glory and they'll just love to be eating beside the seaside here. Lisa Cam

Limewood Shop 103 & 104, The Pulse, 28 Beach Rd, Repulse Bay, 2866 8668; limewood.hk.
Details
Address:
Shop 103 & 104, The Pulse
28 Beach Rd, Repulse Bay
Hong Kong


Price:
$$$
Contact:
Do you own this business?
Users say