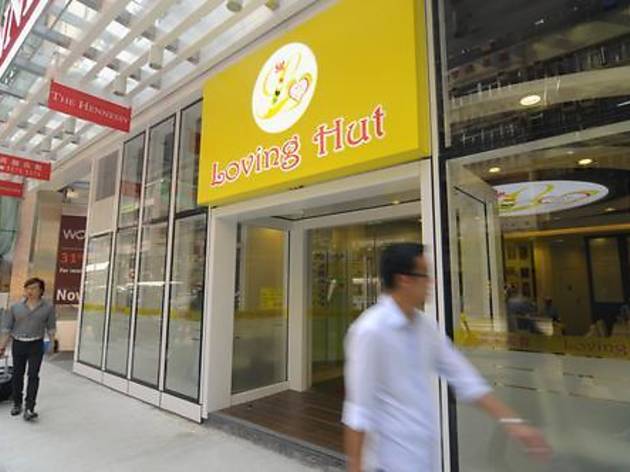 Time Out says

Veg out

Dining out at this place lends new meaning to the term "guilty pleasure". On a wall featuring glossy photographs of Richard Gere, Natalie Portman, Kate Winslet, Albert Einstein and Oprah Winfrey, an engraved sign asks: "These smart, beautiful, talented people are vegetarians. Why aren't you?"

The setting is very much like a minimalist Café de Coral. Customers choose from a menu board filled with meat substitutes then collect their meal on a tray from the counter. On offer is a collection of pan-Chinese favourites such as curry "fish cake" in noodle soup, minced "pork" gravy over rice and barbecue "pork" fried rice. All the items are vegan and egg- and dairy-free.

This canteen style of dining is perfect at lunchtime, which is when we went. Although the similarities to fast-food chain Fairwood are evident, there were certainly gaps in the service. The time lapse between cashier and food pick-up was much too long to be "fast food". And given that we were one of three tables occupied, it was not a matter of the kitchen being under pressure.

When we did receive our food, it looked exactly like a Café de Coral set meal. Even the plastic plating was identical. The soy char siu ($46 for set lunch) was dyed the right colour of burnt red and had a similar texture to a badly made char siu. This soy product was passable for the real thing but needed the char siu sauce to give it some flavour, otherwise it was like chomping on tasteless compressed non-meat. The red yeast rice that accompanied the meal looked like plain white rice dressed in hot-red colouring. The healthy soup, which came as a side order, tasted healthy, or rather it tasted of nothing but herbs steeped in a bowl of unsalted broth with root vegetables.

The minced meat over noodles ($30) fared better. It looked like a plate of Spaghetti Bolognaise but tasted like bland dan dan mein. Adding bits of minced soy covered with glossy gravy, preserved vegetable and reconstituted dried mushroom helped boost the flavours but since there was a meagre amount of sauce over the hefty serving of (overcooked) pasta, the sauce was overwhelmed.

Vegan food, when respected by using ingredients in their natural state, can be excellent. When it becomes processed, disguised by flavourings then poured over more processed products, it becomes, well, unhealthy. We like having alternatives to meaty meals and we applaud them for the effort. We just want more effort here.
Angie Wong


G/F, The Hennessy, 256 Hennessy Rd, Wan Chai 2574 3248. Daily 11am- 10pm. Meal for two:
around $80.

Details
Best selling Time Out Offers