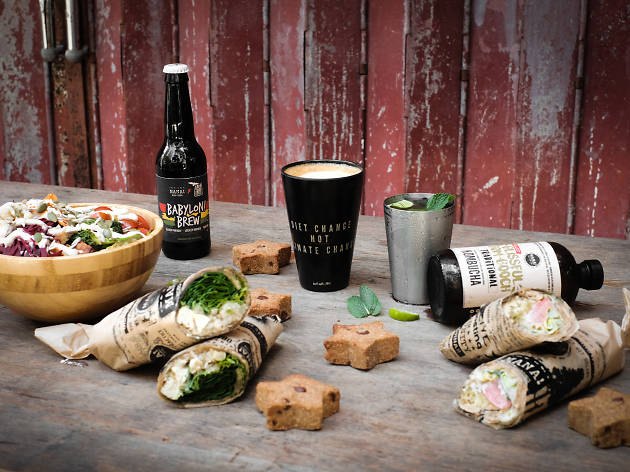 Time Out says
Mana!, torchbearers of the 'fast slow food' movement, have just opened a third location. And this one is big. As in, 1,600-square-feet big.
With this new space located opposite Three Pacific Place in Wan Chai, the plant-based, zero-waste specialists finally have a flagship. It's a little different from the other two. For starters, neither the shop in Central nor the café in Poho have air-conditioning, but this one (thankfully) does. And while the shop in Central draws grab-and-go crowds and the Poho outlet shuts down before dinner, the Wan Chai branch offers a community space that stays open until 9pm. Not in a rush? Grab a book from the shelf, many of which deal with sustainability and food issues. If you have work to do, plug your laptop into the wall outlets. Mana! Starstreet invites all members of the 'tribe' to linger. In fact, founder Bobsy Gaia expects to host events here, from talks to music performances to film screenings.
But this new community and dining space is only part of the equation. Mana! has quietly – although very transparently – been building a movement, and now it's starting to come to fruition. The day before we meet with Gaia and his four like-minded managers over Gin & Kombuchas ($80) and Babylon! Brews ($60) – a crisp, non-GMO, gluten-friendly pale ale made in collaboration with Black Kite Brewery – the group had just pitched for funding at the Alibaba Entrepreneurs Fund. That stems from an initiative they launched in 2018.
Mana! sources biodegradable, plant-based packaging from a company called Vegware. If you order the excellent rainbow yams and dip ($50), for instance, the liner of the plastic-like serving vessel you receive will be made of biodegrabale goods. The highly recommended fair-trade coffee with coconut oil and oat milk ($50/12oz)? Both the cup and lid are biodegradable, too. Last year, the two companies petitioned the local government to recognise plant-based packaging as a compostable material in Hong Kong. They then worked with a farm in the New Territories on a trial basis to compost their packaging along with food waste. In just three months, they turned 9.5 tonnes of plant-based packaging and food waste into soil and prevented 2.8 tonnes of greenhouse gas emissions from entering the air. Seriously. The information is all available here, too.
That means that when you visit this new location and order a mezze box of olives, pickled peppers and crisps with hummus and baba ghanouj ($120); a salad from the bar (small $80/large $135); a homemade vegan Killa cookie ($20-40); or anything else, all your materials will be compostable. You will be playing an active part in helping the environment. Just like the humble but always satisfying food served at this gradually expanding empire, what's not to love about that?
Details
Best selling Time Out Offers