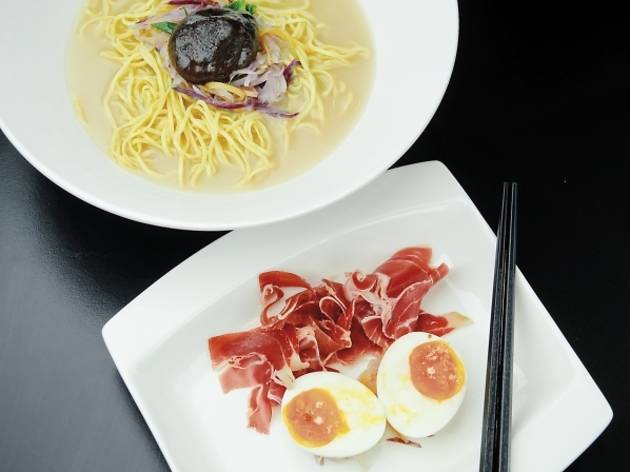 Time Out says
The city's been on a crazy ramen bend with Japanese noodle bars spreading like wildfire from Lan Kwai Fong to Sham Shui Po. It's a dizzying scene, which is why the opening of Maureen feels like a welcome respite from the tonkotsu saturated market.
Housed behind Wan Chai's famed Blue House heritage building, it's easy to mistake the venue as yet another modern ramen joint, especially with the strip of counter seating flanking the open kitchen. The concept however is built around Chinese-style noodles served in brilliantly rich, slow simmered broth bases. Chef and owner Maureen Loh has ample experience in this field, having operated a cafeteria-style eatery by the name of Soup Café in Central prior to opening this new venture. But while the food at Soup Café was more straight-up and no-fuss Chinese, dishes at Loh's new noodle bar are much more adventurous and sophisticated.
The menu is concise with only three starters, four noodles and a handful of additional sides. Ingredients are carefully cooked (mostly using sous-vide techniques) to draw out their most intense and organic flavours. Take the peeled cherry tomatoes ($38) for example, which are marinated for hours on end in a balanced mixture of soy sauce, garlic, shallots and sweetened balsamic vinegar. The plump, red spheres are then lightly dressed in extra virgin olive oil before plating to round off the flavours. It's a complex and refined preparation for such a seemingly simply dish.
But, like we said earlier, it's really the noodles and broths that form the soul of the kitchen. The yellow-hued strands Loh serves are custom-made for the restaurant and are a crossover between heavy, Sichuan dan dan noodles and Guangzhou-style thin noodles. The resulting ribbons are deliciously eggy with a slight al dente resistance to each bite. These are garnished with finely shredded potatoes and yams (rinsed of excess starch to give more crunch) and a single shiitake mushroom before they're bathed in any two types of soup bases.
Both soups are made from six to eight hours of simmering and boast umami, clean flavours that taste free of MSG and grease. If you order the superior stock spun from sea whelk, Yunnan ham and cartilage-rich cuts of chicken, you'll have an option of lemon olive oil-infused chicken ($78) or abalone ($88) on the side. The latter are fresh, Kippin variety mollsucs, which are marinated and braised for more than a day before they're sliced into thin slivers and served with the noodles. Our favourite though is the reinvented egg and ham noodle ($88), which is served in a full-bodied pork bone, dried scallops and black mushroom broth. You won't get any low-grade deli meats here; it's cured Spanish jamón plated with half-boiled,
aged huadiao-infused eggs with creamy, molten yolks sprinkled with sea salt and preserved mandarin peel. Delicious.
For the time being, Maureen is only open until 6pm but Loh has plans to expand her menu to be more late-night appropriate. She's playing around with the idea of molecular Chinese tapas. When she does roll these out on to the menu, we'll be eager and ready to give them a try. Dorothy So
11 Hing Wan St, Wan Chai, 2915 2261. Mon-Sat 11am-6pm. Closed Sun.
The bill
Marinated cherry tomatoes $38
Abalone noodles $88
Ham and egg noodles $88
10 percent service charge $21.40
Total (for two) $235.40
Details
Best selling Time Out Offers