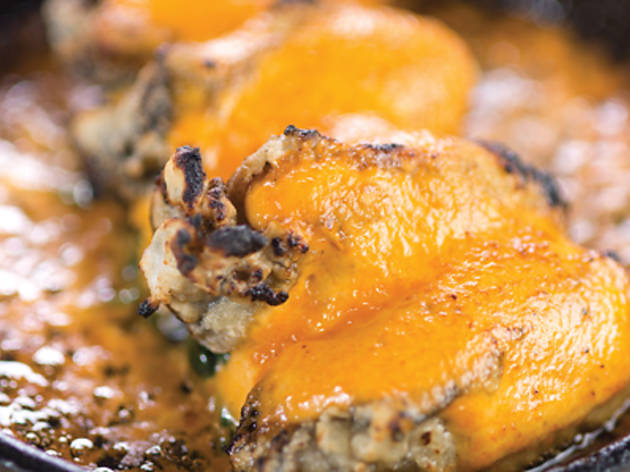 Time Out says
While Mekiki no Ginji may be one of Okinawa's most popular chain izakayas – sporting 10 restaurants in the Japanese city since launching eight years ago – don't hit up this new Hong Kong foray from JC Group expecting Okinawan cuisine like Spam stir-fry or sea grapes. Instead, expect signature dishes which represent every prefecture in the Land of the Rising Sun. And expect top quality ingredients too.
To access Mekiki in Causeway Bay's World Trade Centre, you've got to walk into Hooray Bay – another of JC Group's babies – but you'll know once you're in due to the layer of smoke cloaking the heavily wooden dining room. The open kitchen uses real charcoal for its grilling – but don't worry: the place is well ventilated and you soon get used to the thick air.
On our visit, we go straight for the grilled half head of cabbage ($45) – a specialty hailing from the island of Kyushu, and probably the most unique grilled item on the vast menu. The cabbage, imported straight from Japan, is slightly charred at its edges and lies in a tangy dressing, retaining a crunchy bite and a sweet aftertaste. Mekiki no Ginji (which literally means 'discerning eye for choosing top quality') certainly has a discerning eye for its ingredients.
Away from the grill we choose the simple signature Okinawan chicken broth udon ($98). The texture of the soup surpasses all expectations – thick and silky from hours of slow cooking. And its richness shines through when combined with the udon. However, the star of the evening is the fried oysters in sea urchin sauce ($68) from Hokkaido. Bubbling away on a hot plate, the fresh, meaty oysters rest on a nest of vegetables which are covered in a sweet, bright orange urchin sauce that makes the most of this oh-so-Japanese seafood's strong flavours.
Overall, we love the ingredients in the dishes at Mekiki, as well as this refreshing approach to izakaya cuisine. It's a homely spot featuring dishes which edge towards the comfort end of the Japanese spectrum – with, in a few cases, interesting twists. We can't wait to bring our discerning eyes back for more. Lisa Cam
Mekiki no Ginji P502, World Trade Ctr, 280 Gloucester Rd, Causeway Bay, 2895 0885; jcgroup.hk. Dinner for two: $800.
Details
Best selling Time Out Offers