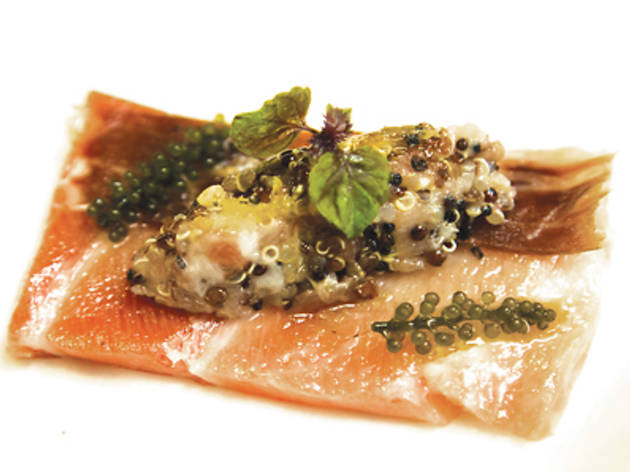 Time Out says
Culinary art meets actual art. Naked Gurume Gyarari contains both a contemporary Japanese and Asian restaurant and a chic gallery.
Japanese cuisine is often seen as healthy – but that doesn't mean it can't get even healthier.
New Elgin Street restaurant, Naked Gurume Gyarari – which literally means Naked 'gourmet gallery' – has been touting itself as a particularly salutary establishment thanks to chef Justin Chan. The organically conscious Locofama executive chef has taken his green concepts and brought them over to Naked to create what he sees as a healthy Japanese tapas dining experience.
The restaurant is divided into a gallery, which sports a few modern pop paintings and a long table for private dining, and a main area which goes for a contemporary chic Japanese aesthetic, with lacquered walls and dark wood furniture creating a comfortable, laidback atmosphere.
We order the fried lotus roots ($58) and tuna tartar ($148) to start. But we're immediately disappointed. The roots are overly sweet – too much sugar sprinkled on them – and the accompanying garlic yuzu cream is too rich for the dish. The tuna tartar over a wonton crisp is thankfully a better starter, playing on the tried-and-tested flavour combination of coriander, truffle and ginger. It's simple and solid – but hardly inspiring.
For mains we go for the recommended Sexy Naked ($238), which sees bigeye tuna pieces being served over crispy rice. It's topped with sweet potato crisps, unagi sauce and spicy mayonnaise, and also boasts some squid ink foam. But it's all so excessive. The Naked concept is about going 'stripped down' to bring out the natural flavours of the ingredients – but the tuna in this dish is smothered in sauce and it totally overpowers the fish.
Probably the most disappointing dish, though, is the uni and quinoa linguine ($188). The cream sauce, cheese and bacon combo has the consistency and heaviness of a brick, with the quinoa on top being a superfluous healthy addition. At least we're saved by the toro iberico ham with negi and sea grapes (pictured above, $188). The saltiness of the meat brings out the full flavours of the soft tuna belly toro, creating a welcome marriage.
Overall, Naked leaves us confused. It's dressing itself up as a healthy establishment which is whipping up something new for Hong Kong's Japanese scene – but it seems to have a blurred focus on this showing, with some pretty lacklustre dishes being served up. For the cost, you'd be better off stripping your wallet elsewhere.
Details
Best selling Time Out Offers