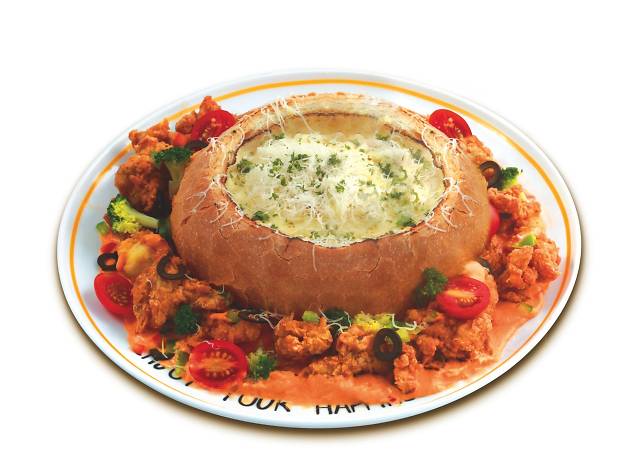 1/2
In-bread chicken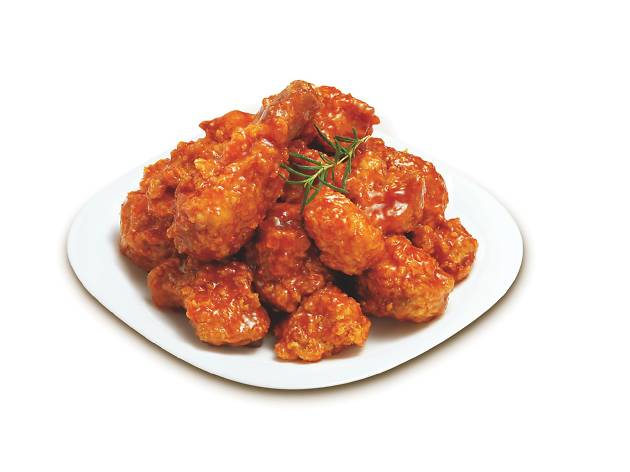 2/2
Feeling hot hot hot
Time Out says
KFC just got a mother hen
Korea's famous NeNe Chicken has just winged its way into Langham Place mall. The chain is a darling on the dining scene in South Korea and it's already proving hugely popular Mong Kok. A specialist in both crispy KFC (Korean fried chicken) and the flavourful sauces that coat the birds, NeNe, literally meaning 'yes, yes!', has been rammed since it opened.
So we flock to the restaurant. Inside, it looks like a fancy fast food eatery, but we're not here for the interiors, so we tuck into the pane chicken ($208). An exclusive treat for us Hongkongers, it's frickin' finger lickin' great. Pieces of crispy fried chicken with creamed tomato sauce on top are placed around a toasted bun that's filled with melted cheese. You can dip the chook in the cheese or even stuff pieces of meat into the bun. It's big, it's satisfying and the flesh is a crispy, flavourful winner. Also, the boneless 'freaking hot' fried chicken ($168) is mind-blowingly spicy. The pieces are basted with super-hot sauce but, underneath, the meat is moist, succulent and devoid of grease. The spice lingers on the tongue for ages. It's a shame there's no pickled radish to alleviate the burn, though.
NeNe is worshipped in Korea for a reason. The portions are huge, the chicken is near-perfect and the prices are fab. This ain't the first KFC restaurant in HK, but it is already a beak ahead of the others.
Details
Best selling Time Out Offers