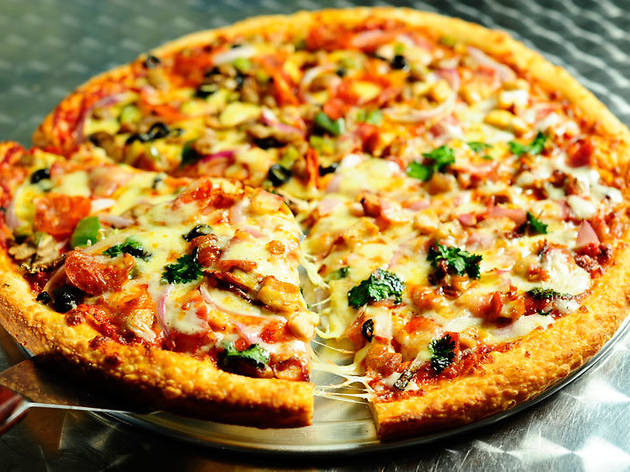 Time Out says
Most pizza aficionados agree on one thing: it's all about the crust. That's what NYPD Pizza is staking its reputation on – and its reputation comes away mostly intact.
NYPD opened a couple of months back on a dead-end street in Quarry Bay, a stretch more automotive than culinary. This hasn't stopped the worker bees from One Island East seeking it out. It is NYPD's first foray into the Hong Kong market after previously setting up shop in Shenzhen.
The digs are more suited for takeaway than eating in, with only a smattering of seats. The interior resembles what you would see behind a Pizza Hut counter, although the results here are better. We ordered a 9" New York Supreme, featuring pepperoni, Italian sausage, ham, onion, mushroom, black olives and green pepper ($88). Not wanting to give short shrift to the rest of the menu we also ordered the four-piece chicken wings ($20) and a smoked turkey hero sandwich ($35).
The pizza came out piping hot after about a 20-minute wait, having been cooked in a conveyor belt oven. Surprisingly, most of the toppings were actually buried under the cheese: mozzarella with a hint of cheddar that comes out nice and bubbly. The sausage was a highlight, seemingly homemade with a nice garlic flavour and flecks of fennel. The sauce was muted, adding only a faint herbiness to the proceedings. The cornizone, or rim of the pizza, came out nicely blistered. The crunchy exterior gave way to a chewy interior. It's obvious someone understands the necessary interplay between flour and water, although the bottom of a couple of our slices were undercooked, being more gummy than pliant.
Overall it was a step up from the chains around town, but it wasn't revelatory, and we came away wondering why this would be considered "New York-style" pizza. Everything is made to order, which has its merits, but is not what you'd find in a typical New York pizza joint, and there were no by-the-slice choices. Those hoping to grab a quick slice from an array of options and fold it before you're out the door will be disappointed.
The wings, meanwhile, were moist and had a satisfyingly crisp skin. The buffalo sauce was perfectly balanced, a blend of butter and Franks RedHot, a beloved hot sauce from the US. The turkey hero ($35) has potential. The bread was a fine rendition of a hero roll: fluffy and nicely toasted, a rare find. The vegetables were crisp and fresh. Unfortunately there was a minimal amount of sad-looking turkey hiding under some melted cheddar cheese. The bun to meat/cheese ratio was simply off.
In a town with people are mad for pizza but hardly spoiled for choice, NYPD is a welcome addition. But know that the experience is more Hong Kong than New York.
Rex Gregg
G/F, Shop 15, Finnie St, Quarry Bay, 2668 6973. Daily 10.30am-10.30pm. Meal for two: around $150.
Details
Best selling Time Out Offers