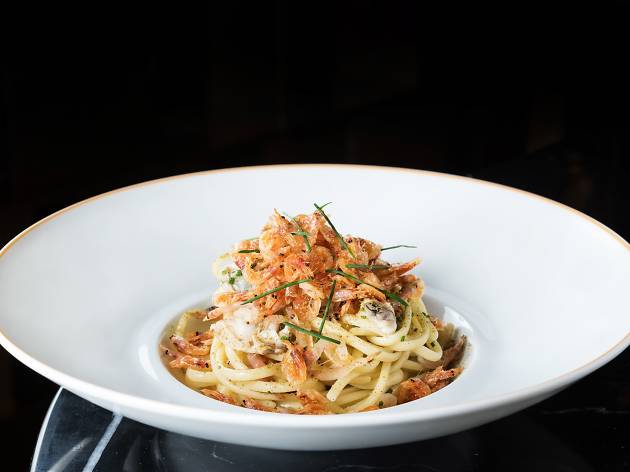 1/4
Artisanal linguini sakura shrimp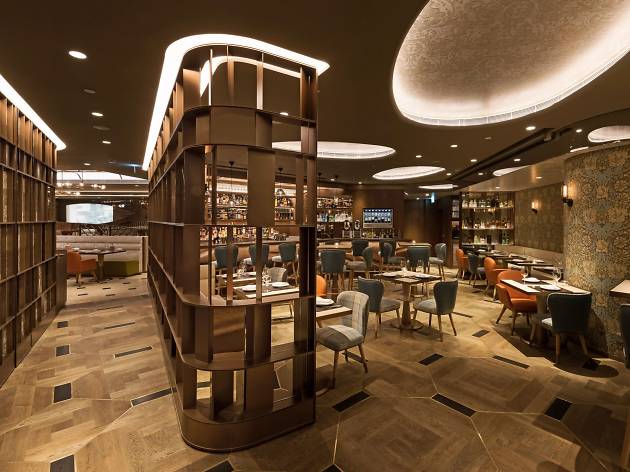 2/4
Spacious interiors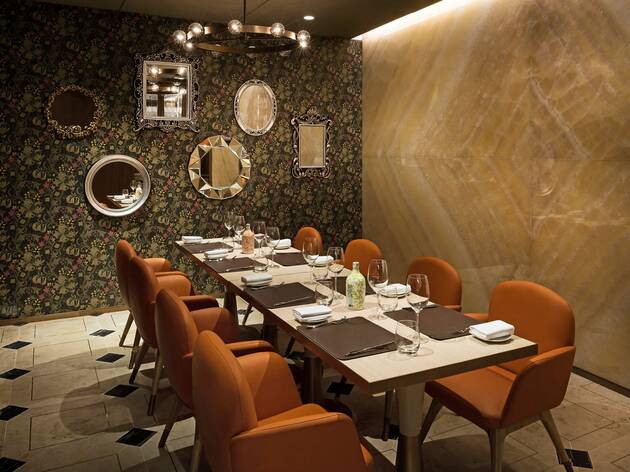 3/4
Operetta's private dining room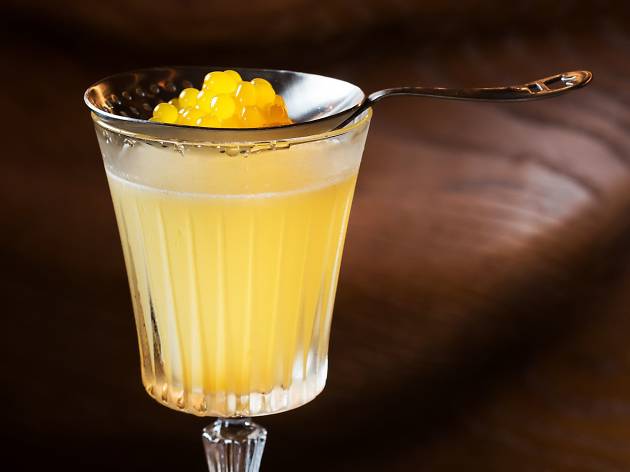 4/4
Night in Paris cocktail
Time Out says
This Italian is right on song
For a long time, Operetta, the just-opened Italian eatery at Admiralty's Pacific Place, will probably be referred to as 'the restaurant which took over Dan Ryan's spot'. Many lovers of the American diner were up in arms when their favourite ribs 'n' barbecue sauce paradise closed its doors a few months back. But they may change their tunes when they settle into Operetta and find it's also an easy spot to cosy up in, despite its ethos and cuisine being a world removed from Dan Ryan's.
When we enter on our visit, we immediately forget about any diners. The surrounds in here are much different to what we remember and we marvel at the airy bar and casual seating area as we're led to the main dining room, where plush booth seats and well-spaced tables create an inviting ambience of openness and class. The décor, which combines a neutral palette accented by bright textiles, especially with the orange chairs, is an excellent departure from the faux leather and wood panelled interiors of Operetta's predecessor.
Although it's classified as an Italian restaurant, Operetta is touting a subtle fusion twist by putting two chefs at its helm. Italian Fabio Sgro is paired with Japanese culinary director Mitsuru Konishi, who was formerly with Wan Chai's Wagyu Takumi, a post which earned the outlet two Michelin stars. Their inspiration as a team is predominantly Mediterranean with an emphasis on fancy comfort foods like pizzas, deep-fried dishes, caesar salads and burgers. There's also a fine selection of meat to get the taste buds juicing.
Trying our best to order a split of what would be Japanese fusion versus Italian favourites, we start with the fried Japanese cuttlefish ($75), which boasts a light fluffy batter and comes served with a lemon zest dip. The generously portioned cuttlefish sports a firm and chewy texture and a healthy sheen, indicating its freshness. The 'balfego' bluefin tuna tartare ($120) is also a champion starter. Though small, it's perfectly seasoned and is doused in a mild sesame sauce, arriving with a side of chopped cucumber. The raw tuna sings a symphony on the tongue when combined with the slight sweetness of the sauce.
We opt for Italian comfort food for our mains. And the pizza nduja diavola ($150) doesn't disappoint. This is a nine-inch pie topped with cheese, spicy nduja sausage and friarelli, which is what peeps from Naples call the broccoli-like vegetable rapina. It's a solid pizza indeed, with a chewy crust that's not too dry either. It would, in fact, be a comfort food delight if it wasn't so hard to find the finely chopped sausage. If the pieces were thicker, they would add a robustness to the pie so it could become the perfect pizza. Our other main shines too. The artisanal linguine ($180) with prawns and a thyme emulsion features a velvety texture which highlights the roasted crustacean's flavours really well.
The dessert menu has something for everyone and we decide on the millefoglie ($80), an Italian version of the millefeuille with a light saffron cream and a mango and blood orange sorbet. The portion is petite but the light pastry layers combined with the fragrant saffron cream to create a decent sweet balance for the palate.
The service is sincere at Operetta, albeit with a few hiccups when the waiter has to check on some details after we grill him on the menu. But with reasonable prices, we let it slide. In fact, that sums this place up. It's not perfect but it's really good, with a lively ambience that's welcome in an Admiralty that desperately needs more dining options. After the Dan Ryan's downer, Operetta is hitting all the right notes.
Details
Best selling Time Out Offers