Perfect Match Taiwanese Cuisine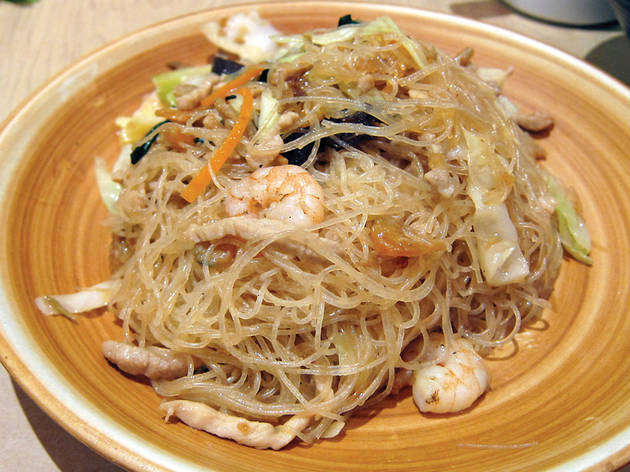 Time Out says
Being the newest and the biggest shopping mall in San Po Kong, The Mikiki Mall is quickly becoming the hotspot of the neighbourhood. There are quite a few new eateries in this three-storey complex and Taiwanese restaurant Perfect Match is among the most popular.
We're told that the chef is from Tu Hsiao Yueh, a famous noodle restaurant in Tainan. Different menus are served during lunch and dinner but the contents are roughly the same, with the only difference being the price and portion sizes.
We started with the marinated dishes, including the marinated pork intestine ($32), which was soft and tender in texture and seasoned well. The signature pork ($35), made using the muscle around the pig's diaphragm, was a bit too salty but was supple and soft with the cartilage inside providing a nice crispiness. Not a bad appetising dish to start the meal.
For the main dishes, we tried a few local selections popular in the food stalls and markets of Taiwan. The deep-fried chicken fillet ($36) is prepared in 'Hao Da' style, which is a famous eating place in Taipei's Shilin Night Market. Unfortunately, This meat was too thick and the size was far smaller than the authentic one but the crunchy batter on the outside was spot-on, as was the moist and succulent inside. We also tried the braised pork rice ($26), named 'Formosa Chang' in Chinese after a well-known local Taiwanese braised pork rice chain. The pork was diced instead of being shredded in the traditional manner and a large portion of pork belly and a thick soy sauce was added to enrich the flavours. The signature fried rice noodle ($52) is made with noodles from Hsinchu city, which are highly regarded. The strands were impressively thin and fried to a dry al dente-ness, making it the real highlight of the meal.
For less than $80 a person, we were fully sated with delicious and close-to-authentic Taiwanese cuisine. Perfect Match does a decent menu and it's definitely worth a try, especially if you're in
the area. KC Koo
Shop 7, LG/F, Mikiki Mall, 638 Prince Rd East, San Po Kong, 3579 4248. Daily noon-10.30pm. Dinner for two: around $200.
Details
Best selling Time Out Offers