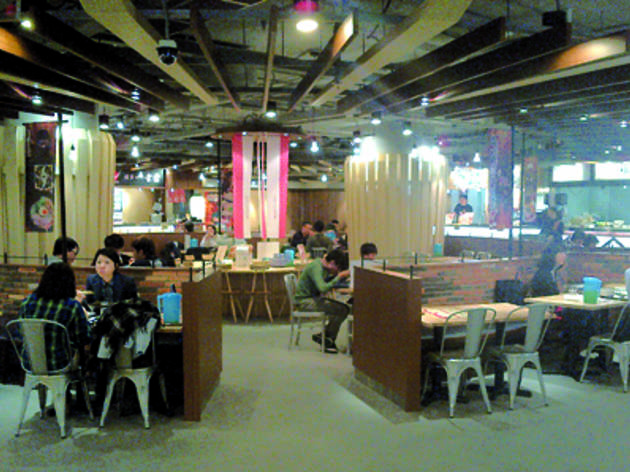 Time Out says
Hong Kong has had a torrid love affair with Japanese ramen for quite some time now. There are countless spots around the city to enjoy this oh-so-special cuisine so you wouldn't think there'd be room for many more. But that's not how Ramen Champion Hong Kong sees it. This multi-stall eatery aims to fight for a spot in our hearts.
Nestled in a Jordan shopping mall, Ramen Champion contains six stalls, each with their own Japanese twist – and each competing for your affections in a food court-style space. If anything, the Ramen Champion concept allows diners to geek out by turning an everyday meal into an active tasting session.
Cloudy tonkotsu pork bone broth is the most popular soup base used across the outlets. Each brand has a distinctive style and, yes, there's already a pecking order of favourites. A quick chat with the staff reveals that Ikkousha, winner of a series of contests at Singapore's Ramen Champion branch, has also been impressing us Hongkongers. We have to agree. We mostly enjoy the stall's signature Hakata-style Tonkotsu Special Ramen ($100). The milky pork broth is delicately balanced, soaking into the thin, bouncy noodles to provide a depth and consistency that's lacking from competing stalls.
However, worthy of note is the side of barbecued pork served next door at Bario ($30). The pork is slightly drier than expected but the excellent flavours and deep, satisfying char outweigh these concerns. Another note is that Ramen Champion doesn't exclusively feature 'champions' as the name might suggest, but just 'famous brands'.
Connoisseurs might question the proverbial bang-for-your-buck factor, though. At around $90 to $100 per bowl across the stalls, we leave feeling that price should have given us more depth to our dishes. To be fair, none of the fare is poor but it's hardly memorable either. When Ramen Champion opened its doors, it didn't just invite us to compare its six outlets. It also invited us to compare them with the rest of Hong Kong's ramen restaurants. We'll soon find out whether Ramen Champion remains an active player or merely a gimmick that fades over time. Jason Spotts
B/F, Prudential Centre, 222 Nathan Rd, Jordan, 2377 9944. Mon-Sun 11.30am-10.30pm. Dinner for two: around $250.
Details
Best selling Time Out Offers