Renowned Man Ho Chinese Restaurant reopens with a complete makeover
Check out everything this iconic Cantonese restaurant at JW Marriott Hotel Hong Kong has to offer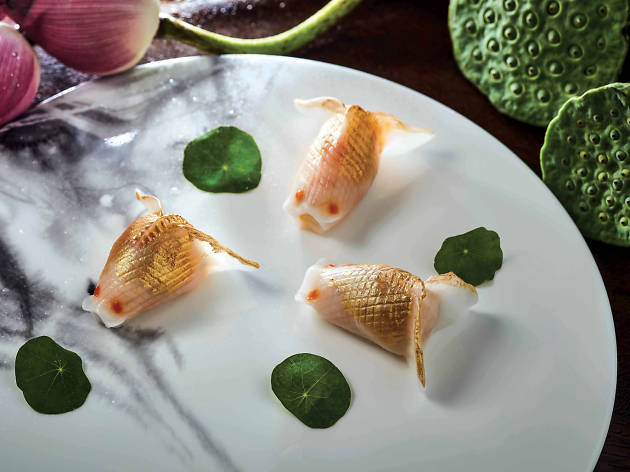 Anybody who's been around in Hong Kong for long enough knows that the lifespan of a restaurant here can best be described in blinks - as in blink and you'll miss it, because they so rarely last. But there are exceptions to this rule, and exceptional they must be to withstand the test of time.
Man Ho Chinese Restaurant, the Cantonese fine dining establishment in JW Marriott Hotel in Admiralty, is one such long-standing institution. Famed for its Chinese wedding banquets and elevated Cantonese classic dishes, this renowned restaurant has been serving the city's most discerning foodies for many years - no small feat in Hong Kong's competitive food and beverage industry - and earning its stripes as one of the finest kitchens in town.
When Man Ho closed its doors for a total makeover of the premises back in June, the city's gourmands were left understandably bereft. But after four long months of extensive renovations and a complete menu reinvention, this top-of-its-game establishment is finally reopening to the hungry masses on October 14, as part of the JW Marriott's 30th anniversary celebrations.
Already a perennial favourite, it's hard to imagine how this doyen of dim sum could be improved upon. But word on the grapevine is that some rather substantial transformations have taken place, both in and out of the kitchen, leaving fans with a totally new and improved Man Ho. What should you expect from the comeback of this Canto cuisine heavyweight?
By Carla Thomas
Man Ho Chinese Restaurant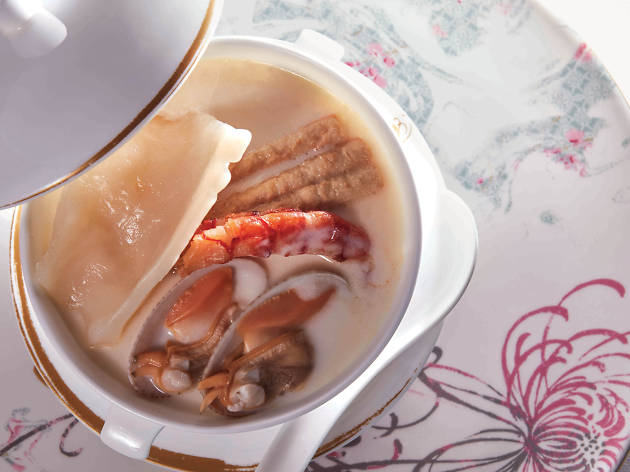 A feast for your eyes as well as your stomach
Taking inspiration from classic Chinese gardens, Man Ho has been given the royal treatment when it comes to a refit. Think ornate wooden panels, hand-painted motifs, and two breathtakingly rare, handmade Chinese Cloisonne walls with intricately illustrated landscapes of spring and autumn foliage.
For good blessings in Chinese culture, the confluence of natural elements with modern design is achieved to spectacular effect here, with beautifully baroque additions like water fountain and moon gates that really serve up the "harmonious" vibe one expects from their Chinese garden. Look up and you'll spot the magnificent artisanal chandeliers hanging overhead, adorned with 6,638 (but who's counting) glass pieces tinted in champagne gold. It's opulent, it's dazzling, it's totally Insta-worthy.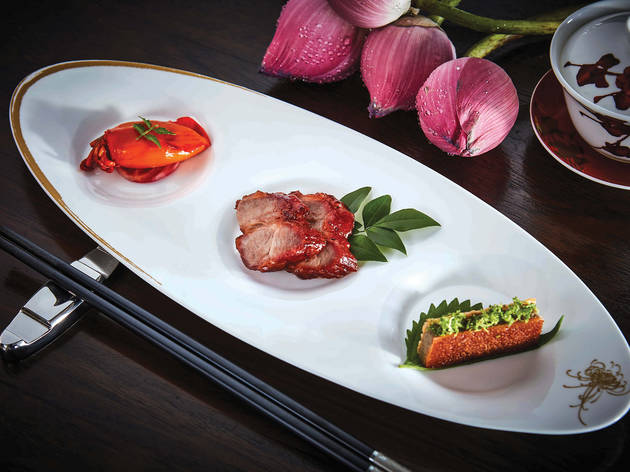 Reimagined Chinese classics
Helmed by Executive Chinese Chef Jayson Tang, a whole menu of new and crafted dishes have been dreamed up and executed to sheer perfection. Already known for his innovative approach to Chinese classics, veteran chef Tang has reached far and wide for the most sought-after ingredients, and delved deep into his background as a Hong Kong native for authentic yet imaginative cuisine that's capable of hitting a nostalgic note with guests.
"A good dish should be timeless - something that brings back fond memories and you want to come back for it all the time," said Tang, which is why the chef continuously focuses on showcasing the original flavours of classic dishes.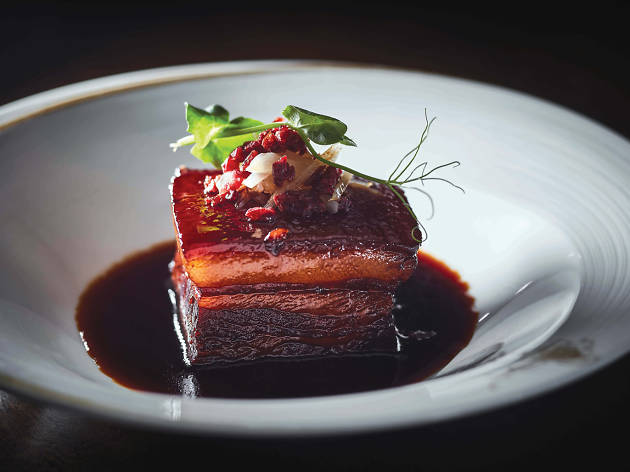 A new signature tasting menu
Speaking of those new specially curated dishes, if you are the adventurous type and eager to explore the latest from this embodiment of refined Cantonese cuisine, you don't have to wait for the next special occasion fit for a feast.
Perfectly balanced flavours like steamed egg with mantis shrimp, dried fish roe and saffron demonstrate the bold confidence of chef Tang, while impeccably produced mains like oil-poached tiger garoupa fillet with a seaweed sauce or pan-fried fish maw with almond chicken broth manage to both satisfy and leave you wanting more.
Not a seafood fan? Man Ho has always worked wonders with pork (the char siu here is fit for the gods), and the newly added braised pork belly in sweetened vinegar and stewed chicken with wild mushrooms are not to be missed.
In a city that can never get enough of good food, it's exciting times when one of our favourite restaurants actually reopens their doors, freshly rejuvenated from a four-month siesta. Eating well is a form of self-respect, so do yourself a favour and practice some self-care at the long-anticipated return of this Hong Kong institution.