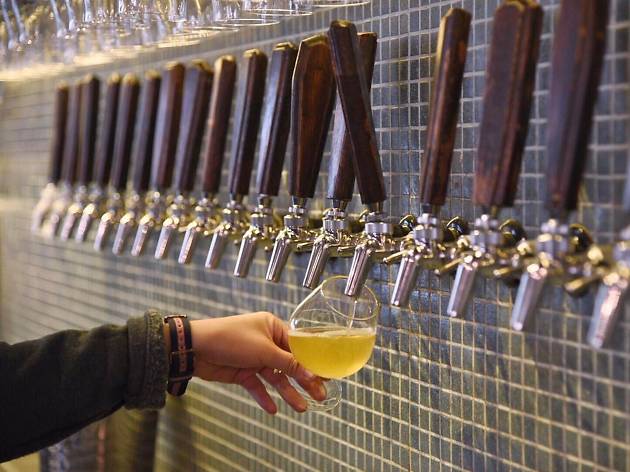 Time Out says
Soaring highs and mortifying lows at this 'local' gastropub
Ever since opening Little Bao to much applause in 2013, chef May Chow has been a busy lady. Her name has been linked with many new concepts, partnerships, pop-ups and even cooking competitions. This summer, as well as opening Little Bao's first outpost in Bangkok, she's joined forces with the guys from TAP: The Ale Project to create a new gastropub, the aptly named Second Draft, located in the newly minted Little Tai Hang.
In the centre of the space, there's a circular wood-panelled bar which, in combination with the bricked exterior, creates a real local pub vibe. Apart from serving some cracking locally brewed beers on tap, the gastropub is also heavily influenced by local flavours when it comes to the grub with dishes like cashews with spicy ma la seasoning and dried oyster croquettes on the menu.
A pub is where people go to seek out the familiar, grab some comfort food and have a good night out with their mates. Thanks to the local ales and dishes, we instantly feel this establishment is for us Hongkongers. And since marrying pan-Asian flavours with European and American culinary techniques is what chef Chow is famous for, we're looking forward to what this venue is offering. First up, we tuck into a cold beef tripe ($48), not an easy ingredient to prepare. Depending on how thick your cut is, it takes experience to make the call on how long to leave it on the stove so it comes out perfectly tender. Sadly, our serving here is overdone. Marinated with turmeric powder, the bright yellow tripe looks and tastes like a collection of rubber bands. Even the honey mustard on the side doesn't do anything to save the dish. It's a terrible start.
The HK French toast ($78) doesn't fare any better. The bread is deep-fried to a decent crisp but that's where the plaudits end. The usual butter is replaced with a slice of foie gras but the traditional cha chaan teng staple of Taikoo brand sugar syrup is still there. And these ingredients go together like chalk and cheese. The crispy batter of French toast usually enhances the buttery flavours. Here, it just enhances the gaminess of the foie gras before the sickly, poor quality syrup takes over. The whole plate is clumsy, mismatched and creates yet another unfavourable impression of Second Draft.
By the time we get to the mains, we're not expecting much. But then begins the turnaround. Mapo tofu, a classic Sichuan dish with that unmistakeable punchy sauce, is given a neat twist. A whole ball of burrata is used instead of the traditional tofu and it comes with braised minced pork ($138). Though it doesn't seem much of a leap of faith to replace tofu with soft Italian cheese, it works amazingly well. And the fresh baby spinach leaves on the side add a refreshing crunch. The high continues with a seemingly simple beetroot and avocado salad ($88), where the eponymous ingredients are combined with labneh, black vinegar and deep-fried candied walnuts. All these flavours create a synergy as the butteriness of the avocado enhances the nutty and treacle-like aromas of the walnuts and the vinegar. Another top-notch dish.
We decide not to have any dessert and try another main – a wise choice as this dish manages to outshine even the previous two. The octopus and pork belly ($178) is slow-cooked in namyu sauce, with the addition of a herby chimichurri sauce and pickled garlic. The sauce cuts the richness of the pork fat and adds a well-appreciated sweetness. The garlic needs special mention as, though pickling garlic with bonito isn't uncommon in Japan, you wouldn't think it would work with this dish. Boy, does it ever. With a crunchy texture and fresh flavours that allude to water chestnuts, it's also sweet and creates a symphony with the umami notes of the octopus. We could eat a jar of this garlic. In fact, it should be added to the menu as a bar snack.
It's rare you find a neighbourhood gastropub where the majority of the menu is stellar and this is certainly the case here. The standard of the dishes varies wildly – odd, perhaps, from such a noteworthy chef, but we leave intruiged enough to return. Those devastatingly disappointing starters need tossing from the menu, though. But we still applaud Chow and her team as this is truly a gastropub for Hongkongers. In fact, we're preparing now for our second draft, if you catch our drift.
Details
Rating Breakdown
5 star:

0

4 star:

0

3 star:

0

2 star:

0

1 star:

1
My friends and I are extremely disappointed and shocked at the service we had at lunch. Slow, unwilling to serve us throughout the whole meal, the staff ended up overcharging us with beverages and charging our credit cards with wrong amounts. When we mentioned the mistake, the restaurant manager told us that we were annoying and that we should solve it ourselves using "Pay me". He also said that Hong Kong people were not that annoying.
Who would like to go have lunch and be insulted in return of paying a bill ? I think i know the answer : no one.