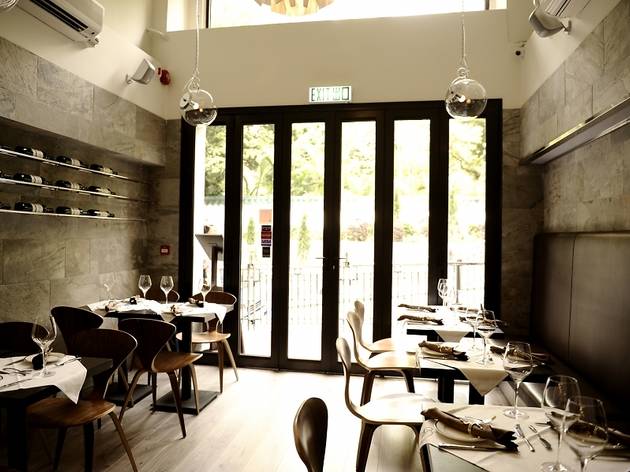 Time Out says
The Sheung Wan stretch of Hollywood Road is a place of wild extremes when it comes to dining out options. At one end of the food chain, you get cheap, local cha chaan tengs slinging milk teas and instant noodles. At the other end of the spectrum, you have places like the flashy, NYC-vibed 208 Duecento Otto and the famously high-end Wagyu Kaiseki Den. What the 'hood's really been lacking, though, is a venue to temper the two extremes – and that's exactly where newcomer Sérénade fits in.
Housed right opposite Hollywood Road Park, Sérénade is a prime model of a cosy, upscale neighbourhood dive. The intimate dining room fits less than 20 covers with dark wooden tables loosely draped with white linens and dimmed, bronze-tinged lighting for a warm and homey feel. A long wine rack runs along one side of the gray granite wall, stopping just short of a semi-open kitchen that doubles as the restaurant's raw bar. It's a simple interior setting that feels both sophisticated and down-to-earth at the same time.
In terms of the food, the menu at Sérénade reads like your standard tome of seafood-heavy starters, soups, carbs and grills at first. But closer inspection shows most of the dishes personalised with subtle yet ingenious Asian-inspired twists. Starting at the raw bar, freshly shucked oysters (mp) are served on the half shell with lemon halves, cocktail sauce, and a selection of homespun condiments, including a sweet Thai chilli sauce to draw out the molluscs' clean, briny flavours. And aside from the regular lineup of king crabs and Boston lobsters, the seafood bar also stocks steamed Shanghai hairy crab (mp) and chilled mantis shrimp ($168 for 120g). The latter is served cracked down the middle of its shell to reveal a plump belt of sweet and succulent flesh. It's a deliciously meaty crustacean that's not exploited enough in Western kitchens.
Moving onto bigger plates, pan-seared black cod ($178) arrives as two small fillets stacked into a tower with fingerling potatoes, tomatoes and long French beans. The cod didn't have that delectable, crisped-up skin one expects from a pan-seared piece of fish, but the flaky white flesh was satisfyingly supple, with a delicate, milky flavour that benefited from a light drizzle of savoury cream sauce. Easily the best dish of the night was the pasta – a reinvented linguine alle vongole which has the noodles tossed with thin sheets of baby geoduck clams cooked lightly enough to retain their crunch ($148). The entire plate is then dressed with a splash of white wine, extra virgin olive oil, parsley, garlic and a faint hit of lemon zest in an aromatic blend of light flavours – a definite must-order.
To end, the warm, molten centred chocolate flan ($68) made from premium 72 per cent Weiss chocolate is a no-fail choice, especially when served alongside a scoop of vanilla ice cream. The lavender crème brûlée ($58) is just as satisfying – a pot of sweet, creamy custard housed under a perfect spoon-shattering sugar crust. But for something a little lighter, go for the homemade pomelo sherbert ($38), which has a gelato-like consistency speckled with bits of citrus pulp and rind.
For the most part, Sérénade is a fantastic new addition to the Sheung Wan dining scene, with perfectly decent food and a genuine neighbourhood vibe. Our only complaint would be with one particularly overzealous waiter who came close to obtrusiveness with his constant barrage of pushy remarks and persistently unfunny jokes. If the restaurant could tame this one server, we'd definitely contemplate visiting again. Dorothy So
238 Hollywood Rd, Sheung Wan, 2517 8322; www.serenadehk.com. Tue-Sun 5pm-midnight. Closed Mon.
The bill
Half dozen assorted oysters $296
Mantis shrimp $168
Pan-seared black cod fillet $178
Linguine with baby
geoduck clams $148
Chocolate flan $68
Lavender crème brûlée $58
Ten per cent service charge $91.60
Total (for two) $1,007.60
Details
Best selling Time Out Offers