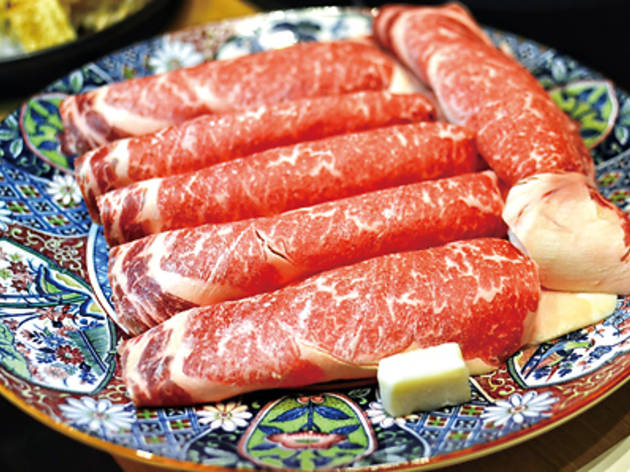 Time Out says
Does anyone in Hong Kong really crave hotpot in the summer? To some that's like asking if they need ice in a blizzard, while to others the crowding around a pot of hot stew with family is highly nostalgic.
What then of Shimo? The Japanese hotpot specialist opens its doors just as the mercury is beginning to climb, featuring signature shabu shabu (plain broth) and sukiyaki (sweet sauce) offerings.
The 29th-floor premise is airy and light, and every table has an inset induction stove making it clear what the speciality is. We select the sukiyaki set ($580) with Kagoshima wagyu beef, which comes with appetisers such as a large raw oyster and a sashimi platter, comprised of toro, thick-cut salmon and shrimp. Sukiyaki in Hong Kong is usually served with its ingredients raw and all in one pot to cook on a stove. Shimo's is a little different: our waitress cooks the vegetables in a shallow pan and gradually adds the soup to cook the beef. The slices of wagyu are well-marbled and sumptuous, and this tiered method of cooking sukiyaki doesn't over-boil the soup, avoiding the saccharine reduction that can result when it's heated for too long. The meal rounds off with a small scoop of yuzu sorbet, which wipes clean our palate.
The gradual addition of ingredients and sauce into the sukiyaki vastly improves our appreciation of the dish. On the rainy evening we visit Shimo, we find that sitting in front of a warm stove of stew brings cheer, which makes opening in spring not such a bad idea after all. Lisa Cam
Shimo 29/F, Oliv, 15 Sharp St E, Causeway Bay, 2321 3555; fb.com/shimocwb.
Dinner for two: $1,200.
Details
Best selling Time Out Offers