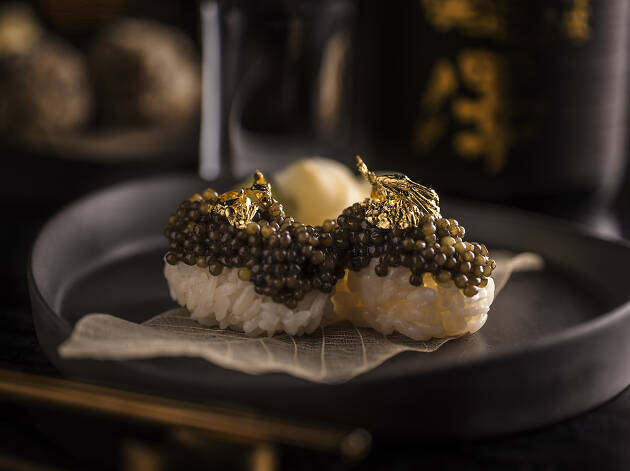 Time Out says
Slick, high-end izakaya with loads of noise behind it but not enough substance inside
There was nothing quiet about the opening of Silencio. One of the city's most talked about new tables generated tons of hype this spring. Perhaps with good reason. The restaurant, billed as a sort of contemporary izakaya and jazz bar rolled into one, is part of the Le Comptoir group. And that group recently got the city's ears perked up when one of its projects, Ecriture, earned two Michelin stars in an unusually short amount of time. As in, less than a year after opening.
But one restaurant can only ride the coattails of another so far. Though backed by a red-hot restaurant group, Silencio too often falls flat when it has to speak for itself.
Silencio occupies what used to be the second floor of Lily & Bloom in LKF Tower. Oddball artwork by Japanese artist Tomoo Gokita decorates the walls, including a provocative portrait of two topless gaijin in the entryway. Gokita's greyscale aesthetic works like a foil to the restaurant's gold accents — gold fabrics, gold chopsticks, black paint oozing down gold walls, all of which work together to set a swank tone. In the back of the dining space stands a band that belts out smooth jazz. If you're into the music, get a seat at the bar, where you can watch the band without having to crane your neck or lean your body across the table.
While it's certainly chic, the setting might be a bit too polished for its own good, the very idea of an izakaya spit-shined to a treacly sheen. But the design isn't what you're after anyway. You're here for what's cooking in the kitchen behind the bar. And from the moment you're seated, the wait staff is quick to remind you that the head chef previously helmed another kitchen, the one at Nobu. It's a bit like boarding a plane and having the flight crew inform you that your pilot used to fly the Concorde — interesting, sure, but not exactly relevant to your present circumstances.
When it comes time to decide what to eat, you can either select from the a la carte menu — which is split up into nine sections, including nigiri, sashimi and mains to share — or go for omakase. The latter is an eight-course selection of nigiri or sashimi priced at $1,200.
We opt for the DIY route and start with 'Kusama' ($120), a small dish of botan ebi (an orange-red prawn that's in season during spring) with strawberry gazpacho and avocado oil. Sadly, it's one of the most unpleasant combinations of flavours and textures we've experienced in some time. The strawberry just doesn't belong. It gives the dish an almost rancid taste, and the viscous puree is so similar to the prawn in texture that it all comes together in one regrettably slimy bite.
But the dinner does a 180 when two charcoal-grilled Hokkaido scallops, served in the half shell, arrive at the table ($190). The scallops are perfectly cooked, with a slight char that yields to a silky interior, and the butter-yuzu sauce they're swimming in is so good you could put it on your breakfast cereal without any shame. Seriously. The quality dips a bit with the next dish, a six-piece specialty roll called 'Tay Tay' ($190). It's essentially Singapore chilli crab in sushi roll form. The sauce it's slathered in, however, resembles hoisin rather than sweet-and-spicy chilli sauce, and that more or less mutes the flavour of the crab. Other rolls, like the 'Cheeseburger' ($200) — three wagyu croquettes served on a bed of shredded lettuce — are more successful. But, at this point, you might wonder why you're paying 200 bucks for deep-fried burger bites, no matter how tasty they may be.
The most substantial dish we try is the carbonara udon ($190), which features wagyu ham, egg yolk, parmesan cheese and heaps of bonito flakes. Japanese udon meets Italian pasta in all the right ways: it's creamy and decadent, teeming with that hard to define umami flavour. It's no wonder the wait staff and floor manager all say that it's their favourite dish. Pair it with one of the many sakes on the menu, like the fruity Senkin 'Modern' Junmai Ginjo ($130), and you've got yourself a pleasant light meal. But you're going to need a lot more than one small plate stuffed with upmarket ingredients to satisfy two appetites.
That's part of the problem. Is the food good? Sure. The best dishes are pretty damn tasty. But it's hit-and-miss, and the experience is ultimately uneven and muddled. When you're talking about spending $1,000 per head, or $1,600 for omakase when you factor in drinks, you should expect better than good. Silencio may have a beautiful veneer and great energy behind it, but that only masks the fact that the restaurant currently lacks authenticity.
Details
Best selling Time Out Offers