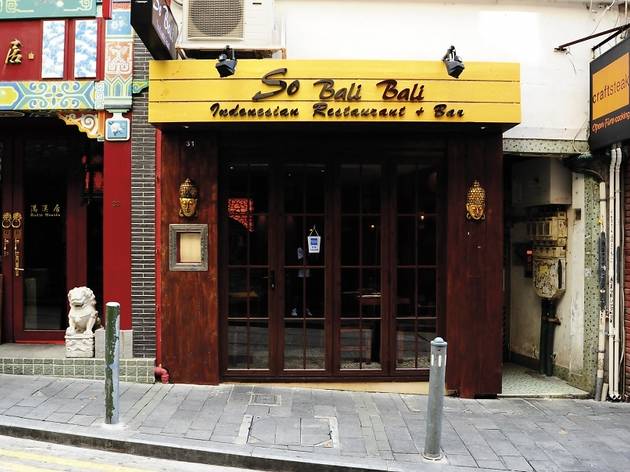 Time Out says
Just as individuals can engage in risky behaviour, so too can restaurants. I'd venture to say there isn't much more of a culinary risk than making a go of it in Soho these days as a new establishment. But this doesn't seem to have dissuaded So Bali Bali. Time will tell if the reward outweighs the risk and, right now, it looks like a 50/50 proposition.
It really doesn't have that much to do with the food. But that's the problem. Everything we sampled ranged from average to quite tasty – but at inflated prices, no doubt to offset the ridiculous Soho rents. $32 for a 7Up anybody? $108 for a quarter chicken with no sides? Entrées that hover near $150? There are just too many other options in the neighbourhood and it's a herculean task to differentiate oneself. (Note that this address has seen quite a bit turnover recently, harking back to the days of a failed Canadian-themed effort).
Don't get me wrong – the ayam goreng (deep-fried chicken, $108)was serviceable, a crunchy skin unfortunately paired with dry breast meat. The papaya udang salad (grilled prawns with shredded papaya, pineapple, roasted nuts and fresh lime, $78) featured a zesty dressing with head-on prawns, more battered than grilled, served with cashews. Refreshing if not pedestrian. The fried corn cakes ($68) were studded with corn kernels and nicely crisped, avoiding the sogginess that can plague similar dishes. The highlight of the meal was the rendang padang ($128) – a beef stew that is fork tender and manages to be both oily and sweet with a bit of heat. But, while a decent portion, once again the price just doesn't seem justified. We finished with a fried banana with vanilla ice cream ($58) that put the freezer in freezer burnt.
We're far from opposed to dropping serious coin on great food. The problem comes when dropping plenty of cash on pretty good food. With its friendly service, teak wood, backlit archway and lantern lined walls, So Bali Bali isn't bad. But it would be a lot better in another neighbourhood – and at a lower price. Ryan Andrews
31 Elgin St, Soho, 3489 2318. Daily noon-midnight. Dinner for two: around $600.
Details
Best selling Time Out Offers