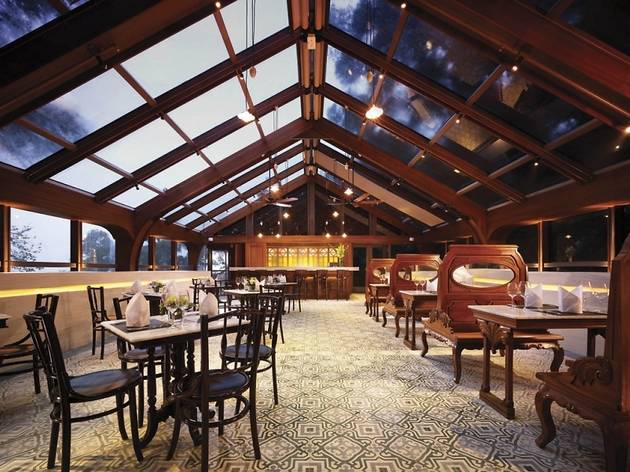 Time Out says
The first thing you need to know about Tai O Lookout is that it's governed by several annoying rules. One is that you can't make reservations on weekends (unless you're residing in one of the heritage hotel's nine suites). Secondly, if you're here for dinner, the security guards might bar you from entering the premises until the clock strikes 5.45pm (we say 'might' because another guard tells us later that there's no such policy).
If you get past all the restrictions though, you'll be duly rewarded because the space really is gorgeous. The glasshouse restaurant is surrounded by towering trees and boasts magnificent views of the South China Sea. The polished, wooden chairs and booths come courtesy of the iconic and now-defunct China Tee Club, and rotating fans dangling from the ceiling add an extra touch of old world romanticism to the place.
It's obvious that the lovely backdrop is the main attraction here while the food plays second fiddle. The menu is still in its trial stages with only a handful of random dishes including fish n' chips and some Tai O-inspired offerings. Go for the latter, especially the fried rice ($70) that's tossed in the wok with shrimp, chicken, conpoy and the fishing village's famous shrimp paste. There's a delicious pungency to the whole affair and the rice is cooked perfectly with each long grain gently filmed in oil so that the kernals are distinct and retain an al dente bite. It's nothing fancy but it's infinitely comforting. We're also partial to the fried pork chop bun ($60). Although the meat falls on the chewy side, the bold shrimp paste marinade works well with a lick of tangy mayo.
Other dishes are well executed though not particularly awe-inspiring. There's the sautéed vegetables (with rice, $65), for example, a mix of sliced mushrooms, bamboo shoots and pith served under a thickened, soy sauce marinade. We also polish off the earthy mushroom soup ($35) and club sandwich ($60) without complaint. And with prices being so insanely reasonable (it's pretty much on-par with Tsui Wah), it's really difficult to fault the lack of surprises on the table.
The food at Tai O Lookout won't take your breath away but, then again, it doesn't really have to. After all, the stunning surroundings are already a feast in themselves. Dorothy So
2/F, Tai O Heritage Hotel, Shek Tsai Po St, Tai O, Lantau, 2985 8383. Daily 7.30am-10pm. Dinner for two: around $300.
Details
Best selling Time Out Offers