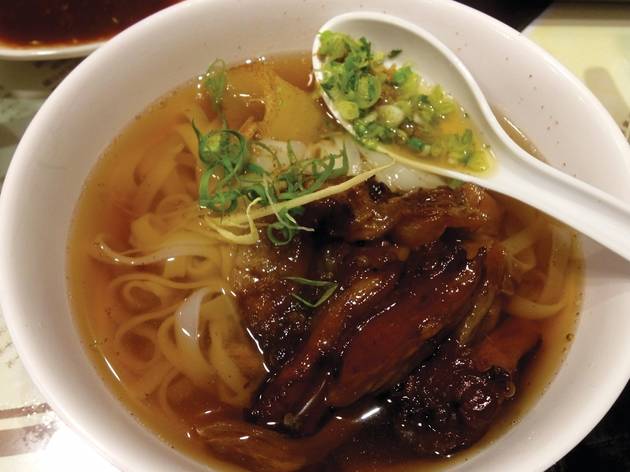 Time Out says
Victory Avenue isn't known for its cutting edge eateries. In fact, most people only eat here if they live/work/go to school nearby or are visiting one of the many pet stores along the stretch. Nonetheless, if you want simple, cheap and cheerful chow, you'll be easily sated here. And, at a place like Tak Yuen, they'll even throw in a little aspirational creativity to go with your meal.
Housed near the end of the street, the tiny store plies Cantonese noodles as its main trade. These are split into in-soup and dry 'lo mein' (literally, 'mixed noodles') variations, which are served with toppings ranging from beef brisket ($35) to pork with soybean paste ($28). Most of the classic items are done well, especially the signature wonton noodles ($30) with silken, two-bite dumplings filled with fresh prawns and minced pork.
To set itself apart from the rest, the store also offers a handful of homespun, fusion-y creations. We try the Japanese-inspired mentaiko lo mein ($38), which has tangles of thin, yellow noodles topped with a generous helping of spicy fish roe. This arrives with a small bowl of clear broth on the side, designed to be added into the noodles a spoonful at a time for easy mixing. The mentaiko adds brine, heat and literal textural pop, making it a delicious substitute topping for the more traditional dried shrimp roe.
Another dolled-up lo mein sees paper thin sheets of Okinawan A4 beef decorating a humble bowl of noodles. The rare meat boasts a beautiful marbling but lacks discernible beefy flavour after a quick dredge in the accompanying bowl of steaming bouillon. The noodles are still delicious – fragrant and eggy with a nice, resistant bite – but the dish is hardly worth $88 a pop. Also on the luxury ingredient line is beef tendon with fish maw ($58), which we recommend having with flat rice noodles. You only get one slice of fish maw per bowl – but it's cooked to a spot-on doneness, chewy on the outside and gelatinous in the centre. We wish we could sing the same praises about the tendons. While these are soft and supple, they also taste like they've been left too long to marinate and are much too salty to devour. While we appreciate Tak Yuen's effort to spice up its menu, not all the newfangled dishes work to its favour. But if you happen to be in the area, then this is still a decent spot to hit up for a cheap bowl of noodles. Dorothy So
2 Victory Ave, Ho Man Tin, 2677 9678. Daily midday-midnight. Dinner for two: around $150.
Details
Best selling Time Out Offers