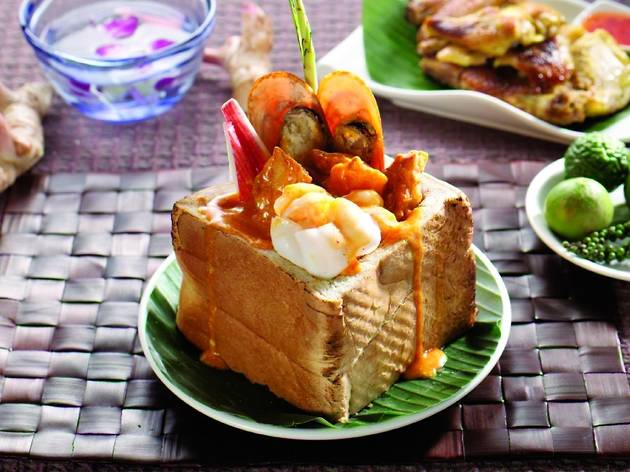 Time Out says
Adapting the Box Thai concept, which took its cue from Busaba Eathai in London, Thai Pad also comes complete with communal tables and lounge lighting. Oh, and chopsticks. Someone ought to tell restaurateurs that Thais don't use chopsticks. We guessed this place was adapted for local customs, but we hoped the food didn't follow the direction of the table setting.
Beyond the décor, the next thing you'll notice is the loud roar of traffic on Western Street. Customers need to raise their voices a few decibels to be heard over the cacophony outside. This is unfortunate, as we would happily eat here again if it wasn't for the constant screech of worn-out brakes and hoarse throats.
That said, the food is better than your average Central Thai food joint. Tender slices of flank steak marinated in Thai dressing draped over a simple salad of onion, carrots and cucumber ($62) was a surprisingly wonderful start. The steak was meaty, and the vegetables hadn't spent an eternity in acid and so did not wilt to non-existence.
The red curry duck ($65) was a pass. The curry could give you a cavity it was so sweet. There was no balance of acid or chili, just a truck-load of sugar. The last blow: we found candied lychees swimming in the curry.
The saving grace came with their mixed vegetables with glass noodles ($55). More Cantonese than Thai, every piece of baby corn, kale, broccoli, and mushroom was cooked to its desired temperature. This went down well. Now if only they could build doors to shut out the noise we would gladly swing by again.
Angie Wong
LG/F, 63 Bonham Rd , Mid-Levels, 2549 9271. Daily 11.30am-11pm. Meal for two: around $250.
Details
Best selling Time Out Offers