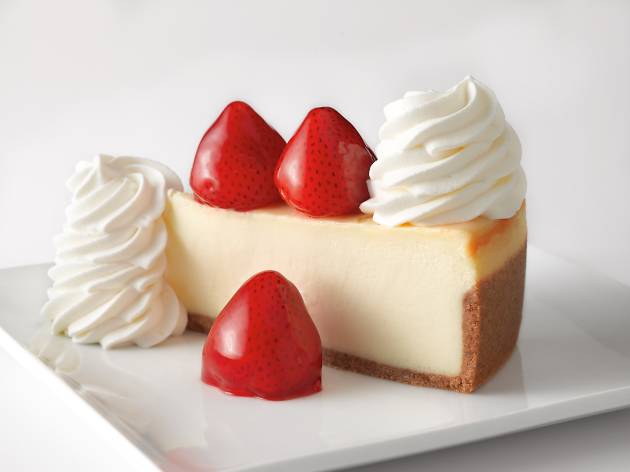 Time Out says
This American import serves over 30 cheesecakes and speciality desserts, as well as savoury offerings for breakfast, lunch and dinner
Popular American export The Cheesecake Factory has opened in Tsim Sha Tsui's Harbour City and everyone's losing their shit, with the establishment's opening weekend boasting lines of up to three hours. When the two of us arrived 20 minutes before last orders, it was still packed – not bad for a restaurant in a mall at 10.40pm on a Tuesday. But as I was about to be reminded, hype doesn't always equate to quality.
The decor is, as expected, gaudy American diner chic. There's a strange hue from the lighting that casts the restaurant in a urine-like sepia, something that should have been a red flag. The colour makes me feel like the mosquito preserved inside amber in Jurassic Park, only, as it turns out, I'm about to be preserved in copious amounts of salt (a condiment ironically missing from the tables).
The 24-page menu is utterly bamboozling, a gauntlet of terrifyingly named items like 'white chili chicken' and 'buffalo blasts'. It was at this point I realised it was time to buckle up and get ready for the ride. Caution be damned, we ordered a daiquiri, a Long Island iced tea and, for starters, Factory nachos and the peculiar-sounding buffalo blasts.
My expectations were low for the Long Island iced tea and it was a predictably unbalanced sweet and sour mess. The quality of the daiquiri and the nachos were serviceable and exactly what you'd expect from this level of establishment. What I didn't expect was the gargantuan serving of nachos on a plate twice the size of my head. The cheese, precisely defined as 'melted cheeses', was powdery, but we were both fairly impressed at the freshness of the avocado and tomatoes used in the guacamole and salsa.
When the buffalo blasts arrived at our table, we were intimidated. Described as chicken, cheese and spicy buffalo sauce stuffed in a spiced wrapper and fried until crisp, I think it would be more apt to describe the blasts as giant deep fried triangles of utter fucking nonsense. The coating was tasteless and what laid inside the wrapper tasted like a regurgitated quesadilla with blue cheese. It was at this point my sodium chloride levels started to rocket and I cursed the menu for not warning how ginormous portions the are.
By this stage we could only handle a single main between us, so put an order in for the 'famous Factory meatloaf' served with mashed potatoes, mushroom gravy, grilled onions and corn succotash. The skin-on buttery mash with gravy was fairly solid while the succotash was the only item of vague nutritional value we encountered, so points for that. The meatloaf, however, was a thick plank of eerily squishy protein, with no distinguishable taste. It's probably the kind of "meat" Russian astronauts consume in space. Three bites in and we were both done for, stuffed with more salt than the Dead Sea.
What of the cheesecake? Defeated by the giant portions, we ordered a slice to go, consumed only after copious amounts of water. We selected 'Adam's peanut butter cup fudge ripple' on the basis that it was the cheesecake with the longest name and it has caramel and peanut butter, Butterfinger and Reese's Peanut Butter Cups. (No idea about Adam, though.) What could possibly go wrong? Everything.
Individually, I love all those ingredients, and was hoping a savoury note from the peanut butter would balance any excessive sweetness. Yet the cheesecake was sickeningly sweet and the chunks of the Butterfinger and peanut butter cups weren't mixed with the cheese, meaning each mouthful was either too sweet or flat-out flavourless. It's not the worst example in town but if you're going to call yourself The Cheesecake Factory, I'd expect your cheesecake game to be strong.
The hoards will flock to The Cheesecake Factory no matter what. And whilst I would never discourage anyone from going – it's an experience, for sure – you've been warned. If you like salt, sugar, huge portions and have complete disregard for your health, The Cheesecake Factory is the place to go. I can't fault the staff, who save this review from complete oblivion, and some items are serviceable. But since I don't plan to get diabetes anytime soon, this was a one-night stand and I remain horrendously dehydrated.
Details
Address:
Shop G102, G/F, Harbour City Gateway Arcade
25 Canton Road, Tsim Sha Tsui
Hong Kong


Transport:
Tsim Sha Tsui Station MTR station exit A1 & Tsim Sha Tsui East station exit L5
Contact:
Opening hours:
Mon-Sat 11am-11pm, Sun 10am-11pm
Best selling Time Out Offers