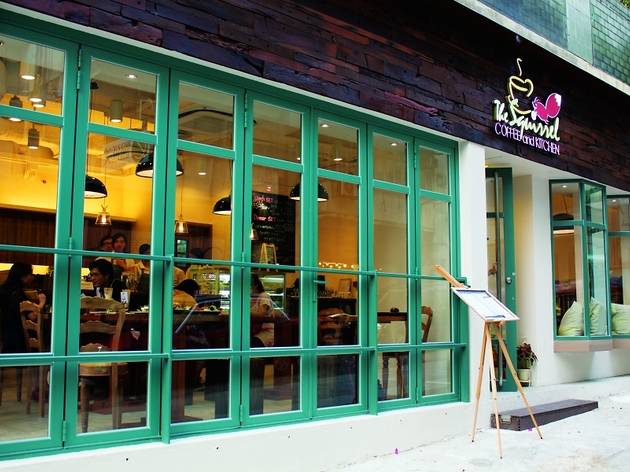 Homely cafés are a concept more conducive to hip island neighbourhoods like Star Street or Sheung Wan. But Kowloon-siders have now got a chance to indulge in their caffeinated whims at The Squirrel Coffee and Kitchen. As the name suggests, this place offers a selection of coffees and teas. But, unlike your average café, some of the food offerings here are actually quite decent.

We start with the English clam chowder ($38), which is more like a vegetable cream soup lacking in seafood flavour. It might be worth chancing it on the daily soup instead. Luckily, our meal picks up with the mains. The linguine with shrimp in homemade pesto ($88) is light, fresh and not bathed in oil like many pesto pastas. We also go for the chicken breast sandwich on sundried tomato foccacia ($45). It's heavy on the mayo but saved by a well-seasoned and perfectly cooked chicken breast and a side of mixed greens. On to desserts – of which there are many options, including a tiramisu-based concoction. The NY cheesecake ($37) is a good choice and decent value considering the huge portion. Order this to share.

Still, what bumps this to a three-star eatery is the awesome atmosphere. The décor is simple and tasteful with plenty of distressed wood accents and huge window fronts that give the space a bright and happy feel. Make sure you visit during the day to take full advantage of this. In fact, we get so comfy that we stay in the café way after finishing our meal. You could easily while away the afternoon here over a pot of tea and the selection of books (English and Chinese). Given the cool and cosy vibe, this is something we would highly recommend. Andrea Yu
8 Soares Ave, Ho Man Tin, 2668 5008. Mon-Fri 10am-10pm & Sat-Sun 8.30am-10pm. Dinner for two: around $350.
Venue name:
The Squirrel Coffee and Kitchen
Address:
8 Soares Ave, Ho Man Tin
Hong Kong