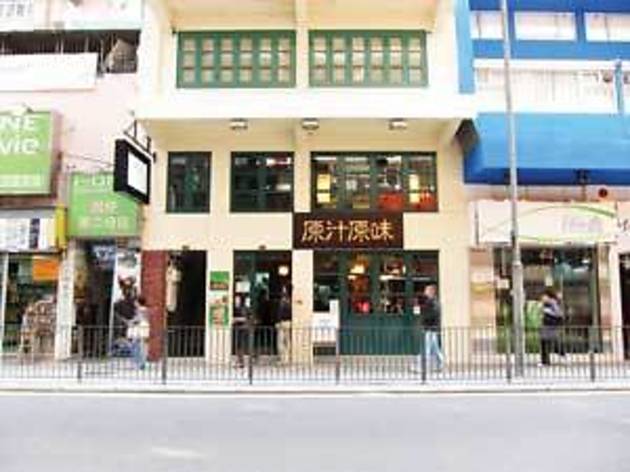 Time Out says
The trend in restaurants right now is to cater to the middle market seeking a quality meal in a well-thought out setting. Like others of its genre, The Yuan is fast food in a bing sut interior. The duplex canteen is furnished with replica wooden tables and framed photos of old Hong Kong.
Here you will find the kind of dishes secreted away in many a Chinese mother's recipe box: salt-baked chicken, steamed meat pies with salted egg, lotus root pork cake, fried pomfret and various claypot rice bowls. Most dishes hit the $35-38 mark, which might sound inexpensive, but the dishes you can get here are commonly found in Hong Kong-style snack shops around the country at a fraction of the price. Only here, it is served in a more pleasant setting and with air-conditioning.
We had the claypot sweet and sour pork over rice ($38) served on a plastic tray. It was immediately clear that the meat had been frozen at some point. It was also more fat than pork, though disguised with enough sauce you couldn't tell if it had been frozen for years or if it was a belt of fat. The ruby red ketchup-based sauce dominated the dish, with only a few leaves of bak choy poking out. The rice itself was not bad, a red and white long grain mix evenly cooked with each grain retaining its shape and bite.
The eggplant and minced pork ($35) was a plate of grease. It wasn't spicy, it wasn't sweet and it actually had little flavour. Honesty, you would fare better if you just drank a cup of oil.
The Hakka-style salt baked chicken ($38) was by far the best dish we had. Silky chicken, steamed to medium, sat atop its own yellow fat. This was perfect with a plain bowl of red and white rice. The Chinese daily soup ($8) is supposed to resemble something mom would make at home, but here it manages to be oily and watered down at the same time. Do pass on this.
During busy lunch hours you will have to share tables. The menu is only in Chinese, so bring an interpreter or employ the point and nod method if you can't read Chinese. Carl Huang
G/F, 141 Wan Chai Rd, Wan Chai, 2891 2018. Daily 11.30am-10pm. Meal for two: around $100.
Details
Best selling Time Out Offers