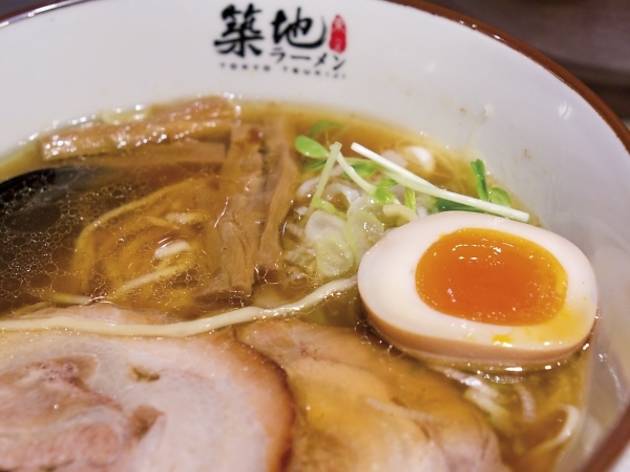 Time Out says
When the word Tsukiji is being associated with ramen instead of fish or seafood, I have my doubts. Then again, to be fair, it is just a name and what really matters is the food, as well as the overall dining experience. A new venture by the Tai Hing group, who are famed for its roasted BBQ meats, this recently opened eatery is the group's first Japanese ramen effort in the busy district of Mong Kok. With modern décor and seating arrangement similar to that of a fast food restaurant, you get a very casual yet rather noisy atmosphere with strangers slurping noodles next to you at shoulder's length. It's not a place for intimate chit chat, but perhaps perfect for a quick bite.
It is quite obvious that the direction of this restaurant is to cater to the mass market with its no service charge policy and pay-at-the-cashier business model. The menu is rather focused, with only a handful of ramen choices and familiar side orders, which can be a good thing. We started off with the deep-fried chicken ($28) which was quite boring and slightly under-seasoned. The individual order of Kurobuta pork ($35) that followed fared quite well in terms of texture and flavour, except for the fact that they were served way below room temperature.
The restaurant claims to make their noodles from scratch, but contrary to my personal liking, they were cooked to an overly soft consistency, just like the pig cartilage in the pig cartilage ramen in soy sauce soup ($53). The pork ramen in soya sauce soup ($48) came with the Japanese-style pork, so-called because the slices of pork thinly layered with fat are prepared using locally sourced pork. The flavour of the pork was rich enough but in terms of texture, it was overly tender or perhaps fragile for lack of a better word. Even for someone like me, who is well-trained with the use of chopsticks from years of green peas picking, it was quite difficult to keep the whole piece intact while picking up. Although slightly on the greasy side, the soup was decent enough without killing my daily sodium intake quota.
Tokyo Tsukiji will not be a serious contender among the recent ramen craze, not because it can't, but because it doesn't have to be. Instead of trying to be the best in town, it is here to offer reasonably priced ramen with quality on par with its peers. It is also a bold move for the established restaurant group to venture into new territories with this ramen enterprise, and for the show of courage, I wish it the best of luck. Jason Tse
B/F, Phase 2 Grand Tower, 639 Nathan Rd, Mong Kok, 2625 9200. Daily 11.30am-11pm. Dinner for two: around $150.
Details
Best selling Time Out Offers