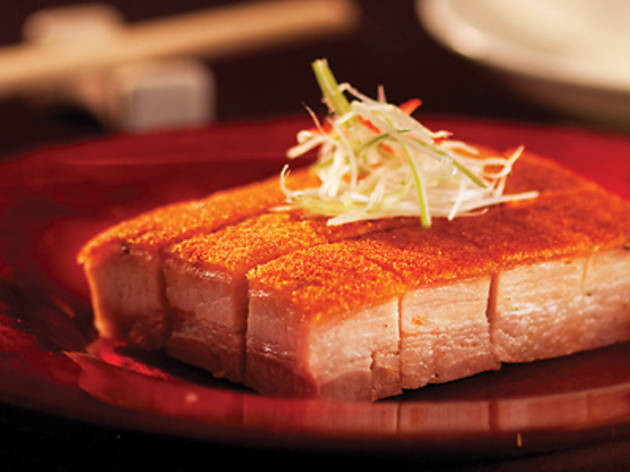 Time Out says
Densely populated. Serene and peaceful. These words adequately describe Tseung Kwan O, which sits plumly in East Kowloon. Upmarket and swanky, however, are not words commonly used to depict the area, as far as we've heard.
But that could all be changing. With the arrival of the high-end Crowne Plaza complex, things are looking a little more top-hat-and-tails for TKO. And inside this newly opened development, there lies Tze Yuet Heen, a Cantonese restaurant which exudes elegance.
Tucked away on the second floor, this venue is a more locally sophisticated option than the hotel's other offerings: the classy Chef's Table and Italian rooftop restaurant and bar, Cielo. And, on entering TYH, you're pleased you made this choice. The décor is all purples, pinks and browns, with fish motifs and swirls in the carpet. It has the flair of modern Chinese decor infused with an artsy touch.
There's a chunky menu here, with barbecued delicacies (the whole suckling pig comes recommended, $980), double boiled soups and abalone classics. But we opt for the chef's signature menu at $298 instead of the $368 one.
The appetiser, 'barbecued meat combination', features suckling pig and soy chicken, both standard. Then the chef's specialty soup is a perfect broth but lacks enough pork. The third course, wok-fried fillet of garoupa, is the show-stopper, presented like a Michelin-starred champion, with two juicy pieces of fish in a sublimely tangy sauce over peppers, onions and chilli rind. Now this is worth the trip alone.
Then comes the stewed pork rib with hai shan sauce cooked into the battering – however it's a little on the tough side. The sautéed crab meat and conpoy with garden greens fares better with its fishy and earthy flavours. Then the 'yang chow' fried rice with pine nuts is packed with prawns, meat, veg and flavour before the dessert, hot sweetened bean curd with gingko, tops the meal off with a sweet and pleasant enough taste on the tongue.
Tze Yuet Heen is a beautiful space in a beautiful hotel, with superbly attentive staff and a diverse menu which doesn't hurt the pocket too much. But it really needs to shine on a few dishes yet. However, it's early days. Sort out the teething problems and hopefully it won't be long before TYH and TKO are the newest swanky places in town to hit up. Matt Fleming

Details
Best selling Time Out Offers