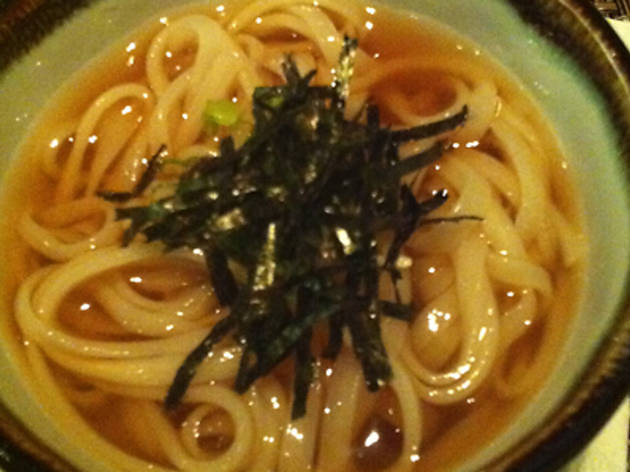 Time Out says
As Tai Hang continues to boom as a culinary destination flooded with cute coffee shops, simple dessert parlours and yakitori hole-in-the-walls, Wabi Sabi (not to be mistaken for that other Wabi-Sabi in Causeway Bay) seems a little like that quiet, wallflower friend who hangs out in the back corner during group gatherings rarely uttering a word.
This could be because the new Japanese restaurant has set up shop behind a tiny alley which faces a few residential spots. It seems miles away from most of the other much louder – and much more populated – eateries in the district. And, once inside, the restaurant's spacious seating arrangement, cold navy blue walls and poor lighting don't do much to sharpen up its 'forlorn friend' image.
But, ambience aside, in a yakitori spot, it's all comes back to the grill. So we're hoping it illuminates in this relative darkness. And some of it does, when it comes to skewers. The recommended Japanese beef ($300), stewed lamb ($118) and beef tongue ($68) are all seasoned to juicy and tender perfection. But, alas, the fan-tailed shrimp ($98) could very well have come out of the frozen foods aisle of a local market.
The non-skewered dishes leave a better impression. Save for the forgettable tuna and chives sushi rolls ($98), the fish cakes ($68) are a burst of chewy seafood succulence and the mini sweet yams ($48) are bite-sized and moist, crumbling to the touch. We especially sing the praises of the cold udon ($68), a refreshing web of al dente udon noodles dunked in a cool, tasty broth. But the portions are pretty small. We have to order more dishes on two occasions.
So the food isn't bad, really. But, sadly, the service is. On our visit, there's barely a diner in the house but the dishes nevertheless arrive haphazardly at our table and our teacups are constantly left empty. Wabi Sabi may be situated in a slightly more forlorn part of Tai Hang but that's no excuse for it to leave guests feeling forgotten and alone as well. Janice Jann
G/F, 14-16 Lin Fa Kung St West, Tai Hang, 2570 1336. Daily midday-2.30pm & 6pm-11pm. Dinner for two: around $600.
Details
Best selling Time Out Offers