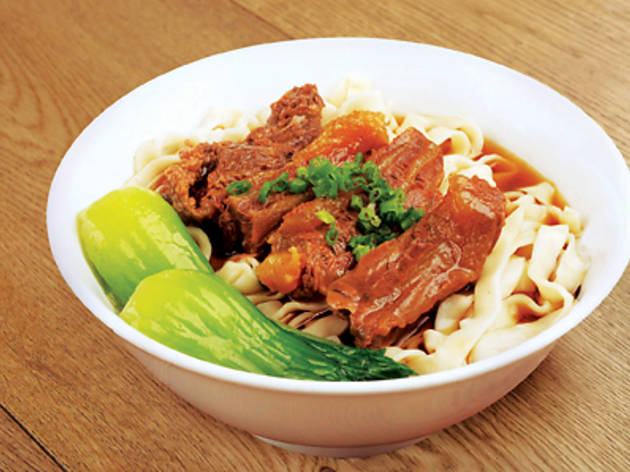 Time Out says
It's rare to encounter a restaurant in Hong Kong which can do Taiwanese food as expertly as the Taiwanese themselves. So it's no surprise that when the country's illustrious Xiao Wang Beef Noodle chain set up its first brace of overseas eateries in our city a few weeks ago, hordes of Formosa fans flocked to the new restaurants in Diamond Hill and Sha Tin. Okay, new restaurants, new queues. And that's just what we get at the Diamond Hill spot on a workday evening. A 30-minute queue, in fact. But it's worth it when we finally enter this easy-going, spacious place, which is comfortably decorated with soft wooden furnishings and welcoming lighting. And then the food, to our pleasure, arrives swiftly and promptly.
A prominent trait in Taiwanese cuisine is its slightly sweet taste. Xiao Wang perfects this flavour with the 'A' choy ($48), a Formosa lettuce peppered with slices of garlic, red onions and peanuts. It's fresh, crunchy and extremely tasty. The care the restaurant puts in its produce selection is also well-noted. Both the fried tofu squares ($18) and Taiwanese fried chicken pieces ($22) also kill it in the taste department. Both dishes carry the perfect crunch, with tender, adequately seasoned tofu and savoury chicken pieces which juice up at the touch. We end the meal with, of course, the specialty beef noodles ($42) – proof as to why Xiao Wang is such a beloved chain in Taiwan. The noodles – hand-cut – have a fine bounce and the broth is slurp-worthy. Xiao Wang also takes care to not overcook the lean beef – a problem in many of Hong Kong's 'Taiwanese' restaurants.
So, a rare find! Taiwanese food in Hong Kong done by the experts! We recommend. Janice Jann
Xiao Wang Shop 373, 3/F, Plaza Hollywood, 3 Lung Poon St, Diamond Hill. Open midday-10.30pm daily. $140.
Details
Best selling Time Out Offers