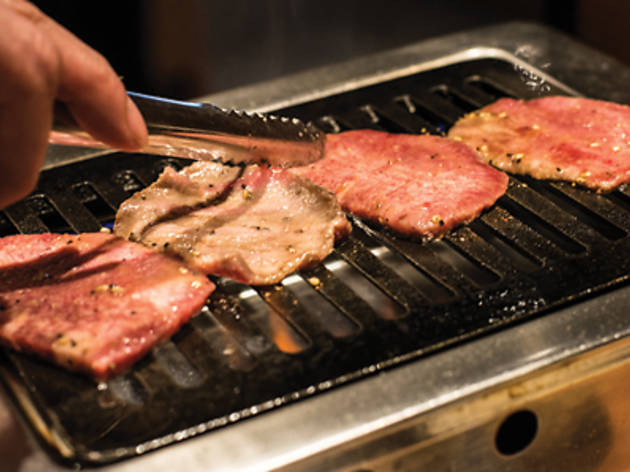 Time Out says
Fret not if you don't have the space for a summer barbecue. Yakiniku Futago HK provides a grill and marinated meat right at your table. Futago – which means 'twins' after its Japanese founders – has just arrived from Tokyo, where there are more than 20 stores.
The interior is chic, modern and adorned with photos of the famous twins. And, as we admire them, we're amusingly given a bib to prevent us being coated with oil. We then chuck the outside skirt beef ($58) strips on the grill. The meat is tops but the salty, peppery marinade is too tangy. Next we ask for the 'special large intestine steak' ($118) but the chefs have run out, so they use small intestine instead. However, we're immediately put off by the gush of oil that fills our mouths after we grill the decidedly elastic and too-chewy meat.
So it's a bad start – but then it gets much better. The achingly tender wagyu prime karabi ($98), marinated in a savoury barbecue sauce melts like butter on the tongue. And the cow's tongue ($78) is also a hit – lean and seasoned to perfection. We also enjoy the cold Korean noodles ($38), which are deliciously refreshing in a light, flavourful soup. So, it's hit and miss at this barbecue spot – but if you stick with the wagyu and tongue, you can't go wrong.
Dinner for two: $800.
Details
Best selling Time Out Offers