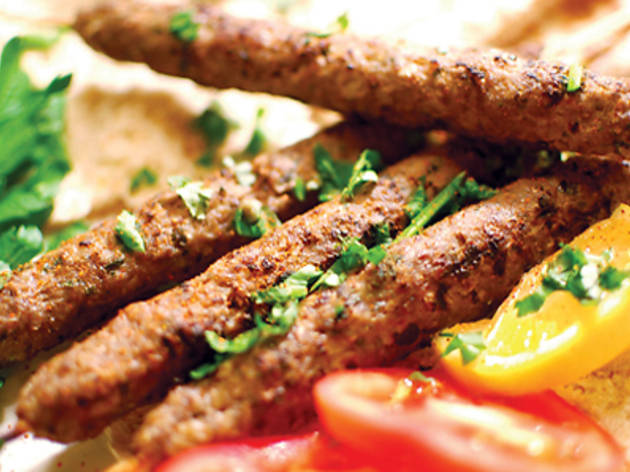 It was a sad moment for lovers of Middle Eastern cuisine when Lebanese restaurant Zahra closed its doors in 2006. The Wan Chai hotspot had been feeding hungry customers for 15 years but had to shut up shop when the owners needed a break. Sadly, it never reopened. However, those who remember this popular joint – it's time to rejoice. The daughters of Zahra's owners have just opened Zahrabel Dining Club in homage to the original. This second generation Lebanese eatery takes on the elements that made Zahra great – but also adds a touch of finesse to top it all off.
Perched on the 25th floor of one of Hennessy Road's new commercial buildings, with red chairs, mosaic lamps and a wall of decorative backgammon boards, Zahrabel exudes a game Persian vibe. In a nice touch, Zahrabel offers a wine list of Lebanese bouquets, and we try the Le Bretches Rouges, Chateau Kafraya, 2009 ($70), a little tart and tannin-strong wine, which goes well with protein-prevalent Lebanese food.
The cold dishes at Zahrabel are a little hit and miss, unfortunately. We embark on our set meal ($520) with the all important part of mezze dining – the dips – and immediately find, though the hummus has good texture, it's too bland. We find the babaganoush – an aubergine dish which is usually a particularly smoky affair – barely tastes of the vegetable and, sadly, the smokiness is a little too overpowering for us (although those who like it strong will lap this dish up).We do love the jos marouse, though – a nut-based dip that's fragrant, smooth and has a spicy kick. We quickly warm to this dish and polish it off with the hot, crackly pita bread. We're equally impressed with the tabouleh. Instead of going the usually strong garlic and parsley route, this Arabic salad is mild, pleasant and works alongside the meat courses.
Thankfully, the hot dishes shine here. The grilled kafta and kibbe patties strike the right balance between herby and meaty flavours. The chicken Elmina is cooked in a lovely minty marinade that leaves the meat juicy, incredibly tender and with a slightly tang. The delicate flavours at Zahrabel are worth the cost. Overall, this is a decent addition to the city's Lebanese culinary offering – and one which would have made Zahra proud. Lisa Cam
Zahrabel Dining Club 25/F, 235-239 Hennessy Rd, Wan Chai, 5503 9181; zahrabel.com. Dinner for two: $1,040.
Venue name:
Zahrabel Dining Club
Address:
25/F, 235-239 Hennessy Rd, Wan Chai
Hong Kong


Do you own this business?