The best love hotels in Hong Kong
Up for a quickie? Parents cramping your style? Sounds like you need a shag pad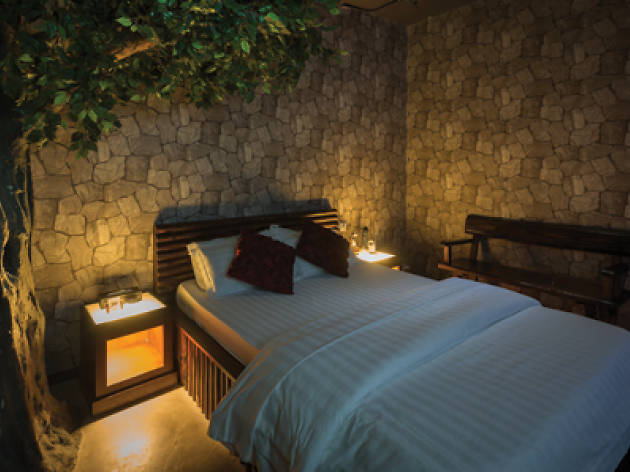 Athena Chiu helps you out with some of the city's most quirky and fun love hotels. Photos by Calvin Sit
Exotic Hotel
When you're in the mood for some fantasy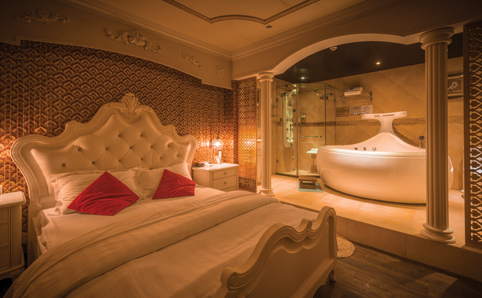 3 Essex Crescent, Kowloon Tong, 2338 6222; boutiquehotelhk.com.
Price: $393 to $433 for three hours, $593 to $626 for overnight stay (subject to change).
This love hotel, ironically located next to the Bible Seminary of Hong Kong, offers a wide range of rooms – from Japanese-styled tatami to Thai-themed rooms. The hotel values privacy most, demonstrated by the curtains installed in the car parking spaces! Everything is discreet – great, if you need that sort of thing.
The rooms:Exotic Hotel has a host of themes going on in its rooms, ranging from Thai to Arabian Nights and Japanese tatami to boudoir (above).
The bed: The size of the beds varies from room to room, with most being doubles. They are bouncy but not overly so – perfect for their intended purpose, we'd say.
The bathroom: Each room comes with either a shower and sauna or a jacuzzi for two. A bottle of Dettol is available to clean the bathtub with first. Hygiene is guaranteed.
Extra services:All rooms are equipped with two Carex condoms and basic toiletries. Also, the TV comes with 18 different channels including one playing endless porn. The adult movies are mainly Asian ones but they also show European ones occasionally.
Juicy gossip: The famous love hotel scene from Love in a Puff, where Miriam Yeung and Shawn Yue have sex for the first time, was shot in Exotic Hotel.
Ginza Hotel
For love in the future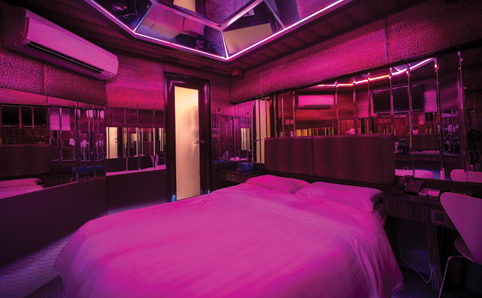 G-H, 1/F, Windsor Mansion, Chatham Rd S, Tsim Sha Tsui, 2369 9103; gr-hotel.com.
Price: $230 for three hours, $340-$360 for overnight stay.
Tucked away in a shabby building in TST, Ginza Hotel offers a wide range of rooms with different themes. Close to the nightclubs, this place is favoured by patrons who are looking for more fun after a few drinks. Note: they don't do reservations.
The rooms:Surrounded by mirrors with a rainbow-coloured LED light feature, the room we check out looks inspired by the Hong Kong nightclubs of the 80s. It looks a little old when the lights are on but it looks gorgeous when they're out.
The bed:Ginza Hotel has the best mattresses of the five love hotels we visit. The pillows, however, are way too flat.
The bathroom:Small and standard – toilet bowl, shower and sink.
Extra services:Complimentary Durex condoms and some porn channels.
Juicy gossip:Note on the noise: the soundproofing is average, meaning you can hear people from neighbouring rooms. Say no more.
Hotel Victoria
The chain giant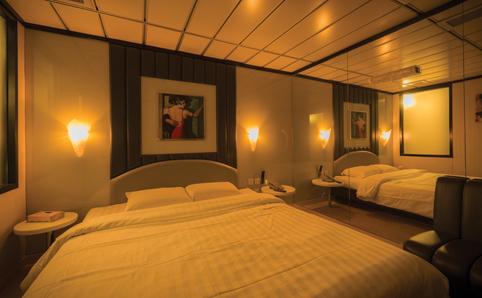 Citywide inc 209 Lockhart Rd, Wan Chai; 2511 1889.
Price: $285-$305 for two hours; $1,500 for whole day.
With branches scattered across the city, this love hotel chain has served locals since the late 1980s. It's colloquially known as 'Wai Kee'.
The rooms:All of the rooms are pretty standard, with mirrored walls and a double bed – spacious enough for your favourite sport. The lighting is soft and adjustable.
The bed:It feels like you're sleeping on a waterbed – but, in fact, it's just a normal mattress covered with a giant plastic bag.
The bathroom: The bathrooms have a shower and are large enough for activities to take place.
Extra services:An adult channel filled with old school porn is available. Durex condoms and room services are available upon request.
Juicy gossip: We hear police come on Fridays for licence checks. There are also two small light-bulbs on the wall (one green and one red) – the green lights up when there's a police raid, the red lights up when there's some sort of 'other trouble' afoot.
Romantic Hotel
For a jungle adventure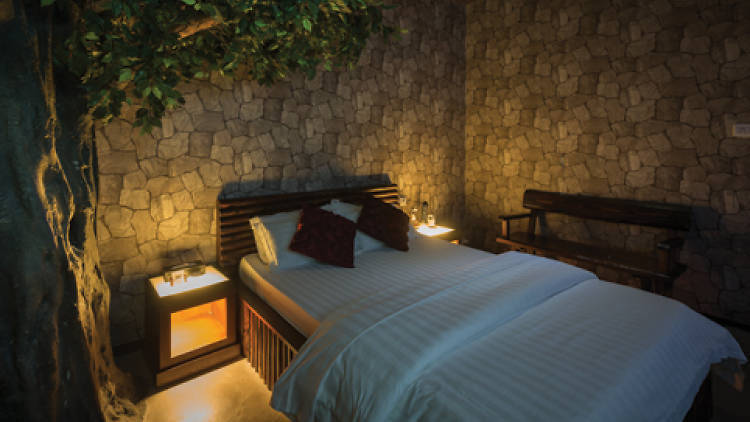 9 Norfolk Rd, Kowloon Tong, 2338 6223; boutiquehotelhk.com.
Price: $393 to $433 for three hours, $593 to $626 for overnight stay (subject to change).
This love hotel – a sibling of Exotic Hotel – is for those who like some atmosphere. Its rooms have been designed with a bit of creative flair and with a particular theme, as well.
The rooms: They're a real surprise – spacious, clean and each with their own theme. Our favourite is the concrete jungle room (above), which features a two-metre-tall tree erected inside, as well as faux stone wallpaper – a perfect setting to let out your wilder side.
The bed:The mattresses are not too soft and are pretty comfortable.
The bathroom:Most rooms come with either a shower-cum-sauna or a jacuzzi for two. There's also a small bottle of Dettol for you to clean the tub out with before using it.
Extra services:Similar to Exotic hotel: a couple of Carex condoms, basic toiletries and exactly the same stimulating porn channel.
Juicy gossip:The manager tells us no celebrities visit the hotel. We believe him.
Mingle Place at the Eden
A post-LKF go-to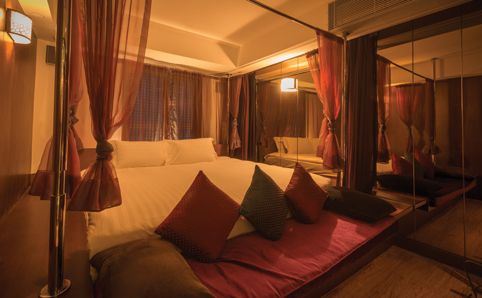 148 Wellington St, Central, 2850 6289; mingleplace.com.
Price: $340-$990 for two hours; $500-$1,900 for whole day.
With its convenient Central location and well-equipped rooms, this love hotel is well-known to white collars who are looking for a spot for a quickie. Just a five-minute walk from Lan Kwai Fong, you find yourself in front of a building that looks like just another serviced apartment, with frosted glass surrounding it so privacy is assured.
The rooms:Generally, the rooms are tidy and well decorated, especially the Super VIP room ($990 for two hours, $1,600 for a whole day, prices vary on weekends). The four-poster king-size bed and the deep-red colour theme brings a sexy vibe to the room.
The bed:The bed is soft but not bouncy enough to satisfy your wildest fantasies.
The bathroom: For those in the mood for a spa, there's
a jacuzzi for two, which comes with a massage function
and rainbow-coloured LED lights that change from time
to time. Classy.
Extra services:All rooms are equipped with condoms.
Juicy gossip: This place has been known to be a hotspot for intimate meetups for models and TV anchors.