DIY fashion stores in Sham Shui Po
Need fabric, buttons or beads? You can satisfy your DIY fashion requirements in Sham Shui Po with our guide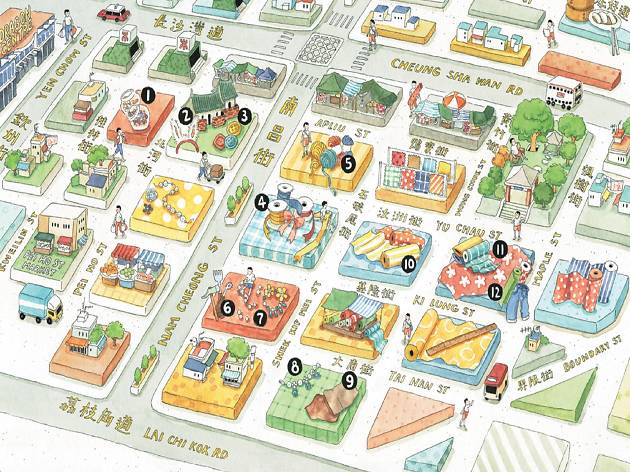 Whether you're new to the city or a veteran Hongkonger, the gritty yet colourful and culturally rich area of Sham Shui Po can be an intimidating area to navigate. Along with its multifarious local eateries, the Golden Computer Arcade and the Dragon Centre, Sham Shui Po is popularly known for its fashion district just off from the MTR A2 exit.

Here you find street after street of shops selling beads, trim, buttons, leather, wool, pearls and tools – pretty much anything you need if you want to start making your own outfits. It's a haven for fashion designers, crafts people and DIY fanatics.

But if it's your first time stepping foot in the area, it can be a bit overwhelming. To help you navigate through the clutter we've picked out a few user-friendly hotspots selling some of the best materials in the city. Follow our map so you don't get lost. Bear in mind that most of the stores in this area are closed on the weekends, so the best time to come is from 11am-7pm on weekdays.
The best fashion DIY stores in Sham Shui Po
Shopping, Art, craft and hobbies
Candy-coloured beading
A visit to Tao Yuan is like walking into a sweet store. An assortment of colourful jars of rainbow beads and gemstones line the walls to create a vivid wonderland. Pick up a basket and start choosing your desired combination of beads, with the cost measured by the weight of your basket.
Shopping, Art, craft and hobbies
Feathers, tulle, costume beading
When Halloween rolls around, drop by Shun Cheongs to find costume beading, feathers, fabrics, tulle and a bunch of outlandish, bright and festive materials to help with a costume. The choices are colourful and are sure to bring some fun to your look.
Shopping, Art, craft and hobbies
Buttons galore
CYH has walls of different buttons ranging from metal, vintage, knots and horns at slightly lower prices than competitors in the area. Depending on the type of button, one gross (bag of 144) of buttons can go from $20 to $100. The staff here are extremely friendly and helpful, and if you're lucky, they might even break a bun and share their lunch with you.
Shopping, Art, craft and hobbies
Trim, tape, string and ribbon
It's all in the details, which means you're going to need the proper trim to add those finishing touches to your garment. Here, you find everything from piping and twist string to satin binding and reels of ribbon.
Shopping, Art, craft and hobbies
Leather and tools
Besides boasting a selection of leathers costing $547 to $650 per piece, or $100 to $120 per metre, Alri also carries all the tools you need to start cutting and pounding away. Blades, chisels, hammers, gouges – you name it, they have it. On top of that, Alri also offers workshops off site, so beginners can learn how to put all these wonderful tools to good use.
Shopping, Art, craft and hobbies
Pearls, metal baubles and chains
At Toho Shoji, you'll find reels of different silver and gold chains in various widths and formations to help you make your ideal accessory. You have to buy at least 5m, and the chains – depending on the quality – range anywhere from $20 to $50 per metre. Go further into the two-store establishment and you find an assortment of metal ornaments.
Shopping, Art, craft and hobbies
Crystals and jewels
If you are looking to bedazzle a clutch, shoes or a pair of sunglasses, this is a one-stop-shop for Swarovski crystals and semi-precious jewels. Prices generally range anywhere from $30 to $80 for a bag of crystals. There are a variety of sizes and shapes of crystals and jewels to select from, so you can find your perfect fit.
Shopping, Art, craft and hobbies
Leather
For a variety of lamb and cow hide, come to this charming and nostalgic establishment. The store is stacked and littered with a broad range of leathers coming in a variety of different colours and types.
Shopping, Art, craft and hobbies
Cotton, twill, canvas
This shop carries everything – a variety of higher quality fabrications and well-designed prints. If you're looking for this seasons in-trend patterns, Wingtex has got what you need, unlike the tacky alternatives.
Show more
Want to explore more of Sham Shui Po?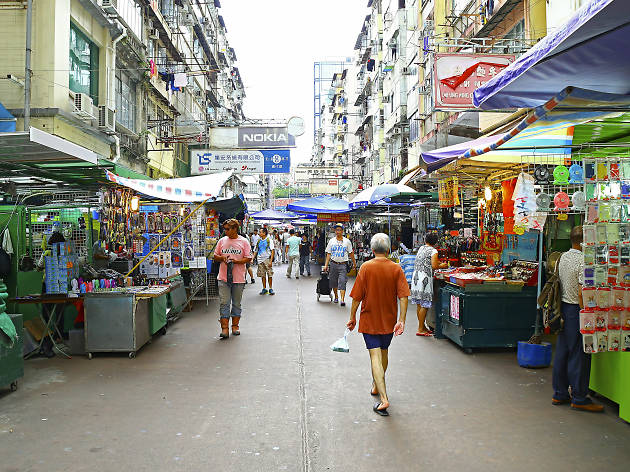 Despite, or perhaps because of, its longstanding reputation as a working class neighbourhood, Sham Shui Po is one of the most colourful neighbourhoods in Hong Kong.