How to train for a Spartan Race
With November's Super Spartan race on the horizon, Time Out speaks to Hong Kong's fitness experts to find out how you can prepare for the gruelling challenge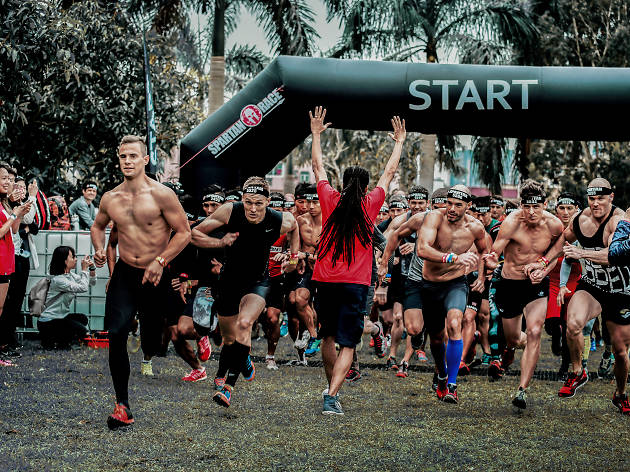 Obstacle course adventure races are more popular than ever, the likes of Rugged Maniac and Tough Mudder both gaining huge popularity since first starting in America in 2010. Hong Kong isn't immune to this fad, either. Spartan Race is presenting its third event in Hong Kong in less than a year, the Spartan Super, which takes place on November 4.
With the event looming, we're starting to take our training a little more seriously. So how exactly do you prepare for a race like this? After all, challenges like the dreaded Atlas Carry, with its weighty cement ball, or the skill-based rope climb are a little hard to practice on your morning jog. Never fear, the experts are here. We chat to some of Hong Kong's finest trainers about how to prepare for a Spartan and you may be surprised at what they have to say. Becca Cairns.
Hong Kong's finest trainers
Jade Ross rocked Hong Kong's second Spartan Sprint in April 2017 with an impressive winning time of 40 minutes. Currently 4th in the Spartan world rankings, she's run more than 30 Spartan races since she began extreme racing in 2013 (including seven this year) and completed the Spartan Trifecta - a Sprint, a Super and a Beast.
Why you should race: People want to see what they're made of, if they've got enough grit to succeed - and they're addictive. Once you do one, you'll be back for more. Don't think that you're not fit enough or one day you'll do one - you can do this.
How to train: I think the ideal prep time is six-eight weeks before a race. I run at least three times a week, from six to 12 kilometres each time. I mix that with high-intensity functional fitness sessions a few times per week too.
Which obstacles are the hardest? Carrying is always the hardest, particularly the bucket carry. I don't weigh much so I'm often carrying more than half my weight which is pretty hard sometimes.
Hong Kong's finest trainers
Tricia Yap is one of Hong Kong's top wellness warriors: co-founder of Bikini Fit and Warrior Academy, and Director of Fitness for the newly-opened Goji Studios, Yap has a background in MMA fighting.
Why you should race: Adventure and extreme racing like Spartan is a fun way to get outdoors and tests your courage, strength and cardio endurance. It's opened up fitness that appeals to a demographic that maybe weren't into working out.
How you should train: Extreme racing requires posterior chain strength for dynamic lifting and carrying; a strong grip and upper back for bars, rings and ropes; and aerobic endurance for the trail runs and climbs between obstacles.
Do strength training to build upper and lower back and legs: this will help with the obstacles and prevent injury. Incorporating modified strongman workouts into your general preparation will improve grip strength and get you accustomed to awkward lifts and movements. You also need specific technique work aimed at practicing certain obstacles so you get the tricks to complete them efficiently - this is where you need gym access and a trainer who knows what they're doing.
Hong Kong's finest trainers
Michael Dallas, personal trainer at Studio Fitness Hong Kong and serial adventure racer, led a team of budding warriors at the inaugural Hong Kong Spartan race - and in the process, set himself and the city a personal record and the time to beat of 34 minutes.
How you should train: I focused on cardio and ran Bowen Road daily and the Peak Morning Trail on weekends - there are jungle gyms along these loop to add pull-ups and
push-ups. It's important to increase your strength and stamina together, so a mixture of HIIT training and weightlifting with a few distance runs will prepare you for all bases.
Insider race tactics: Mental stamina is as important as physical. Running between obstacles might feel easy, but slow yourself down to conserve energy for the obstacles -
that's where you can lose time retrying, or worse, wasting energy on burpees.
For the first timers: Have fun, don't focus on how hard the obstacles look, and attempt everything.
Hong Kong's finest trainers
Tryphena Chia is the Senior Yoga Instructor at Pure Yoga Asia Standard Tower. Starting her yoga journey over ten years ago in New York City, she now teaches Hatha, Vinyasa, Yin, Hot, Pranayama and Dharma yoga.
How you should train: Everyone should make yoga a part of their training regime. If you are doing strength and conditioning or cardio training, your muscles are probably fatigued. Yoga will stretch and loosen up the tightness in muscles, as well as releasing the buildup of lactic acid. A short 30-minute practice three or more times a week is ideal to maintain suppleness in the body which can boost performance and also help prevent injuries. Yin or Yin Yang classes focus on stretching, with long holds in each pose which can help to get deeper into the connective tissues.
Pro training tip: Always listen to your body. It is important to train hard but it is also important to make it sustainable. Take time to really stretch after each training session.
Hong Kong's finest trainers
Tom Summers is a bonafide Ironman and has been Head of Strength and Conditioning of Pinnacle Performance for over three years. He's now heading up their latest venture,
Pinnacle Black.
Why you should race: They are fun to train for, you compete with your mates, and the skill level can be fairly low meaning everyone can enjoy the events.
How you should train: The end goal is to make yourself as strong as possible for sustained mixed-intensity running and obstacles. Your shoulders, knees, and lower back typically take a battering as technique sometimes goes out of the window for a quicker time. To avoid this, work on core and shoulder capsule stability, and running technique to manage the impact. Develop your aerobic capacity with bike and rowing-based workouts, and strength with exercises like lunges, crawls and deadlifts.
What to eat: When it comes to food, a one-size- fits-all race diet doesn't exist - but when race day comes, you want to be as lean as possible. Historically, the go-to training diet has been carb-heavy, but it's worth experimenting with a few different pre-race diets ahead of time to find what suits and fuels you best.
Hong Kong's finest trainers
Zangwill Cheuk is a Senior Personal Trainer and Team Leader at Pure Fitness California Tower. Formerly a bodybuilder, he now trains endurance and agility in addition to strongman.
Why you should race: These types of race get you out of your comfort zone. Through training for an event like this, you learn a lot of techniques that heighten your experience on the day, and in the long term for your fitness.
How you should train: It might sound basic, but the first thing every successful training regime needs is a good schedule: how many sessions, realistic goals and measurable results. This develops good discipline. Start working on running endurance and speed, and as your training progresses, include combined functional training and circuit training. Functional training, such as farmer's walk, rope climb and squat jump, can help participants
to tackle specific obstacles.
Pro training tip: Don't forget to set aside equal time to rest. Many participants drop out of races because of injuries during training.
Hong Kong's finest trainers
Mack Fitt Pijewski is one Hong Kong's Spartan Ambassadors, CEO of Fitpreneurs4Life, and a trainer with Studio Fitness.
Why you should race: It pushes you to see how strong you can be, and gives you additional motivation to stay active.
How to train: If you already do cardio-based fitness you have an advantage in making up time between obstacles, but then if you don't build your strength you will lose time failing the obstacles. You need to work strength, cardio and endurance together.
Fitness hack: Sometimes a DNA test is one of the best things you can do: it gives you measurements of your body so you and your trainer can build a proper plan of the best diet and the best exercise to suit your body type and achieve the best in cardio, stamina and strength.
For the first timers: Get a training partner!
Pick your race
Which event is for you?
Sprint: 5-8km, 20-23 obstacles. Ideal for first timers or those starting at low fitness.
Super: 13-16km, 24-29 obstacles. Perfect for those needing a challenge with good fitness.
Beast: 19-22.5km, 30-35 obstacles. For the hardcore fitness-frenzied.
Which category is for you?
Open: no time limit, not competitive - for those giving it a go, having fun, or working in a big team.
Competitive: competing for prestige. You'll follow the rules, and win bragging rights. It's for those who want to hold their fitness accountable and get a ranking.
Elite: competing for prize money. You'll follow the rules, and be up against the those at the top of their fitness game. Take it seriously, or someone else will walk away with the dollars.]