Heads up! We're working hard to be accurate – but these are unusual times, so please always check before heading out.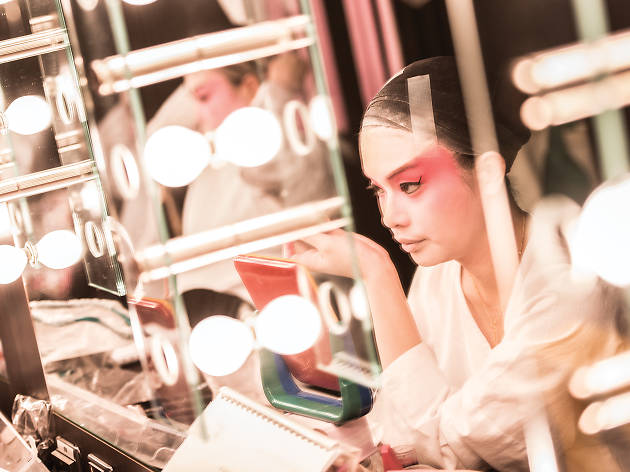 1/3
Photograph: Calvin Sit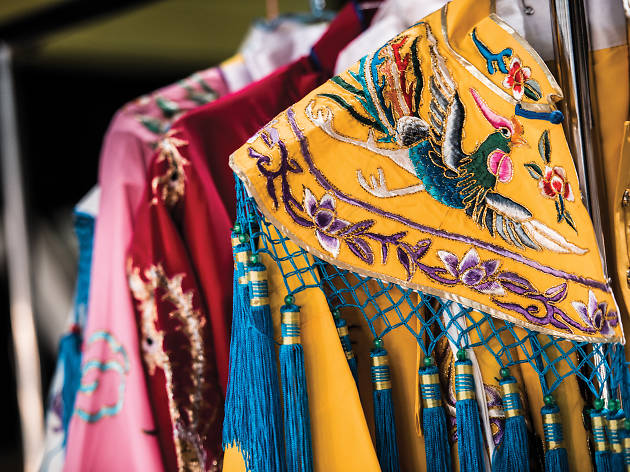 2/3
Photo by Calvin Sit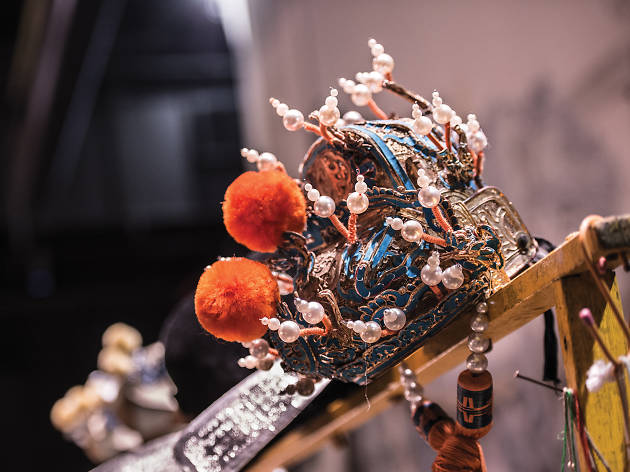 3/3
Photo by Calvin Sit
Rising stars: Why Cantonese opera is on the up and up
Ahead of the second annual Rising Stars of Cantonese Opera, we check on the health of one of Hong Kong's most traditional art forms.
Cantonese opera was once the most popular entertainment in our city but, due to films, TV and pop stars, over the years it's been shrinking from public view. Not any more, though. Josiah Ng and Jojo Yip discover there's a fresh push to make the art form great again, particularly in the eyes and ears of young people. Photography by Calvin Sit
From inside a bamboo-and-foil shelter, atop a dingy cramped stage, a gong chimes once, twice, thrice, building up rapidly. Anticipation hangs in the musty air as audience members sit, transfixed on the well-lit stage. Then, there's a shuffling noise from behind, followed by the appearance of a woman dressed in an ornate robe, complete with a massive imposing headdress with two long peacock feathers. She moves to the front of the stage and the gong stops. Total silence. She pauses. She stands alert, piercing the audience with an unwavering gaze and tree-like stance.
This is our first taste of a Cantonese opera in a long time. We're mesmerised, drawn into every one of her facial features accentuated by the actress' signature heavy white, black and red face-paint. We marvel at the meticulously crafted outfit, the long peacock feathers that trail down from the headdress twice as large as the head it adorns. She's the female warrior, or the 'mou dan' (武旦), one of many roles that a performer can play in Cantonese opera. While the audience sweats profusely in the heat of this old theatre, the actress keeps her composure perfectly, singing her lines with piercing clarity. As she weaves and concludes her tale of sorrow and nobility, the audience around us breaks into raucous applause. We've just witnessed something special.
Cantonese opera was once the most popular art form in our city. It was also our greatest cultural export. Before the days of rock concerts, cinemas and flat-screen LEDs, a good night out was spent going to one of these dimly lit, dingy theatres and watching the magic of music, dance and performance take place on the stage. But, these days, it's almost a forgotten art form, left for the older generations and a small handful of theatregoers who rate nostalgia over blockbuster movies. However, in recent years, there have been renewed efforts from groups across the SAR to once again shift Cantonese opera into the artistic spotlight. There's a renewed push, primarily aimed at getting younger generations interested in both watching and performing in the shows. We could be in for more theatres, more shows and bigger crowds in the future, which is great news for an art form that's been threatened with extinction at times over the past half-century.
Old star, new project
Cantonese opera legend and city filmstar Law Ka-ying looks back at the art form's glory days with plenty of nostalgia. He reflects on the aforementioned scene with the woman emerging from the hut. "It was in those hastily constructed bamboo sheds," he tells us, "that we first cut our teeth and learned all the tools of the trade." Law achieved much of his mainstream fame acting in movies. He worked with icons like Jackie Chan, Stephen Chow and Ronald Cheng back in the 90s but, before that, he originally became a name in some households due to his Cantonese opera work. In fact, he stayed involved in the art throughout his film years and he still continues to take part in performances, despite the scene being much smaller in Hong Kong now.
Veteran ambassador Law Ka-ying
Approaching 70, Law is curating the second iteration of the Rising Stars of Cantonese Opera performance in conjunction with the West Kowloon Cultural District, which aims to promote and preserve the art form. Scheduled for August, the show features seven actors and actresses from last year's acclaimed event but also, crucially, showcases seven new rising stars. There are to be three complete Cantonese opera works as part of the programme at Hung Hom's Ko Shan Theatre, titled Loyal To Love (糟糠情), The Lady's Sash (香羅塚) and The Immortal Zhang Yuqiao (萬世流芳張玉喬).
And, indeed, it's all about these 'rising stars'. This is the new generation, counted on to bring the art form back to its former prominence in Hong Kong. Cantonese opera grew out of Chinese opera more than 700 years ago but, some 500 years ago, began moving south where the Cantonese version of the art form really began to take shape. First it settled in Foshan, then Guangzhou, and finally it appeared in Hong Kong at the beginning of the 19th century. It's had its fair share of booms and busts, of course, including a huge a boom during World War II as Guangzhou performers moved down to Hong Kong, leading to the establishment of institutions like the Chinese Artists Association and contributing to the release of the superb Cantonese opera films of the 50s and 60s. The busts have included the closure in more recent times of theatres across the SAR and the general disinterest of young people in an art form that is has perceived by many as outdated and out of touch. Nonetheless, it was declared a Unesco Intangible Cultural Heritage of Humanity in 2009, the first art form of its kind to appear on the list.
Plans to prosper
Now, the West Kowloon Cultural District is trying hard to renew interest in Cantonese opera. Its approach is to focus on the younger generations, the 'rising stars' and the drive to make it more relevant in modern society. The Rising Stars of Cantonese Opera performances are geared towards introducing a new breed of Hong Kong theatregoers to the medium, a move that should be greatly enhanced when West Kowloon's own Xiqu Centre – xiqu means any type of Chinese theatre in Mandarin – opens for business in 2018. Our spokesperson for the West Kowloon Cultural District, says: "In the coming years, when this theatre is completed, we will see substantial changes in Cantonese opera. The venue itself will be completely modern and will also bring many other forms of Chinese theatre to Hong Kong, including quanqu, Beijing opera, Shanghainese opera and more. We see the West Kowloon Cultural District as an international stage for Cantonese theatre." They reckon that Rising Stars is a huge part of this initiative, as are other projects to push the art form in the future.
But what makes Cantonese opera such a core part of Hong Kong's heritage and why push for it to be a major art form once again? For starters, watching a performance is a magical experience that modern media, like movies, just can't replicate. The production techniques, the skills on show, the drama, the action, the songs, the dances and the acting all make for a mesmerising feast for the eyes. Secondly, it's tradition. This is a centuries-old art form that has been passed on from generation to generation. It's an integral part of our cultural heritage. And, although aesthetically, it seems miles removed from Western styles of theatre that are still going strong, Cantonese opera has much of the same inner workings as its Western counterparts. The acting and singing is highly skilled, the drama and pacing is often the same in design and the heartstrings are also pulled in much the same way as in the West.
The professionals
As we speak with stage veteran Law, we also discuss Cantonese opera's future with two of the 14 'rising stars' in the upcoming show. Eliza Li Pui-yan is performing for the first time and Song Hongbo was in last year's show. Both of these talents play major roles in The Immortal Zhang Yuqiao. Li was first exposed to Cantonese opera through her family, as her mother was a performer. After finishing her degree and working a day job for two years, she decided to go into Cantonese opera professionally. Song, though he was not raised in the art form, studied it in the Mainland and in Hong Kong, which culminated in an advanced diploma from the Hong Kong Academy of Performing Arts.
Li Pui-yan (right) on stage
When asked what's important to becoming a successful performer, Law, Li and Song reiterate relatively uniform answers. Li believes that 'a good performance strikes the perfect balance between emotional expression and beautiful acrobatics'. "Singing is also essential, as that is how lines are chiefly delivered," she says. Song adds that 'to have a solid foundation is important'. He goes further: "Even if you are simply standing on the stage, every movement is based on your primary skills. Even an old performer can have a vigorous and breathtaking performance, if they have the solid fundamentals. These cannot be affected by age!"
Ultimately, Law, who is in charge of coaching the rising stars to perfect performances come August, has the most succinct answer. He bluntly states that it's imperative to nail techniques and get plenty of performances under one's belt. He cites several opera legends who have repertoires numbering in the thousands. Law himself says that he has up to 600 he's confident in. "They [the rising stars] have only 10 or so operas down at the moment," he tells us, "so more is required. I hope they can perform at least 50 in the immediate future."
"Cantonese opera," he says, "is the most stressful of all theatrical productions, including Western theatre, opera and film. You have to sing, act and fight in the performance, on a small stage, no less. All of this in an industry that is much less lucrative, in the end, than the Western performing arts."
The fact that the industry is much less financially viable is a worry that all professionals share, from the promoters and organisers to the actors and writers. Au Man-fong of the Cantonese Opera Advancement Association is an accomplished actress and playwright. She laments that, since Cantonese opera is primarily performed live, even though performances are small in scale, they are costly. She says: "Investors have to be ready to be generous because the profitability of Chinese opera is very weak; huge losses are commonplace. But financial support is imperative to develop Chinese opera. The support from the government is essential here too. Chinese opera is definitely not a place to earn." Law adds that it was only because he broke into the film industry that he could afford to explore Cantonese opera fully as both artist and patron.
Lack of space
The lack of standalone venues dedicated to the art in Hong Kong is also a huge issue that impedes the future success of Cantonese opera, notwithstanding Xiqu in 2018. While Western classical music, opera and dance have the Cultural Centre, City Hall, Hong Academy of Performing Arts and various district theatres to call home, Cantonese opera has only the dilapidated Sunbeam Theatre in North Point – which Au predicts 'will not last long' – and Yau Ma Tei Theatre. Cantonese operas shown in district theatres share their bills with the more heavily marketed Western performances and are often attended by only a handful of mega-fans.
Law, despite all the problems with a lack of venues and a lack of interest from some quarters, maintains these obstructions can – nay, will – be overcome. "We lack performance platforms," he says, "but we gain the Xiqu Centre in 2018. Okay, we don't have quite enough young performers yet but organisations are training them, including the Yau Ma Tei Theatre and the Chinese Artists Association. We've been out of money in the past but the government is now giving us larger budgets to work with."
Digital rendering of The West Kowloon Cultural District's Xiqu Theatre
BTA & RLP Company Limited and West Kowloon Cultural District Authority
So, the future may be bright for Cantonese opera in Hong Kong yet. And it's no lie – much of the success will be pinned on the Xiqu. Our WKCD spokesperson congratulates the West Kowloon team for creating new opportunities for the art form to spread and gain traction through the Xiqu and programmes like the Rising Stars. Au Man-fong adds that we may be entering a 'golden age' where a new raft of young performers are looking to make a living on the circuit, and investors are ready to pour in.
Cantonese opera is steeped in tradition. It demands the utmost of its performers and artists but returns little in terms of money or fame. However, with these new developments, perhaps we really are heading into a 'golden age'. "I love doing Cantonese opera as it's simply art," reflects Song. "From the performer's perspective, we don't care if it's profitable." Without a doubt, Hong Kong's heritage is worth championing. Support our 'rising stars' and help Cantonese opera rise like a phoenix from the flames once more.
Cantonese opera: Roles, techniques and traditions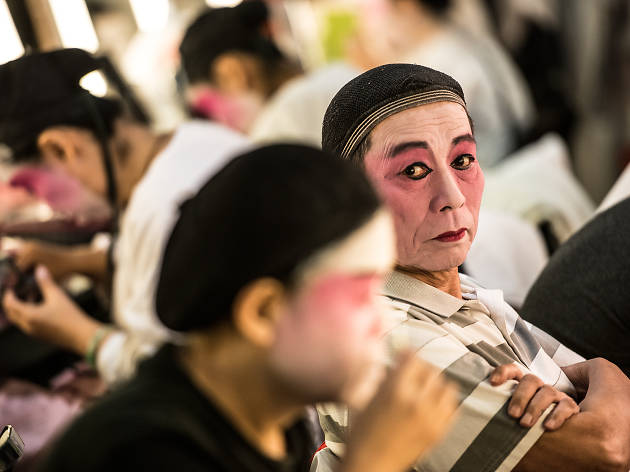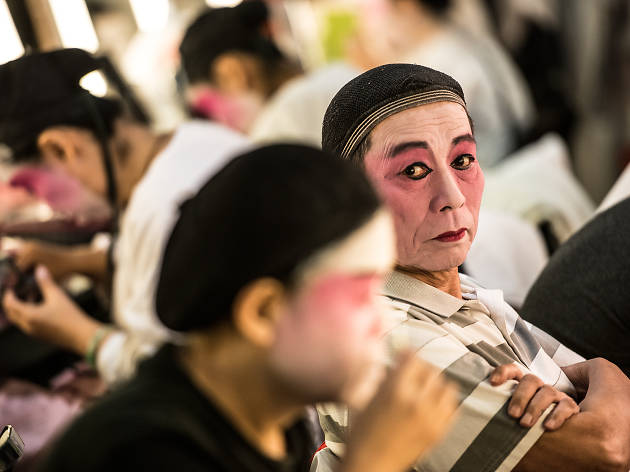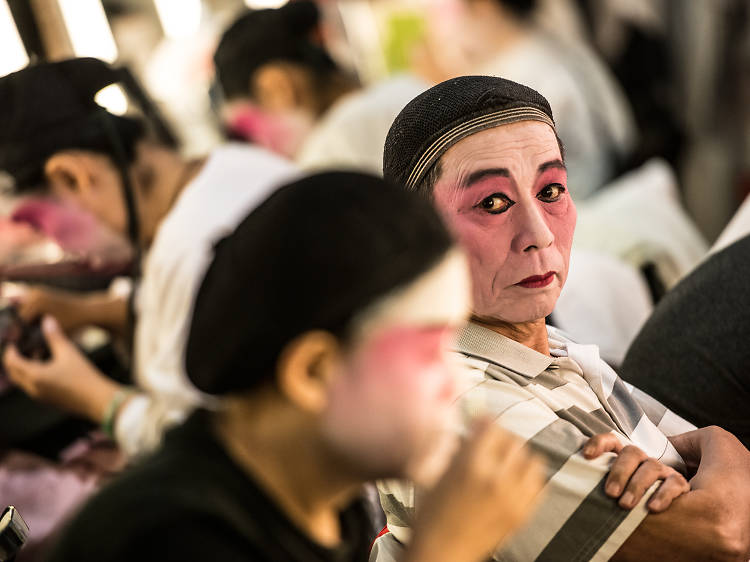 The Chinese love naming things in the most poetic, brief way possible. The roles, techniques and traditions of Cantonese opera are no exception. If you haven't caught a show before, learn these traditional concepts that explain the magic...
Four skills and five methods (四功五法)
The bread and butter. The tools of the trade for young performers and seasoned veterans alike. The 'four skills and five methods' refers to the four techniques a performer must master, which include singing, speaking, acting and movement, and the five bodily avenues with which a performer can express them, namely your hands, eyes, body, feet and hair. Note: with hair, swinging your ponytail expresses grief or anguish.
Types of plays
There are two main types of plays. There are mou (武) which are tales of battles and feature acrobatics and much physical movement. On the other hand, mun (文) are stories which emphasise scholarly or personal themes such as love and social struggles. Characters in a particular type of play must be dressed in certain attire. Look for the feathered antennae in mou plays which signify generals and warriors, or the water sleeves, which are long, white pieces of fabric that accentuate movement, in mun plays, which help emphasise a character's elegance.
Types of roles
There are four types of roles usually found in Cantonese opera productions. These are the sang (生), the male roles including warriors and scholars, the daan (旦), which are the various female roles, the zing (淨), animal characters signified by more intricate face-paint, and the cau (丑), who are the jesters. Each of these roles has its own subdivisions depending on the opera, such as the mou dan (武旦) or the mun mou sang (文武生). Certain stars are known for playing particular types of roles well.
Cantonese opera: Who's who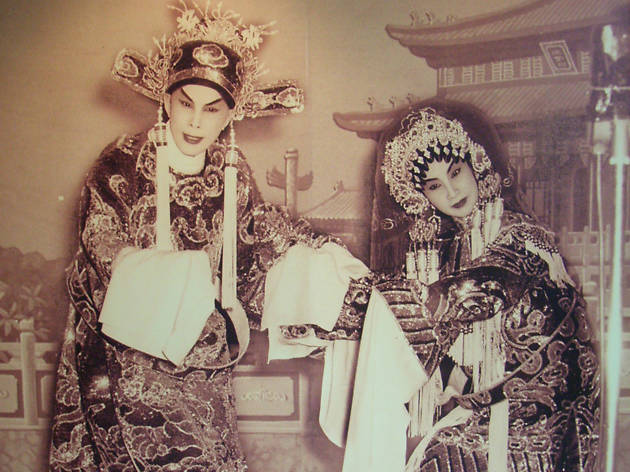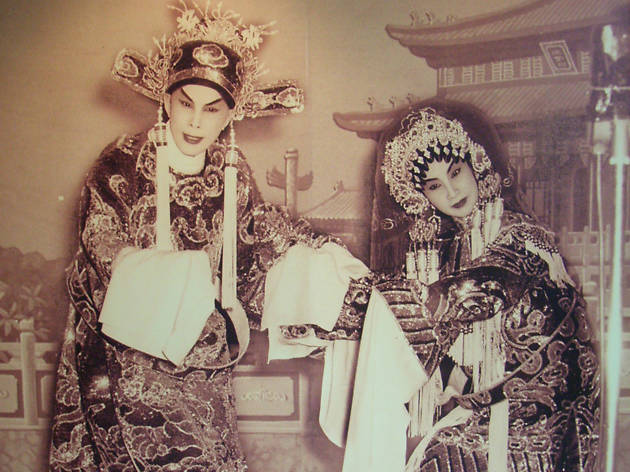 With an almost 200-year history, Hong Kong's Cantonese opera has seen its host of mega-stars. We select five of the absolute must-knows...
1. Yam Kim-fai (任劍輝)

Perhaps best known for her vocal versatility, Yam Kim-fai (pictured left) began formal training at the tender age of 14, though her interest began much earlier than that. She was among the migrant wave of performers who fled to Hong Kong and Macau when Guangdong fell under Japanese control during World War II. She was much-loved during Cantonese opera's boom in the 50s and 60s, most frequently performing alongside fellow legend Bak Sheut-sin. She even received a 'Google doodle' commemorating what would've been her 103rd birthday in February.

2. Bak Sheut-sin (白雪仙)

Inseparable from her partnership with Yam Kim-fai, Bak (pictured right) was also part of the mid-20th century boom for Cantonese opera. She has received many awards for her contributions to the art form, including a Lifetime Achievement Award from the Chief Secretary for Administration Anson Chan in 2001 and a Gold Bauhinia Star in 2013. She is still alive at the ripe old age of 90.

3. Lee Hoi-cheun (李海泉)

Cantonese opera would be amiss without a great dose of humour and one of the greatest cauactors was Lee Hoi-cheun. He, like Law Ka-ying, transitioned well to film work too but he's remembered most for his 1940 tour with the Cantonese Opera Company. It was on this tour that he became father to the greatest Chinese film icon of all time, Bruce Lee.

4. Leung Sing-bor (梁醒波)

Leung Sing-bor OBE first gained fame as a Cantonese opera actor in the 1930s and 40s, but is perhaps best known for pioneering TVB, becoming one of its first actors. He also chaired the seminal Chinese Artist Association of Hong Kong from 1965 to 1970, which was and is still instrumental in carrying on Cantonese opera as a cultural heritage.

5. Law Ka-ying (羅家英)

Perhaps the most recognisable legend on this list, Law Ka-ying is still active and still revered due to both his opera and film work over the years. Primarily acting in roles for comedy films with Stephen Chow and Ronald Cheng, he views himself as a 'patron' of the art, curating the annual iterations of the Rising Stars of Cantonese Opera.