Interview: Chan Lok-choi as Hong Kong's last remaining birdcage maker
"There's no-one else in Hong Kong who knows how to make one by hand anymore"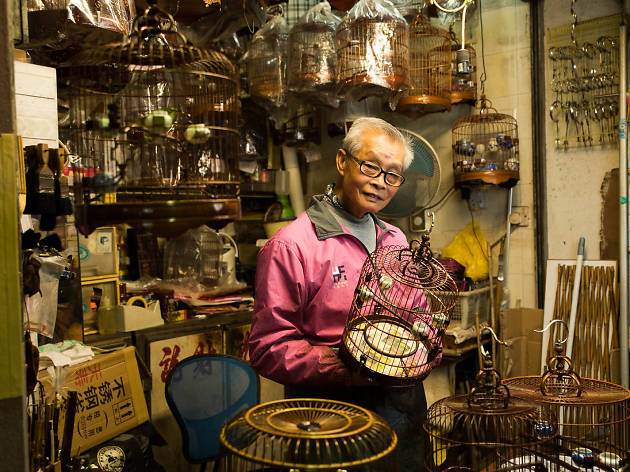 Image: Calvin Sit
In Prince Edward's Yuen Po Bird Garden, surrounded by a cacophony of song birds and traditional Chinese music, you can meet maybe Hong Kong's last remaining birdcage maker, Chan Lok-choi. Having joined the family business in 1955, Chan was trained at the tender age of 12 under the tutelage of renowned birdcage maker Cheuk Hong. He has since made a name for himself as a master of crafting traditional birdcages.
"Owning songbirds is representative of Hong Kong and Cantonese culture," says Chan. "But the trend has diminished significantly since people can no longer ride public transportation with their birds." Cultural heritage aside, Chan sees the practice of keeping birds to be indicative of one's personality as well. "If you're good with birds, you're naturally good with people," he explains.
As you might expect, making a birdcage by hand is no easy feat. You must shave pieces of bamboo – the same used for scaffolding – soak them in hot water for hours, bend and mould them under kerosene lamps, and then nail them altogether. The process can take months. Chan likens it to an art form and not everyone is up to the task. "Patience is key to making a cage but creative talent is just as important," he says. "It's what makes you stand out from the rest."
Sadly, this could all be moot as the craft is in danger of disappearing from our city. "There's no-one else in Hong Kong who knows how to make one by hand any more," claims Chan. "My own children have no interest in taking up the business, despite my hope. But I have no plans to retire just yet. I'll work as long as I can."
Though Chan mostly does birdcage repairs these days at his shop, Choi Kee, it's not all doom and gloom in his eyes. "Similar careers that rely on handcrafted skills are declining because no one new is learning them," he says. "But I do believe the culture of bird keeping is here to stay in Hong Kong."
Fancy going birdwatching?
If you're interested in birds and fancy getting out of the city for some birdwatching, here are some of the city's best locations for a spot of ornithology.