Preview: Hong Kong Wine & Dine Festival
Don't know your Moscato from your Zinfandel? You'll be a master sommelier in no time with our guide to the basics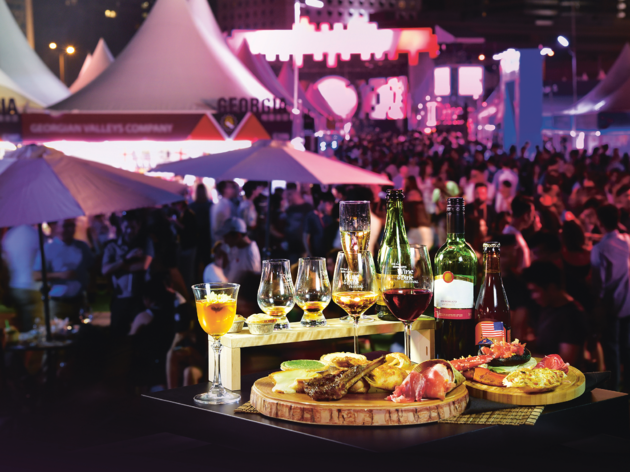 Wine appreciation is booming in Hong Kong and the annual Hong Kong Wine & Dine Festival, organised by the Hong Kong Tourism Board, is just a start. Not only is there a raft of new wine bars around town but you can also buy a much broader range of wine these days. But what if you're new to all this? Where do you start with the multiplicity of different varietals and vintages? Let us introduce you to all the basics, from the terminology to tasting notes to suggestions for food pairings, provided by Artur Aronov, head sommelier of Aberdeen Street Social.
Know your whites
Moscato is perfect for beginners and people with low tolerance thanks to its low alcohol levels, often around five to seven percent.
- From Asti in Montferrat, Piedmont, Italy.
- A slightly bubbly dessert-style wine with hints of fruity flavours like peach, apricot and nectarine thrown in
One of the most popular white wines in the world, Sauvignon Blanc is not only affordable, but also satisfyingly crisp and fresh. It's not difficult to see why Sauvignon Blanc is a popular choice.
- Originated in the Bordeaux region of France.
- Taste flavours of zesty lime with examples from cooler climates.Carries more tropical fruit notes, like peach, when from a warmer climate
Looking for something a little richer and smoother? Chardonnay does just the trick. With hints of creaminess, this white wine is suitable for lovers who are trying to switch things up.
- Originated in Burgundy in eastern France.
- Taste tropical fruits like banana and mango from warm climates such as California, and more zesty tones when from locations like Australia and New Zealand.
Intense, sweet with a perfume-like aroma, a sip of Riesling is like a run through a flower field.
- The most popular and priciest Rieslings come from Germany and the Alsace region of France.
- Ranging from very dry to sparkling, the wine's natural high acidity makes it ideal for aging.
Know your reds
Cabernet Sauvignon, or if you're too cool to use the full name, cab sav, is a rich tannic red wine. Holding a glass instantly makes you look classier.
- Grown in nearly every major wine country.
- Tastes more floral in types from Bordeaux, while vineyards from California bring black pepper and vanilla into the mix.
A softer alternative to Cabernet Sauvignon, the smoothness and easy aftertaste of Merlot makes it a brilliant option for red wine beginners.
- Popular in the Bordeaux wine regions.
- Roasted and earthy flavours from cool climates like France and Italy. Fruit-centric, often cherry, and dashes of chocolate from warmer climates like Australia and Argentina.
Don't let the lightness in colour and subtle flavours fool you, Pinot Noir is pricier on average than other red wines due to difficulties in growing the grape.
- Most commonly from the Burgundy region of France.
- Tends to have flavours like cherries, raspberries and strawberries
Thanks to its bold berry and jam-like flavours and aromas, Zinfandel can really pack a punch. It also tends to have higher alcohol levels, ranging from about 14-17 percent, so take it slow and savour every sip.
- California vineyards are experts in Zinfandel. Try going for ones produced from Napa Valley.
- Sweet and fruity with a spicy and tobacco-like smoky finish.
Perfect pairings
With its substantial tannins, the perfect match for a Cabernet Sauvignon is lamb. Any dish that incorporates barbecue lamb ribs works absolute magic with it.
Best Asian combo: Spicy beef tenderloin paired with Brea Wine Co, Margarita Vineyard, Paso Robles, North America, 2015.
Best Western combo: BBQ lamb ribs paired with Chateau Montrose, St Estephe, Bordeaux, 2000.
The great thing about Chardonnay is its versatility, making it very easy to pair with most food. They work very well with ingredients like pork belly, fish and even chicken sandwiches.
Best Asian combo: Zongzi with dried scallop and black bean filling with Ridge Vineyard, Estate Chardonnay, Santa Cruz, California 2010.
Best Western combo: Beetroot salad matched with Maison Chantereves, Bourgogne Chardonnay 2015.
A lush fruit-driven grape that can produce some seriously hefty wines on any continent – Merlot makes for a spectacular feast for your mouth when paired with beef and lamb.
Best Asian combo: Roast goose with Craggy Range Merlot, Gimlett Gravels, New Zealand, 2014.
Best Western combo: Grilled flat iron steak served with Poplar Grove Merlot from Okanagan Valley in Canada.
Desserts are the best part of a meal and Moscato can take your dessert to the next level. You're guaranteed to finish the meal with a satisfying smile on your face.
Best Asian combo: Light desserts like Japanese mango mochi pairs well with most Moscato d'Asti.
Best Western combo: Fruit platters and tiramisu with Rizzi, Moscato d'Asti, Piedmonte, Italy, 2015
To combat its signature red fruit flavours, crisp acidity and low tannin, the best way to enjoy Pinot Noir is with savoury dishes. Salty flavours are your best friend here.
Best Asian combo: Tea-smoked pigeon with Domaine Laurent Roumier, Chambolle Musigny, 2009.
Best Western combo: Roast mushrooms on toast with cep purée paired with Friedrich Becker, Spätburgunder from Pfalz, Germany, 2009.
Riesling is made for Asian food! The hint of residual sugar that many Rieslings have make it a great pairing for any Asian food packed with umami, saltiness or bitterness.
Best Asian combo: Taiwanese gua bao with pork belly matched with Egon Müller, Scharzhof, Mosel, Germany 2011.
Best Western combo: Seabass tartare with avocado purée and shaved horseradish matched with FX Pichler, Loibner Burgstall, Austria.
This super popular white wine is well-loved for its cocktail of tropical fruits, gooseberry bush, freshly cut grass and sometimes oaky flavours. But those fruity aroma can overwhelm delicate dishes. Note to self: It's all about balance.
Best Asian combo: Wagyu gunkan with Scholium Project, Prince in his cave, Sonoma, North America, 2010.
Best Western combo: Tomato Salad and burrata with Chateau Rahoul Blanc, Graves, Bordeaux 2014
A monster in the red wine family, Zinfandel is charged with everything from fruits to oak and tannins too, which means any food pairing with this wine needs to be just as bold.
Best Asian combo: Char siu puff with Ridge Geyserville Zinfandel, Alexander Valley, USA, 2013.
Best Western combo: Something as simple as ribeye on the bone with Ridge Geyserville Zinfandel, Alexander Valley, USA, 2013 or Domaine Laurent Roumier, Chambolle Musigny.
Five tips to remember when you order
Always start with a wine you enjoy!
Pair light-bodied wine with lighter dishes and full-bodied wine with heavier fare.
Wine pairing is more complex than simply matching white wine with fish and red wine with meat, but you can't go wrong sticking to that rule if you are feeling overwhelmed by all the options.
Another general rule of thumb is that wine should be sweeter than the food pairing. Otherwise the dish becomes more bitter and tart as the meal goes on.
Don't limit yourself by food pairings. Sometimes there's nothing wrong with mixing and matching whichever wine with whatever dish you fancy.