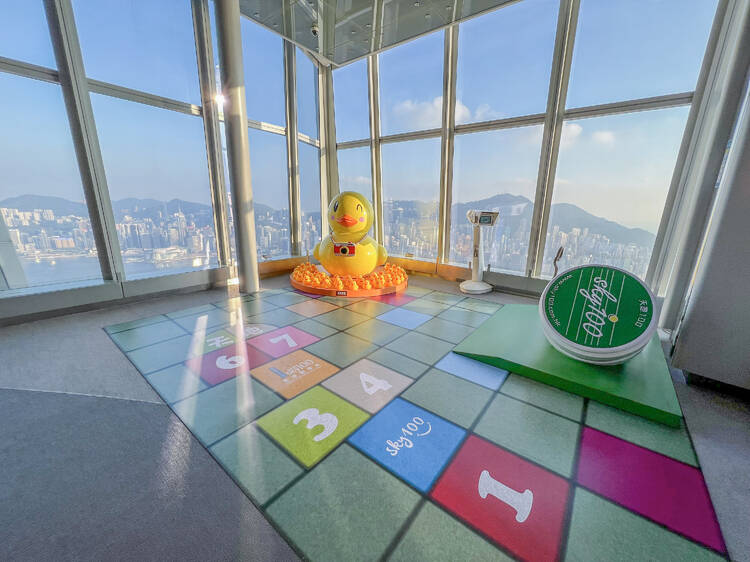 Photograph: Courtesy sky100 Hong Kong Observation Deck
See all your favourite childhood toys on display
Featuring 25 once-popular childhood toys, courtesy of Hong Kong's renowned toy collector Ricky Lau, this exhibition will take visitors back in time with toys that had once set the trend for the decade and were loved by generations of children.
The toys will be divided into six categories: group games, animal breeding games, cross-generation, anime, career-oriented, and digital entertainment, with display boards and videos for visitors of all ages to gain insight into the story behind each toy and how it is played. Sky100 has also specially prepared three toys for visitors to experience the fun first-hand, including a classic metal wind-up jumping toy, the challenging and fun fishing game that was most popular between the 80s to 90s, and the hot blooded mini 4WD, a dream toy for every boy back in the days.
While you're there, don't miss the range of giant nostalgic toys, including the paper chatterbox game, sky kaleidoscope, 360-degree spinning-top chair, hopscotch, rubber duck, yo-yo, and more, as sky100 transforms into a sky-high playground for visitors to get acquainted with Hong Kong's cultural history. Take snaps with the toys and make your very own paper chatterbox game where its four corners represent the angles of the unobstructed 360-degree view of Hong Kong at sky100.