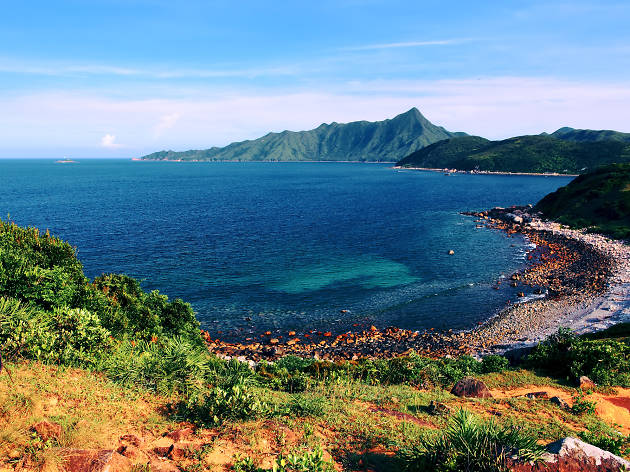 Time Out says
Tap Mun, which sits off the coast of Sai Kung Country Park, is also known as Grass Island. It's easy to see why – you could be forgiven for thinking you were on the set of a milk advert. The 1.7sq km island is composed of rolling, grassy hillocks complete with wandering cows and is also home to a few hundred Hakka and Tanka people. The island has an exciting history as a smuggling and pirate haven, although its now-sleepy streets belie this.
Tap Mun is a popular spot for both camping and kite-flying, and also boasts several rocky beaches. Spend an afternoon here by taking a stroll along the paved 2km footpath that starts out at the fisherman's village by the pier and ends up on the hilltop in the middle of the island. The path offers panoramic views and a refreshing breeze, even on the hottest day.
Once you're all hiked out, head back down to the village, where you can observe the locals drying out fish and shrimp on (almost literally) every available surface, before heading over to the island's main restaurant, Sun Hon Kee (Tap Mun Hoi Pong St) to refuel on seafood. Make sure you also try some of the island's famous ice-less iced milk tea.
Tap Mun is home to a trio of temples, located near the main village, which date back to the 18th century. Legend has it there was once a pirate's tunnel that led from the altar of the Tin Hau temple all the way out to the sea. Also, make sure you take a look at the abandoned King Lam School on the hill above the village. It was built in 1957 and, when it closed in 2003, famously had only one pupil.
One thing not to miss:
The gentle, winding trail over the island, with its year-round cool breezes.
How to get there:
Get the 94 or 96R bus to Wong Shek Pier (96R operates on weekends only). The ferry runs every one or two hours throughout the week. The last ferry back from Tap Mun leaves at 6pm or 6.05pm each day. Ferries also run, less regularly, from Ma Liu Shui near University MTR station. See td.gov.hk for the full schedule.
Details
Users say