The best Bangkok street food stalls
Bangkok has some of the best street eats in the world – here are some you should check out the next time you're there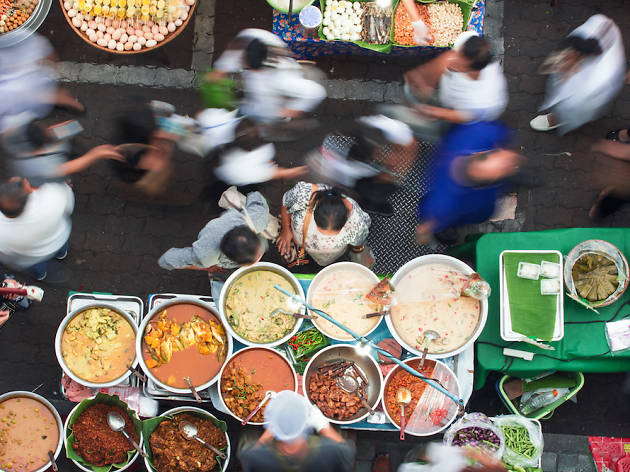 As Tim Ho Wan here in Hong Kong and Hong Kong Soya Sauce Chicken Rice and Noodle over in Singapore prove, swanky restaurants aren't the only ones deserving of a Michelin star. In the Michelin Guide's inaugural Bangkok edition, it awarded Raan Jay Fai with the same honour. But there are plenty of other cheap street eats in the Thai capital that deserve a shout out – here's what the inspectors (and you) should check out.
Best Bangkok street food stalls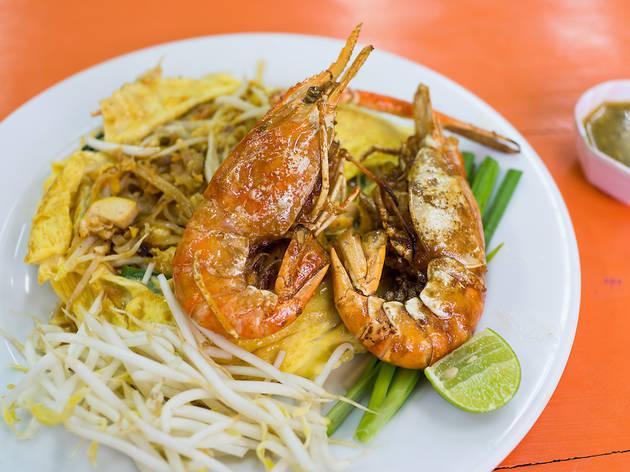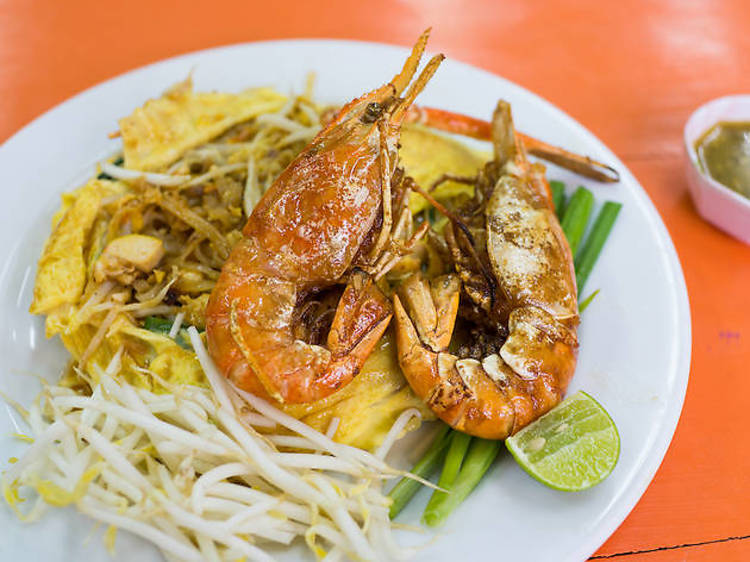 Padthai Ekkamai
The bustling Ekkamai party stretch is home to this pad thai joint that's popular among supper seekers. The river prawn pad thai is neither too dry nor wet and is served with two jumbo size prawns while the smoky and sweet noodles come wrapped in an omelette. 303/4 Soi Sukhumvit 63, Khlong Tan Nuea, Watthana.

Pad Thai Goong Sod Nai Sa Nga
Two years ago, the owners of Pad Thai Goong Sod Nai Sa Nga switched from selling kuay jub (rice noodle soup) and por pia sod (spring rolls) to making pad thai. It's been a hit ever since. Each plate comes generously padded with chunky tofu, dried shrimp and succulent prawns. Next to Ruamkatanyu Foundation, Trok Lung Wat Hua Lamphong.

Padthai Kikuya
The old-school pushcart parked in front of the Kikuya clothing boutique in Sam Peng has been churning out fried noodles since your parents were kids. Forget the original recipe that incorporates tamarind paste and roasted peanuts – here, the pad thai is cooked on a charcoal stove and served with Thai chives and banana flowers for crunch and acidity. In front of Kikuya clothing boutique, Soi Wanit 1, Sam Peng.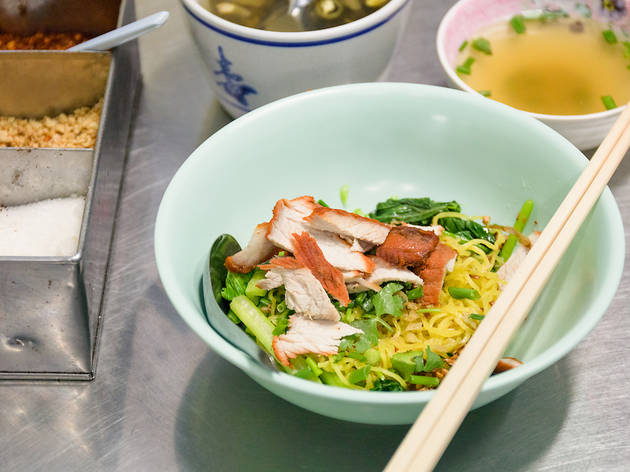 Nai Meng Ba Mee Poo Kyo Goonge Yak
This shophouse-restaurant is located next to Silom Complex shopping mall. Homemade noodles are prepared in various incarnations: from egg noodle soup with roast pork to dry egg noodles served with shrimp wontons, sweet pork, crispy pork belly, crabmeat, mushrooms and a slice of soft-boiled egg. Also commendable are the pork rice dishes. 183 Silom Road, Silom.

Tim's Noodle House
Nestled within a labyrinth of townhouses on Soi Soonwijai (near Bangkok Hospital) is a house that's been transformed into a popular noodle joint. Tim's is worth visiting for its springy Cantonese-style egg noodles served with homemade barbecue pork and shrimp wontons. 53 Soi Soonvijai Lane 3-2, Petchaburi.

World Champion Egg Noodle (Ba Mee Kiew Champ Lok)
This pushcart, usually found on Sukhumvit 65, deserves recognition for its freshly made egg noodles and generous portions of sides, including barbecue pork, shrimp wontons and pieces of pork crackling. Sukhumvit 65, Sukhumvit.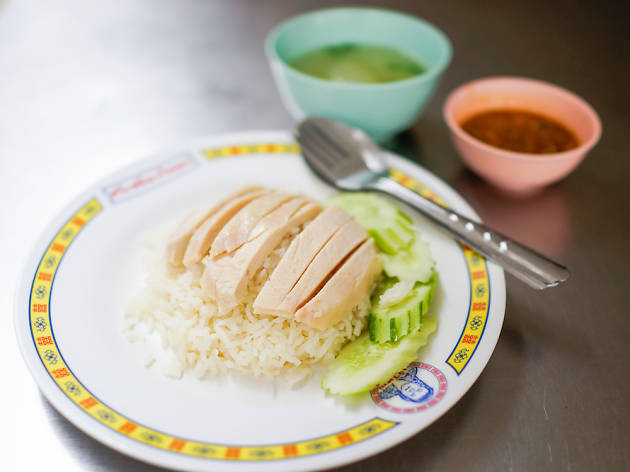 Heng Heng Chicken Rice
If you're tired of overpriced mall food, this food cart parked near the entrance of luxury mall Emporium offers the perfect solution. There's only one thing on the menu: Hainanese-style chicken rice. The fragrant rice is packed with potent garlic, while the boiled chicken is still juicy and tender. In front of Great Shanghai Restaurant, next to Emporium Shopping Mall, Sukhumvit Rd.

Sri Leung Phochana Chicken Rice
This pop-up stall is best known for its gigantic plate of chicken rice that can feed around 10 people. You walk away with a free meal if you can finish it all by yourself. 1511/71-74 Soi Phaholyothin Cinema, Saphan Kwai.

Jae Ouan Chicken Rice
The area's favourite chicken rice shop has been serving steamed chicken and aromatic garlic rice for decades. What started as a small stall has taken over four shophouses sitting in a row – and it's open around the clock! 32/1 Soi Phahonyothin, Khet Phaya Thai.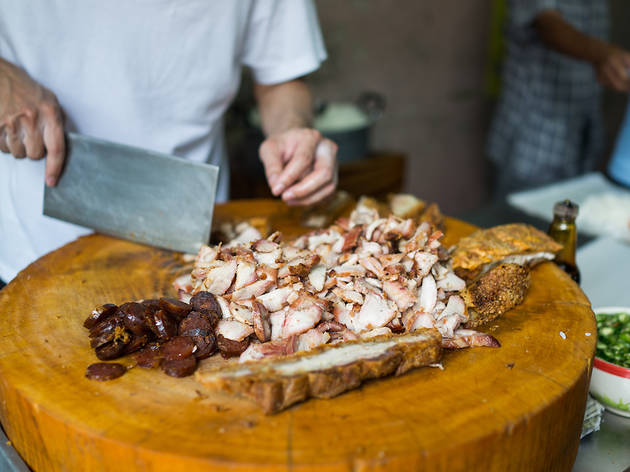 Crispy or stewed pork with rice
Son Thod
Tucked in Chokchai Ruam Mid Alley – also known as Viphawadee's food hub – this old-school establishment has been selling Cantonese-style roast pork and crispy pork belly for decades. Each dish comes with fried Chinese sausage (goon-chiang), a soft-boiled egg and rice drenched with a secret red sauce. Come as early as you can – these dishes sell out quick. 34/19 Chokchai Ruam Mid Alley, Viphawadee Rangsit.

Nakhon Sanook
This famous barbecue pork rice parlour is packed with in-the-know locals during lunch break. Luang Rd, Vorajak Intersection, Vorajak.
Sri Samornlerrot
Even the curt, unfriendly staff don't deter the lunch crowd from queuing up at this local favourite. The nondescript spot offers delectable roast pork and chicken served with fried garlic and rice. If you fancy something more piquant, opt for the homemade jaew (Isaan-style sour and spicy dipping sauce). 1/2 Soi Pipat 2, Convent Rd.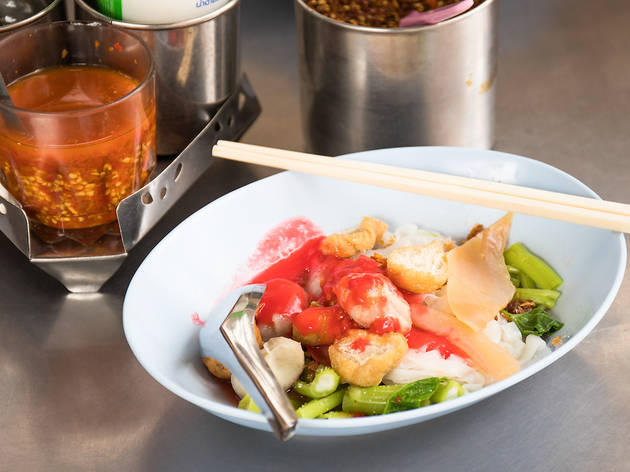 Yen Ta Fo JC
Try to get here before 11.30am to secure a seat and get your order sorted. Any later and you'll find yourself dealing with a grumpy old man asking customers to queue up on the sidewalk. Each bowl comes with a variety of fish and shrimp balls served with chewy noodles in a red broth. Portions are small, so it may be a good idea to order two bowls if you're looking to fill up. Sala Daeng Soi 2, Convent Rd, Silom.

Yen Ta Fo Convent
When it was founded in 1977, Yen Ta Fo Convent shared the same recipe with Yentafo Wat Khaek, the first yen ta fo stall in the city. It later developed its own signature red sauce made from tomatoes and sweet potatoes. 36/3 Convent Rd, Khwaeng Silom.
Your Bangkok travel guide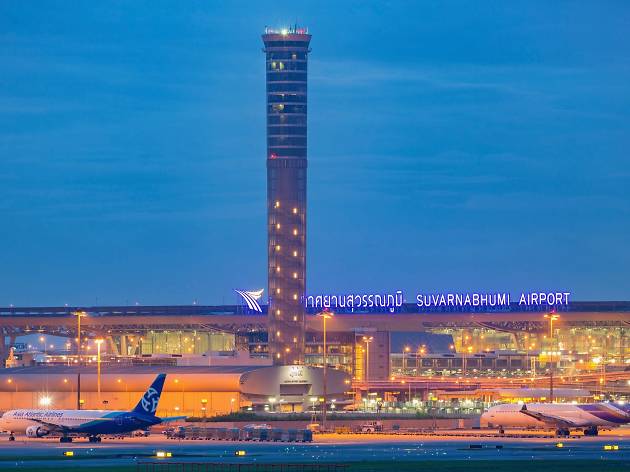 HOW TO GET THERE

AirAsia fly to Don Mueang Airport from $1,000. Alternatively, Hong Kong Airlines runs return flights to Suvarnabhumi Airport, which has better transport links to downtown, from $1,300.

WHERE TO STAY
Value for money
Located right next to backpacker paradise, Khao San Road, Tara Place is a basic hotel that makes up for what it lacks in amenities with hospitable service. From $290 a night; taraplacebangkok.com.

Middle of the road
Pullman Bangkok Grande Sukhumvit in Asoke is just a short walk or free tuk-tuk away from Terminal 21 shopping mall. From $877 a night; pullmanbangkokgrandesukhumvit.com.

The big splurge
With unbeatable Japanese hospitality and thoughtfulness, a stay at the luxurious Okura Prestige Bangkok can't be beat. From $1,840 a night; okurabangkok.com.
Looking for more holiday inspiration?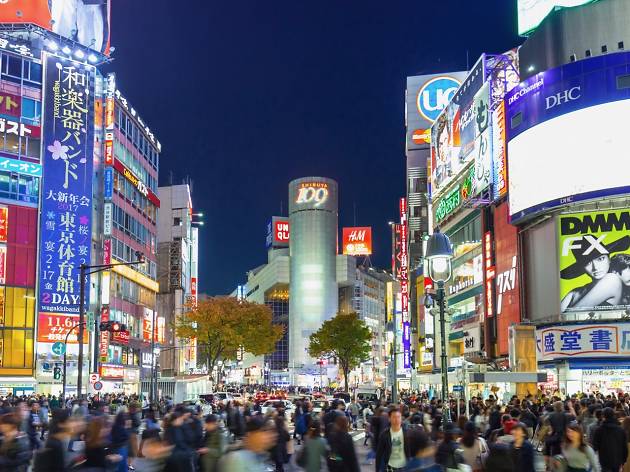 We love Tokyo, but Japan's reputation as an expensive holiday destination isn't far off the mark. But like all pricey cities, it's actually a simple matter of knowing where to go and what to do that can save you thousands of dollars. Don't know where to start? Allow us.