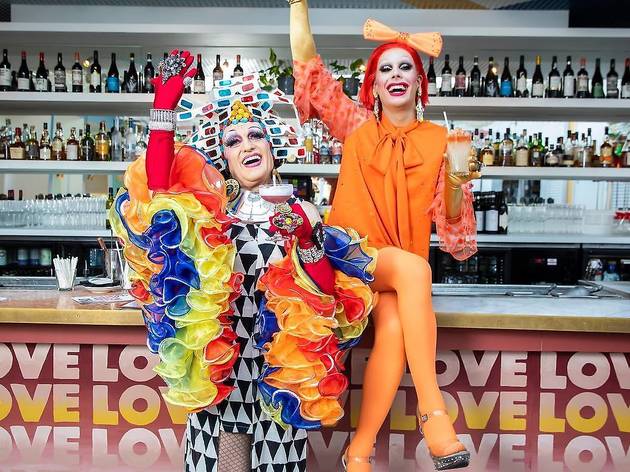 40 incredible LGBTQ+ places around the world to celebrate in 2021
Show your Pride by supporting these amazing bars, bookstores and cultural centers around the globe.
If the last year has taught us anything, it's that nothing can replace the experience of being in a shared physical space with people you love. For the global LGBTQ+ community, that need is especially strong. Around the world, LGBTQ+ people have flocked to bars, community centers, bookstores and more in search of a sense of belonging. Now, after over a year of global lockdowns, canceled events and closed doors, many of these thriving community hubs are in need of a little extra love.
This Pride month, Time Out is celebrating the local spaces around the world that serve as beating hearts of LGBTQ+ communities. We asked Time Out editors across the globe to nominate their favorite LGBTQ+ hotspots, and the results were both varied and inspiring – from a GLBT museum in San Francisco and a picnic spot in Paris to great bars from Madrid to Hong Kong.
Not only will this list give you plenty of great ideas for fun spots to hit up on your next trip, it also rounds up specific crowdfunding pages and donation opportunities to show some support before you can make it there in person. Think of them as tip jars – you can throw a little money in before you're able to celebrate there IRL. Happy Pride, and we'll see you out there!

Share your favourite local spots with us via the #LoveLocal hashtag – and follow Time Out's Love Local campaign as we celebrate and support the independent food, drink and culture venues that make our cities great.

LGBTQ+ places worth celebrating in 2021
More people and places we love
We're proud that, in assembling this list of LGBTQ+ landmarks, Los Angeles can boast so many meaningful historical sites, supportive organizations and impactful archives. Of course, we've also made room for some straight-up fun on our list—though still with a side of history—including a world-famous gay bar, a legendary Black disco club and a notoriously naughty bookstore. Whether you're celebrating Pride or paying respect to the city's queer legends, fill your itinerary with these 10 LGBTQ+ landmarks.
Get to know the coolest LGBTQ+ artists, performers and creatives from across the French capital