Joyce Pensato interview: 'I don't want the work to be nice or sweet'
The American artist talks about cartoon capers and keeping things fresh with glossy paint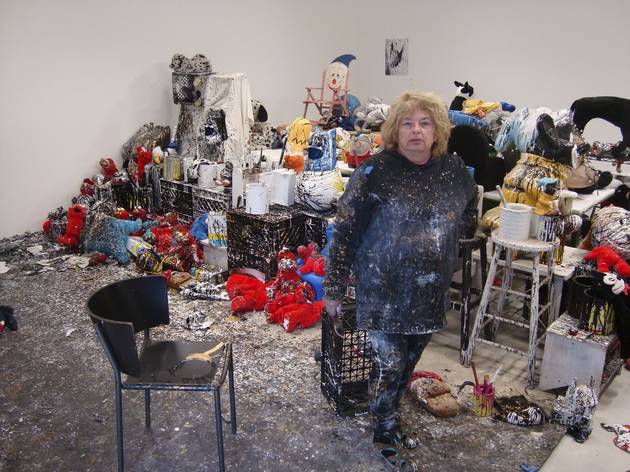 Joyce Pensato paints 'The Simpsons', Batman and the kids from 'South Park', but not as you've seen them before. Her exhibition
'Joyceland'
is at the Lisson Gallery.
Let's start at the beginning. How did working with cartoon and comic characters come about?

'I was doing these big abstract paintings at the New York Studio School, which was all about the "still life". They weren't coming together so my tutor said, "I don't care what you look at but you have to work from something." I knew that I didn't want to do apples and pears, so I got out of the studio to see what I wanted to work with. At that time it was pop culture and you could get a lifesize cardboard cut-out of Batman, and so I set that up as a still life on the floor and realised that I had found my language.'
And you've been doing this for 30 years?
'I don't know. I don't want to count.'
What's been a constant inspiration?
'I'm drawn to discarded stuff like toys that have a history. They give me something, I don't know, a connection.'
Why only black and white paint?
'To keep things simple, because I fucked up in the '80s when I tried to do it in colour.'
Are you satirising the candy coloured world of cartoons?

'I'm not political. I just don't want the work to be nice or sweet. Disney's cartoons are usually very sweet. I want the work to be deeper, to have more personality.'
What do you like about enamel paint?

'I like that it looks like I just splashed it on and it still looks wet.'
You've recently returned to mural painting…
'I started in the '90s, when everyone was doing installation work. It's not just about painting on a wall. What's interesting is where the wall is, who the architect is. Getting up and down the ladder, I love it, I feel like Alec Guinness in "The Horse's Mouth". Though these days they give me a cherry picker.'
What's the biggest challenge at a gallery like the Lisson?
'The gallery is so clean. I need to get stuff on the walls, make my mark. I want to own it so you know I've been here.'
What do you love about London?
'Oh, the people are great, and the taxi cab drivers are the top. I went to the big toy store, Hamleys, the other day. I need to go back, I saw a couple of things that I really want!'
Snap up exclusive discounts in London
Time Out's handpicked deals — hurry, they won't be around for long...